Description
With our Wholesale Deals on B206 Braided Leather Vests, you may be the Road Queen. The vest has a smooth texture finish and is made of premium buffalo leather. It has a four-button snap closure, two side slit pockets, dual gun pockets, patch zipper technology, a nylon lining, and an interior phone/media pocket with wire feeding and braided details. Buy from The Web's #1 Online Wholesale Offers with Confidence and Save. 30-Day Return Policy and Low-Price Promise!
Features
made of 1.1-1.2mm thick premium buffalo leather.
Finish with a smooth texture
Dual Side Concealed Weapon and Ammo Pocket Built-In
inside a wire-feeding phone/media pocket
Braided Pattern on the Front and Back
two side pockets
Patch Zipper Pocket Technology: Makes Adding Patches or Other Accessories Simple.
Embroidery on the Vest's Back
Inner Lining of Nylon and Upper Mesh
Comfort Through Always Going Above and Beyond Wholesale Biker Gear
Spend wisely and save a tonne! 30-Day Return Policy and Low-Price Promise!
The Women's Road Queen Wholesale Black Leather Braided Vest
is an iconic piece of apparel that is perfect for the modern-day female rider. The vest is made from high-quality leather, which makes it durable and long-lasting. The vest is black, which gives it a classic and timeless look that will never go out of style. The braided accents on the front and back of the vest add a touch of femininity to this otherwise rugged piece of apparel.
This vest is not only perfect for female riders but also for women who love to wear leather apparel. It is versatile and can be paired with a variety of different outfits. It can be worn over a shirt or blouse for a more casual look or can be paired with leather pants or chaps for a more edgy and daring look.
If you are a retailer looking to stock up on high-quality leather vests for women, you should definitely consider this vest. This vest is just one of the many products available in the women's leather apparel category. With wholesale offers on 1000's products covering 100's categories from the top importers in North America, you are sure to find something that will appeal to your customers. Plus, with daily offers on 1000's products, you can save even more money when you order in bulk.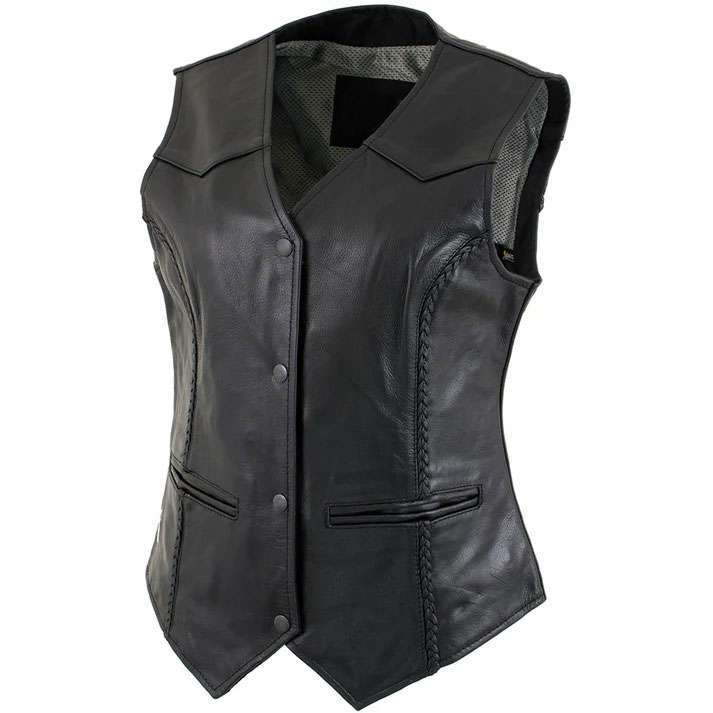 Women's Road Queen Wholesale Black Leather Braided Vest
Wholesale offer is offering a lot of variety of leather products, and here are some of our products related to leather.
You can Signup with us if you want any product category.
Below here, some of our related leather products categories.
Our Service
Deeply Discounted Wholesale Offers. Over 10,000 wholesale offers on New Arrivals, Daily Deals, Overstock, Closeouts, and Qty buys. Great Seller Support, Fast Shipping, No Minimum, and Free Drop Shipping with a web store plan. 100 categories include Housewares, Home Decor, Gift & Collectibles, Fashion and Apparel, Motor-Sports Gear, Sports & Outdoors, Travel & Recreational, Seasonal, Toys & Games, and much more. We can only sell to businesses and individuals buying resale products. You have to open a Wholesale Account to view pricing and place orders. Please take a minute to signup for your Wholesale Offers account.
"Get access to unbeatable daily deals and bulk offers with "Wholesale Offers". Our platform offers the best value for money by connecting you with over 800 trusted importers in the U.S. With a focus on overstock and quantity buys, you can enjoy exclusive discounts and savings on a wide range of products. No need to go from store to store or spend countless hours searching online – we bring all the best deals to you in one convenient place. Sign up now and start experiencing the power of bulk buying and unbeatable savings!"