Outside Features
made of 1.2-1.3mm thick premium buffalo leather.
Front Zipper Fastening
Snap buttons and zipper hardware in a bronze color
Snap-on shoulder straps
Webbing-lined Cuffs with a Zipper
Lapel of a vintage motorcycle jacket with snap buttons
Body in Scuba Style
Stay Cool With the Zippered Chest Vest and Zippered Back:
Rear Vents to Increase Airflow
Two lower hand pockets with zippers
Just one little snap-button pocket
Comfortable Lower Back-Hip Expansion Zippers
More Flexibility with the Action Back Shoulder Panel
Authentic YKK Zippers – Renowned for Longevity and Durability
Comfort, Performance, and Style by Wholesale Offering Always Going the Additional Mile
Inside Features
Inner Hoodie Liners That Can Be Removed and Worn Alone
Front drawstring and zipper closure on the hoodie
With wire feeds, the inside media pocket
Mesh Liner Internal
Integrated Hanging Loop
A women's black wholesale hooded vented leather jacket is a stylish and practical choice for any fashion-savvy woman. This type of jacket provides warmth, comfort, and protection from the elements, while also adding a touch of edgy sophistication to any outfit. The vented design allows for added breathability, making it a great choice for transitional weather.
If you're in the market for a women's black wholesale hooded vented leather jacket, you'll be pleased to know that there are a variety of related categories you can explore. For example, you might consider looking at other colors of leather jackets, such as brown or red. You can also browse jackets made from different materials, such as faux leather or suede. Finally, you might want to check out jackets with different design features, such as pockets or studs.
When shopping for a wholesale leather jacket, it's important to find a supplier who offers a wide variety of products at affordable prices. Fortunately, there are many top importers in North America who offer wholesale deals on thousands of products covering hundreds of categories. By shopping with these importers, you can take advantage of daily offers on 1000's of products and save big on your purchase. Whether you're looking for a women's black hooded leather jacket or any other fashion item, shopping wholesale can help you get the best deals on the market. So, go ahead and explore your options to find the perfect jacket for you!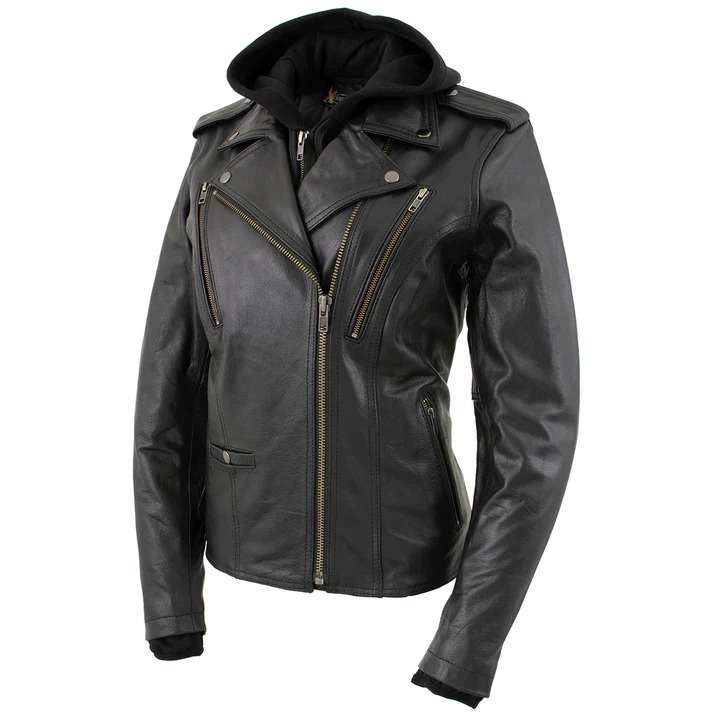 Women's Black Wholesale Hooded Vented Leather Jacket
Wholesale offer is offering a lot of variety of leather products, and here are some of our products related to leather.
You can Signup with us if you want any product category.
Below here, some of our related leather products categories.
Our Service
Deeply Discounted Wholesale Offers. Over 10,000 wholesale offers on New Arrivals, Daily Deals, Overstock, Closeouts, and Qty buys. Great Seller Support, Fast Shipping, No Minimum, and Free Drop Shipping with a web store plan. 100 categories include Housewares, Home Decor, Gift & Collectibles, Fashion and Apparel, Motor-Sports Gear, Sports & Outdoors, Travel & Recreational, Seasonal, Toys & Games, and much more. We can only sell to businesses and individuals buying resale products. You have to open a Wholesale Account to view pricing and place orders. Please take a minute to signup for your Wholesale Offers account.
"Get access to unbeatable daily deals and bulk offers with "Wholesale Offers". Our platform offers the best value for money by connecting you with over 800 trusted importers in the U.S. With a focus on overstock and quantity buys, you can enjoy exclusive discounts and savings on a wide range of products. No need to go from store to store or spend countless hours searching online – we bring all the best deals to you in one convenient place. Sign up now and start experiencing the power of bulk buying and unbeatable savings!"