Description
The Vital Sign Full Tang Wholesale Medieval Sword. The powerful are aware of this. The full-tang, carbon steel Wholesale Medieval Sword has a black leather wrap around the grip. The sheath has a cross-box pattern imprinted in red and black and has a shoulder strap for carrying convenience when not in use. The Vital Sign's blade is made of fully heat-treated carbon steel with a fuller for weight reduction. Since this wholesale sword weighs only 2.75 lbs, anyone can easily hold it. This is not a toy; the blade measures a full 25.75 inches, and the handle is 7 inches. Every collector or wearer of a medieval costume will love the Vital Sign Wholesale Medieval Sword. About 32.5 inches overall. Size: 2.75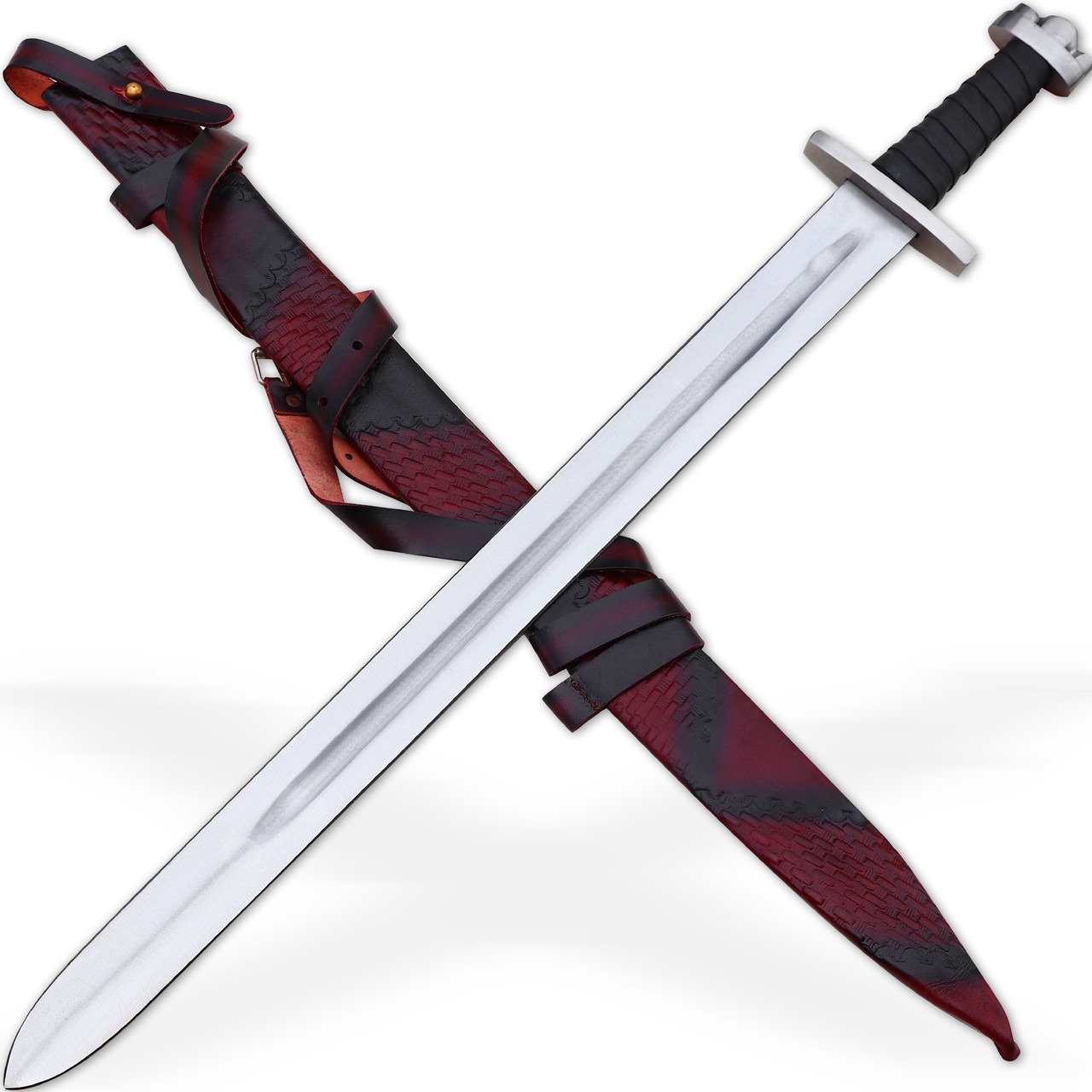 Wholesale Vital Sign Full Tang Medieval Sword
The Vital Sign Full Tang Wholesale Medieval Sword is a true masterpiece that combines both beauty and functionality. A razor-sharp blade that can easily cut through tough materials. It features a full tang construction, which means that the blade extends throughout the entire length of the sword, providing added strength and durability.
The Vital Sign Full Tang Wholesale Medieval Sword is a versatile weapon that is suitable for a range of different tasks. It can be used for cutting, thrusting, and even parrying attacks from other weapons. The sword is also well-balanced. A comfortable grip that allows for precise control and maneuverability. Whether you're a collector, a martial artist, or just someone who appreciates a beautiful piece of craftsmanship, the Vital Sign Full Tang Wholesale Medieval Sword is a must-have addition to your collection.
At our wholesale store, we offer a wide range of swords. Weapons that are designed for both practical use and decorative purposes. We offer daily deals on thousands of products covering hundreds of categories, including swords, knives, axes, and other weapons. Whether you're looking for a single sword or want to buy it in bulk, we have the inventory and the expertise to meet your needs. Shop with us today and experience the quality and value that only a trusted wholesale supplier can provide.
Wholesale offer is offering a lot of variety of Swords, and here are some of our related to swords.
You can Signup with us if you want any product category.
Below here, some of our related swords categories.
Our Service
Deeply Discounted Wholesale Offers. Over 10,000 wholesale offers on New Arrivals, Daily Deals, Overstock, Closeouts, and Qty buys. Great Seller Support, Fast Shipping, No Minimum, and Free Drop Shipping with a web store plan. 100 categories include Housewares, Home Decor, Gift & Collectibles, Fashion and Apparel, Motor-Sports Gear, Sports & Outdoors, Travel & Recreational, Seasonal, Toys & Games, and much more. We can only sell to businesses and individuals buying resale products. You have to open a Wholesale Account to view pricing and place orders. Please take a minute to signup for your Wholesale Offers account.
"Get access to unbeatable daily deals and bulk offers with "Wholesale Offers". Our platform offers the best value for money by connecting you with over 800 trusted importers in the U.S. With a focus on overstock and quantity buys, you can enjoy exclusive discounts and savings on a wide range of products. No need to go from store to store or spend countless hours searching online – we bring all the best deals to you in one convenient place. Sign up now and start experiencing the power of bulk buying and unbeatable savings!"