Video Game Swords in Bulk
People tend to become cut off from the rest of the world and glued to their game screens while playing video games. Not even children and youngsters yet grown-ups are likewise seen to be fixated on computer games. You fall in love with the video game accessories, costumes, posters, and most importantly, the video game swords featured in them as a video game fan. A gamer's life is centered on video games and related activities. You've probably seen people become so enamored with a video game that they buy everything related to it as soon as they see them on the market. Right? Knives Deal brings you the most impressively designed video game swords that will blow your mind if you are one of those fans.
"Get access to unbeatable daily offers with "Wholesale Offers". Our platform offers the best value for money by connecting you with over 1000's trusted importers in the U.S. With a focus on overstock and quantity buys, you can enjoy exclusive discounts and savings on a wide range of products. No need to go from store to store or spend countless hours searching online – we bring all the best deals to you in one convenient place. Sign up now and start experiencing the power of bulk buying and unbeatable savings!"
Wholesale Video Game Swords in Bulk​ Products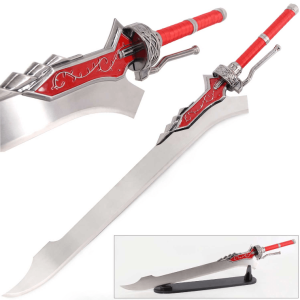 Devil May Cry Red Queen Sword of Nero with Display Stand
This is the Sword of Nero. With its satin finish 440 stainless steel, this Devil May Cry sword sports a massive 39 inch non sharp blade. The very detailed elongated guard features every design seen on the sword carried by Nero; from the thorn vines to the design guard. The guard also features an extra throttle piece. The red nylon warp handle will feel great in your hands. This massive beast comes equipped with a brown wooden table top stand.
32″ Foam Video Game Key Cosplay Sword – Shooting Star
This piece is constructed of polyurethane foam and is hand painted. The sword is great for costumes and conventions.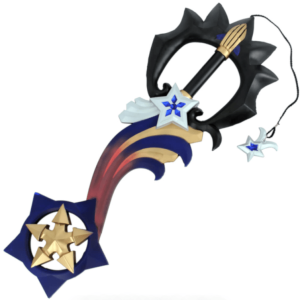 Exceptional Video Game Swords For Sale
Wholesale Offers provides its customers with access to an extensive selection of the best video game swords at the most competitive prices. We offer our customers high quality at reasonable prices because we believe in both. Our video game swords look like they came straight from the video games you love, and they are exact copies of the original video game swords. We have video game swords of every kind. In addition to the Zelda sword, we also sell Halo swords, Touken Ranbu swords, Ryuko Matoi swords, and a plethora of other swords. These swords have fantastic designs and exceptionally fine blades.
Additionally, these video game swords have excellent construction and will make excellent additions to your video game collection. We offer these amazing video game swords at the most affordable prices because we want every customer to be happy. Yes, the products are among the best and the prices are quite low. What's better than this? Absolutely nothing! So, take a look through our selection of the most stunning and lifelike video game swords and buy one right away at very affordable prices.
Wholesale Video Game Swords Available at very Affordable Rates
The best dropshipper and wholesaler of the most stunning video game swords available for purchase is Wholesale Blades. We offer amazing deals to our customers, the best of which is a flat 20% discount on a specific video game sword when you buy six or more of it from us. Amazing in every way, right? This kind of deal won't be available anywhere else. We guarantee that you will return for more of our video game swords, which are built to the highest standards.
We also provide the best dropshipping services because we give our customers free membership and dropshipping services. Yes, that is what you heard! Our products are the best because we value quality and affordability. So, look through our selection of the best video game swords for sale and partner with us to take your company to new heights.