Wholesale Blades brings an extensive selection of sword cane for sale. We are wholesale distributors of walking sticks, cane swords, and walking canes. If you want to boost up your retail business, purchase our sword canes in bulk now. Our prices are the lowest in the market and we also provide a further discount. We make sure you get a massive profit margin. If you purchase 6 or more cane swords, you get a great discount of 20%.
"Get access to unbeatable daily deals and bulk offers with "Wholesale Offers". Our platform offers the best value for money by connecting you with over 800 trusted importers in the U.S. With a focus on overstock and quantity buys, you can enjoy exclusive discounts and savings on a wide range of products. No need to go from store to store or spend countless hours searching online – we bring all the best deals to you in one convenient place. Sign up now and start experiencing the power of bulk buying and unbeatable savings!"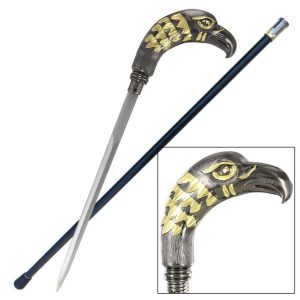 Eagle Tribute Golden Custom Sword Cane
For your protection, a stainless steel blade has been placed within the eagle's shaft. The handle's elaborate design elevates it to the status of a work of art. It has a metallic finish, a zinc aluminium construction, and golden accents. The shaft is made of matte-finished black stainless steel and has a rubber stopper at the end.
Features
Golden Accents
Rubber Stopper
Matte Black Finish
Roaring Dragon Head Sword Cane With Removable Blade
A blue orb that stands out against the golden finish and brushed metal of this basilisk head is housed inside the mouth of this Roaring Dragon Head. Speaking of heads, it has been sculpted and finely crafted to resemble a basilisk and also serve as the handle for this fashionable cane. The eyes, scales, and nose of this beast are highlighted by golden embellishments. This stunning cane is practical for that nighttime stroll you love and is made of zinc and aluminium. The shaft has a surprise within and is made of stainless steel. For further defence against hidden danger, a stainless steel blade is concealed in the shaft. A rubber stopper is offered at the bottom to prevent slippage.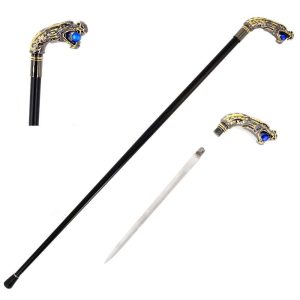 Walking Sword Cane – Be Your Own Protector
You can go around the town with style and safety by using a walking sword cane. How? A sword cane, however, actually has a blade buried inside of it. Hence, it performs double duty as a stick and a self-defense tool. Throughout human history, sword canes or weapons similar to them have been utilised, however each weapon had minor differences. Now you can carry a blade with you at all times without anyone noticing.
You can protect yourself and your loved ones, anytime and anywhere. You may be your own defender and protector wherever you are. While it is difficult to tell that the stick you are carrying truly has a hidden blade in it, a walking sword cane is a covert weapon that you won't have to worry about others shouting and running away from you because you are carrying a weapon. Impressive. Right?
Stunning Walking Cane Swords For Sale at the Best Wholesale Price
One of the most stunning selections of walking cane swords is available from Wholesale Blades at extremely reasonable prices. Our sword canes are quite distinctive and have clever patterns. Also, their construction is first-rate. Our sword cane designs include both traditional and contemporary styles. They are quite beautifully and elaborately constructed, with even the smallest details being fairly obvious. Our sword canes will undoubtedly improve your status and personality because they will give you a graceful aura.
All of this concerned the casing, but when it comes to the sword inside, we must remark that it is quite nice and sharp and capable of carrying out that kill in a single motion. We have all of them and so many more, including Dragon head sword canes, Gothic skulls sword canes, Demon Face Web Foot Sword Cane, Thoroughbred horse sword canes, and Striking cobra sword cane. Because we value our clients, we provide these excellent sword canes to them at the most affordable prices. Yep, you read that correctly. So look through our selection of the finest-crafted walking sword canes and buy one right away to always be your own defender.
Buy 6+ Sword Canes and Get an Extra 20% Discount on Wholesale Price
We are the distributor of the best sword canes, so if you're seeking for the top dropshipper and wholesaler, you should absolutely work with us. Also, we currently have a fantastic wholesale deal. Today, you can get a FLAT 20% Discount that sword cane if you purchase six or more of the identical item from us. To ensure complete client happiness, we make our customers the greatest wholesale offer possible.
Sword Cane – Walk With a Dreadful Weapon in Your Palm
You can choose wisely when it comes to your self-defense weapons thanks to Sharp Import. So, what might be the best course of action? It is unquestionably a Sword Cane. It resembles a cross between a sword and a cane. Hence, nobody is aware that the cane you are using to walk is actually a sword. It is, in our opinion, the most tasteful and sophisticated sword ever made. It keeps you safe in terrifying conditions with its harcore blade.
So use a beast under your palm to defend yourself. Get a sword cane right away and upgrade your walking stick to a watchful protector. There is a vast assortment of sword canes available at Sharp Import. The endless variety varies in terms of various patterns, fashions, and hues. 
A Gigantic Amassment of Sword Canes for Sale
We at Sharp Import have a huge selection of sword canes available for purchase. They include the Kalashnikov AK-47 sword cane, the devil face cane, the flying treasure dragon cane, the lovely lime green cane, the cane bird, the dragon master cane, and numerous other recognisable sword canes.
You can choose from a terrible range of sword cane designs as a result. Hence, order a sword cane from Sharp Import. Your best strolling partner and protector in an emergency will be our sword cane.
Sharp Import – The Best Wholesaler of Sword Canes
Go through our enormous selection of sword canes to choose the most intriguing styles. Try to identify another distributor who has such a fantastic collection now. We are the market leaders for sword cane because of this. We also have the most affordable pricing for these sword canes.
A sword cane is available for 90% less than its retail cost. See our collection to purchase the sword cane of your choosing at the lowest possible cost.
Do you need a walking cane that doesn't have a sword? For a comfortable walk, look through our elegant variety of walking sticks and get real walking canes.
Top Wholesale Suppliers Products / Categories Bulk Offers!
"Get access to unbeatable daily offers with "Wholesale Offers". Our platform offers the best value for money by connecting you with over 1000's trusted importers in the U.S. With a focus on overstock and quantity buys, you can enjoy exclusive discounts and savings on a wide range of products. No need to go from store to store or spend countless hours searching online – we bring all the best deals to you in one convenient place. Sign up now and start experiencing the power of bulk buying and unbeatable savings!"