Wholesale Samurai Katana Swords
According to Bushido, the fundamental ethical code of the Samurais, samurai swords represent the way of the warrior. The Samurai can be included on the list of the best and most talented warriors in history. They were the aristocracy of feudal Japan, also referred to as The Bushi. These prominent individuals lived during the Edo Period, which lasted from 1603 to 1867. The Samurai, who were the best fighters, created and used a variety of weapons, including spears, bows, and arrows, but their primary and most important weapon was the sword.
"Get access to unbeatable daily deals and bulk offers with "Wholesale Offers". Our platform offers the best value for money by connecting you with over 800 trusted importers in the U.S. With a focus on overstock and quantity buys, you can enjoy exclusive discounts and savings on a wide range of products. No need to go from store to store or spend countless hours searching online – we bring all the best deals to you in one convenient place. Sign up now and start experiencing the power of bulk buying and unbeatable savings!"
Wholesale Samurai Katana Swords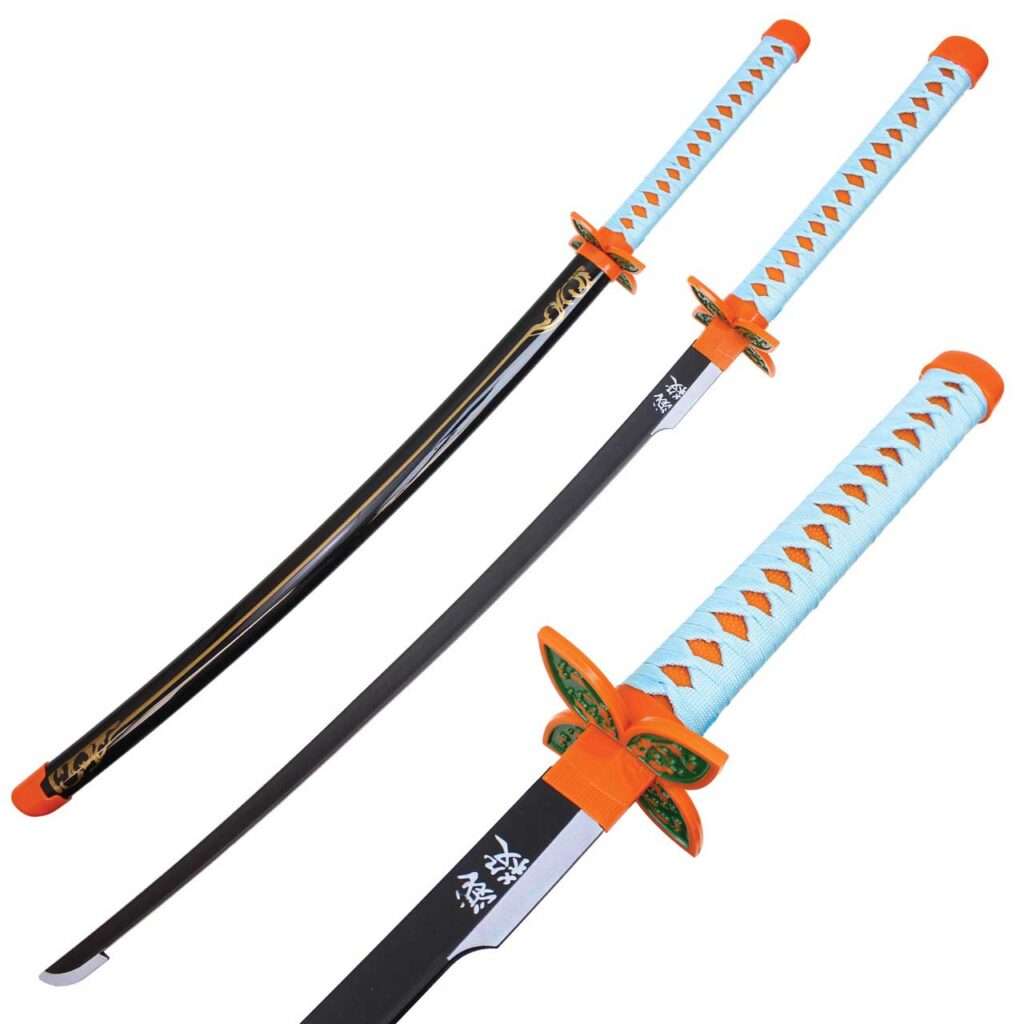 40" ABS Plastic Blade Kochou Kanae Katana Samurai Sword Demon
The Insect Hashira is a swift, lethal warrior who terrorises demons everywhere behind her serene and peaceful exterior. Her Nichirin katana represents her swift and insect-like fighting technique, which allowed her to stay one step ahead of any adversaries she came across. At your next convention, this anime-accurate katana is sure to turn heads and take your costume to new heights.
Dimensions:
Overall Length: 40"
Blade Length: 27.5"
Hilt Length: 10"
Weight: 1 lb
ABS Plastic Blade Kamado Tanjirou Katana Samurai Sword Demon Anime
A sword from antiquity that can maximise its user's powers is hidden somewhere in the village of the sword smiths. This sword serves as Tanjiro's Nichirin blade for the remainder of the manga after he takes it out of a training doll later on. This ABS plastic reproduction of an anime-accurate item is ideal for your Tanjiro cosplay event.
Dimensions:
Overall Length: 40"
Blade Length: 27.5"
Hilt Length: 10"
Weight: 1 lb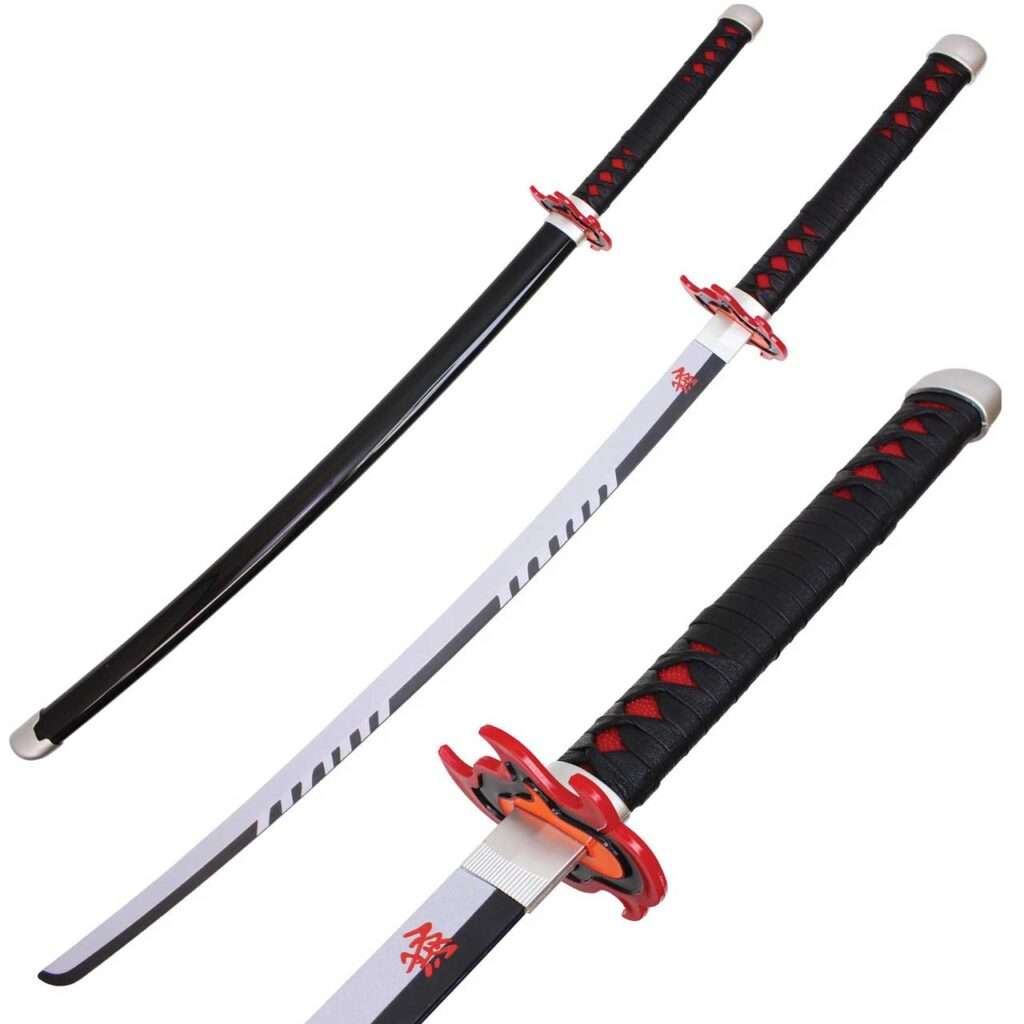 Samurai Swords – The Swords of The Nobles
Samurai swords, like their owners, convey grace and elegance. The Samurais were individuals of class who lived by the values of loyalty, self-discipline, and truthfulness. They abided by their laws and moral standards. Hey, are these Nobel laureates inspiring you? The Samurai sword, which is their most valued possession, is something you should absolutely acquire. So where may one be obtained? Don't worry; Wholesale Blades has you covered because we provide an incredible selection of the finest samurai swords.
Exceptional Samurai swords for sale
The greatest Samurai Katana swords are available from Wholesale Blades in a large range. Our authentic Samurai swords are only meant to be used by actual warriors, and nobody less. These Bushi swords are considered some of the greatest swords in history. Our Samurai swords faithfully capture the spirit of the original Samurai weapons from so many years ago. The greatest materials were used to build these Samurai Katana swords, which will enable you to master your swordplay and battle abilities. Our authentic Samurai swords include rounded guards, curved blades, and the sharpest blades. They are also incredibly robust.
The blades quickly slice through anything in their path, giving you the impression of a fearless and vigilant warrior. We also have Samurai swords that are precise copies of authentic Samurai swords in terms of their design and construction. It will make you feel like a real, famous Samurai warrior to wield one and practise the lovely art of swordplay with it. You obviously desire that for yourself. The graceful Samurai sword and the grandeur it brings? If so, have a look at our enormous selection of the most exquisite Samurai swords we have available for purchase, and buy it right away for the most affordable price.
Wholesale Blades – Distributor of the Best Wholesale Samurai Swords
The best wholesale and drop shipping services are offered to consumers by Wholesale Blades. Our Samurai swords are built to the highest standards and have amazing characteristics. And we provide them at a fantastic wholesale price to our clients so they can expand and thrive in their businesses. We only have a $25 minimum order requirement for our wholesale Samurai swords, but if you buy six or more of the same Samurai sword from us, we'll give you a FLAT 20% discount off the sword.
 Also, we provide our customers who run drop shipping businesses with 100% free drop shipping services. Yep, that's correct. You no longer need to pay a membership or drop shipping charge to start doing business with us. In addition to these incredible deals, we also provide the finest Samurai swords at the lowest prices. Make your purchase from us today to take advantage of the finest deals ever as well as our one-business-day shipping!
Katanas For Sale – Custom-Made Samurai Swords for Sale
We are pleased to provide you with the widest assortment of Samurai swords available for purchase, including Katana, Wakizashi, Tanto, long-blade Nodachi, Shirsaya, and Ninjato swords, among many others. Our swords come in a wide range of personalization possibilities and are crafted of high-quality materials.
Samurai swords are our area of expertise, with a particular emphasis on custom Katana swords and other Japanese weaponry. Each sword we manufacture is carefully handcrafted using ancient Japanese sword-making techniques and according to your preferences for high-quality materials.
We cordially invite you to explore our website, add it to your favourites, and become a part of our big family of collectors of Japanese swords.
You may join our VIP club and start receiving savings right now by signing up. (Join here by clicking.) Check out our collection of custom Samurai swords if you're considering creating your own personalised blades.
However, before constructing your own Katana sword, read on to learn about all the unique features we provide and some Samurai sword buying advice. (Or a different sword)
Custom-Made Katana Swords
The Katana sword is most recognised for its sharpness and extraordinary toughness, just to name a couple of its attributes.
Samurai warriors utilised a single-edged, curved sword called a katana.
When used in conjunction with a Tanto or Wakizashi, the Katana sword was once carried by Samurai.
If you belonged to the Japanese warrior class in feudal Japan, these would be your main weapons.
The Making of a Katana
History demonstrates that the distinctive forging of these Nihonto swords was made possible by the blade smiting method created in Japan. Japanese blades are forged with a variety of profiles, blades, and thicknesses.
Because the iron in Japan at the period was of poor quality, Japanese sword makers had to refine the steel by repeatedly folding it to remove impurities and form thousands of layers, which gave the blade its stunning Hada (grain pattern).
Additionally, traditional Japanese blades are going through a process known as differential hardening, which involves coating the blade with clay and tempering it. This allows the edge to become extremely hard and maintain its sharpness, while the spine is left softer, giving the Katana sword more flexibility and durability. the Katana sword is made more sturdy and flexible, allowing it to bend without breaking.
The Best Gifts for Men
The appropriate amount of curvature on the Katana sword allows the force of the blow to focus on a specific area of the blade.
Our custom-made Katana swords have a complete tang and come in a variety of steel kinds.
Whatever carbon steel Katana you choose from our website will be well crafted, functional, and capable of test cutting because real swords are made of carbon steel.
Top Wholesale Suppliers Products / Categories Bulk Offers!
"Get access to unbeatable daily offers with "Wholesale Offers". Our platform offers the best value for money by connecting you with over 1000's trusted importers in the U.S. With a focus on overstock and quantity buys, you can enjoy exclusive discounts and savings on a wide range of products. No need to go from store to store or spend countless hours searching online – we bring all the best deals to you in one convenient place. Sign up now and start experiencing the power of bulk buying and unbeatable savings!"