The number of people who are captivated with movies and their characters is enormous. While libraries get very little traffic, movie theatres are always packed. As a result, more individuals enjoy movies than books. We take cues from the characters in movies, try to emulate them, and occasionally become fixated on them. In contrast to fantasy and action movies, which make audiences obsess over the latest technology, historical films compel audiences to fall in love with history, items from the past, and particularly swords. Are you also completely obsessed with movie swords? If so, Wholesale Blades has a big surprise in store for you, so you're on the right page.
"Get access to unbeatable daily deals and bulk offers with "Wholesale Offers". Our platform offers the best value for money by connecting you with over 800 trusted importers in the U.S. With a focus on overstock and quantity buys, you can enjoy exclusive discounts and savings on a wide range of products. No need to go from store to store or spend countless hours searching online – we bring all the best deals to you in one convenient place. Sign up now and start experiencing the power of bulk buying and unbeatable savings!"
Wholesale Movie Swords Products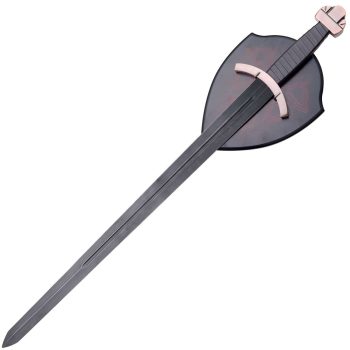 A sword like this Viking Warrior Sword would probably be there if you were to challenge a Viking to a duel. This weapon is tough and tough-looking, faithfully recreating the iconic appearance of the legendary Viking weapon. The blade is made of black stainless steel and has a shallow fuller. With some remaining thrusting ability, the combination gives the weapon good balance and a rounded point that adds extra percussion to each stroke. Although purposefully kept tiny, the cast-metal guard features a slight downward bend towards the blade in keeping with traditional Viking design. The lobed pommel and wood-and-leather-wrapped one-handed grip give this sword a polished appearance. With the sword, there is a plaque made of wood.
Measurements:
Overall Length: 39 Inches
Blade Length: 30 Inches
Handle Length: 9 Inches
Exceptional Quality William Wallace Brave Heart Claymore Sword
William Wallace's famed Brave Heart Claymore sword, a replica of the knight's sword. This blade, which is 32.28″ in length overall and is made of stainless steel, can wield a powerful force, especially when combined with the handle's thick, tough, brown leather wrap.
Measurements:
Blade: 32.28″
Handle 9″
Overall: 42″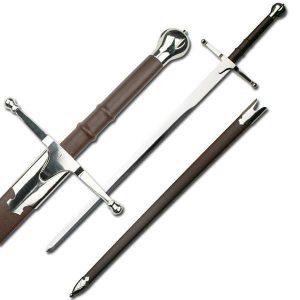 Iconic Movie Swords For Sale
The most beautiful movie swords are available at Wholesale Blades at extremely affordable prices. Our movie swords are superbly manufactured and identical in appearance to those seen in those films. Hence, if you love watching movies and also collect swords, our movie swords will blow your mind with their beauty. Simply mention the name of any movie sword, and we will almost certainly have it on hand. Our movie swords have authentic designs, excellent blades, and a very realistic appearance. Although the blades are quite sharp, are you now concerned for your safety? Unsafe variants of these swords made of foam are also available, so don't worry. Just simply These swords will look great with a king, knight, or warrior costume, so bring them to any LARP or cosplay event.
We provide a wide variety of swords at very competitive prices, including the renowned Claymore sword of Sir William Wallace, The Walking Dead sword, the Ultraviolet movie blade, Altair's sword from Assassin's Creed, the Highlander sword, and many more. You can now own the sword you've only only seen in movies and fantasised about. You can obtain it for yourself and fulfil your desire to play the role of a hero. Isn't it incredible? What are you still holding out for? Explore our selection of the top movie swords for sale and place an order today for a very low price. We also adhere to the principle of complete client happiness, and we guarantee that if you buy one, you'll come back for more.
Wholesale Blades – Wholesaler of Top Notch Movie Swords
The best movie swords for sale are distributed by Wholesale Blades, which also offers fantastic deals to its clients. In an effort to achieve complete customer happiness, we offer the best wholesale and dropshipping services. We are the most well-known distributor of movie swords, and one of the reasons for this is that we give our customers access to a big wholesale selection. Do you wish to learn more? You can get a FLAT 20% OFF discount on a movie sword if you purchase six or more of them from us. Amazing. Right? You should take advantage of this offer as soon as you can because it allows you to save so much money!
For individuals who are involved in the drop shipping industry, we also have excellent news. By offering 100% FREE drop shipping and membership services, we have made running a drop shipping business simpler than ever. You did hear correctly. Thus, order the top movie swords from us right away to take advantage of fantastic discounts and the quick shipping of just one business day.
An Explicit Variety of Movie Swords
Consider a movie where you saw a weapon that you wished you owned. You can rely on Sharp Import to give you that weapon. We have an amazing assortment of movie swords that are exact copies of the original ones used in the films. The Sword of Odeja from Assassin's Creed, Brave Heart's sword, the Gladius sword, The Grim Reaper Death Scythe blade, Ultraviolet movie sword, Matrix movie replica swords, Budd's sword, and hundreds more are just a few examples of the many swords in this category. So pick your favorite movie sword from our selection and purchase it at a discount.
Sharp Import – Wholesaler of Cheap-Priced Movie Swords
A reputable wholesaler of movie swords is Sharp Import. Sharp Import is the only retailer where you can discover such a wide selection of movie-inspired swords. We are one of the largest distributors of cheap movie replica swords. How are we so reasonable? In actuality, our wholesale costs are much lower than our retail costs. You may save 90% off retail prices by shopping at Sharp Import for your preferred movie sword. Why are you holding out? Get a movie sword right away to add something cool to your collection.
Movie Swords – The Meticulous Movie Replica Swords
Sharp Import delivers the distinctive collection of swords that was promised. Our clients are really pleased with our Cinema Swords. These weapons are authentic replicas of the actual weapons used in the movies. We have it for you if you're trying to acquire one, so congratulations. To buy your loved ones a sword, look through our collection of movies.
It has grown popular to watch movies, especially ones that feature battles and wars. This is as a result of the amusement they provide and the remarkable weaponry they display. We are aware that you enjoy imitating movie scenes, and you need precisely the same weaponry to do so. This is made possible through Sharp Import. Invest in our weaponry to make practising your movie replication talents an ideal practise if you're interested in showing them off.
Top Wholesale Suppliers Products / Categories Bulk Offers!
"Get access to unbeatable daily offers with "Wholesale Offers". Our platform offers the best value for money by connecting you with over 1000's trusted importers in the U.S. With a focus on overstock and quantity buys, you can enjoy exclusive discounts and savings on a wide range of products. No need to go from store to store or spend countless hours searching online – we bring all the best deals to you in one convenient place. Sign up now and start experiencing the power of bulk buying and unbeatable savings!"