Wholesale Motorcycle Leather Gloves
We are Wholesale Motorcycle Gloves, If you are looking for comfort combined with safety.
A decent helmet, jacket, trousers and gloves. Those are the four most important motorcycling clothing items any biker should have. Sadly, too many riders neglect to place as much importance upon buying the right gloves as they do in protecting their head and upper body.
Wholesale Motorcycle Leather Gloves​ Offers Collections
Wholesale Motorcycle Gloves carries one of the best glove collections online, from leather motorcycle gloves to heated gloves to cooling gloves. We even have exclusive deerskin glove lines, a good pair of gloves will reduce vibrations from the handlebars to your hands. We know the importance of a quality pair of gloves.
"Get access to unbeatable daily offers with "Wholesale Offers". Our platform offers the best value for money by connecting you with over 1000's trusted importers in the U.S. With a focus on overstock and quantity buys, you can enjoy exclusive discounts and savings on a wide range of products. No need to go from store to store or spend countless hours searching online – we bring all the best deals to you in one convenient place. Sign up now and start experiencing the power of bulk buying and unbeatable savings!"
Wholesale Motorcycle Leather Gloves​ For Women's
Wholesale Motorcycle Leather Gloves​ For Men's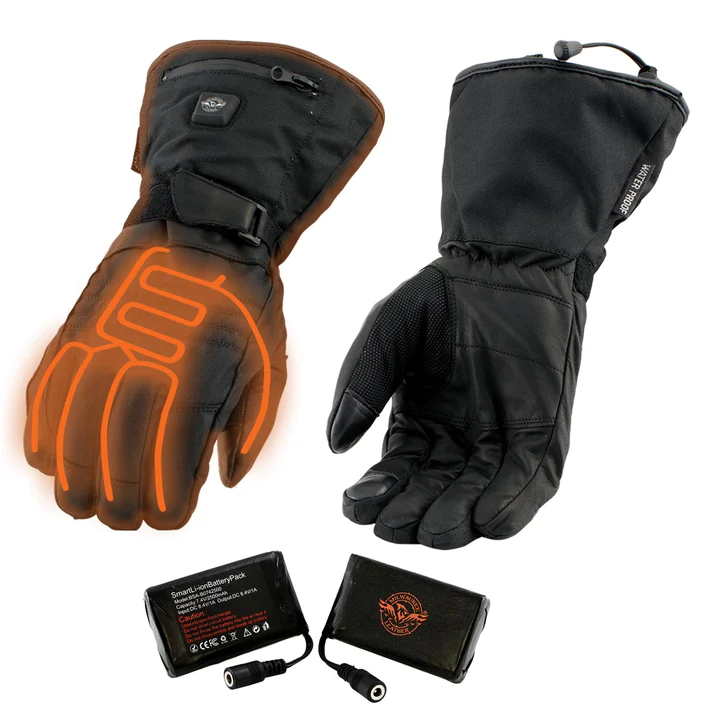 Men's Black Heated Textile & Leather Combo Gauntlet Gloves with I-Touch
Features
Made of Premium Aniline Cowhide Leather with Durable Textile Exterior Shell

i-Touch Index and Thumb Finger Tips for Smart Phone/Device Usage

Waterproof and Windproof Hipora Membrane
Built In Triple Heat Setting Keeps You Warm with The Press of a Button
Led Lights Indicate Power is On or Off
Heat Settings Red=High, White=Medium, Blue=Low
Built In Waterproof Battery Pocket with Built In Battery Connection
Patent Pending Dual Technology Heating System Works with Optional (Sold Separately)12V Harness Wire and Included 7.4V Battery Pack
Close Out Tourmaster 8430-7405-06 7V Synergy Men's Black Heated Textile Gloves
Features
Four-Level Push Button 7.4v Design
Heavyweight Polyester And Spandex Blend Fabric Used In The Backhand, Fingers, Fourchettes, And Gauntlet
Supple And Abrasion Resistant 0.7-0.8mm Goatskin Leather Used To Construct The Palms And The Outside Of Pinky Fingers
Microfiber Overlays Incorporated Into The Palm Thumbs For Added Durability
Ergonomically Positioned Gauntlet Zipper Pockets Comfortably Store Battery Packs
5mm Memory Foam Padded Knuckles And Accordion Stretch Fingers Provide Added Protection Without Sacrificing Comfort
Hipora Waterproof, Breathable Membrane To Block Out Moisture
80g 100% Polyester Insulation Keeps The Cold Out And Warmth In
Fleece Lining For A Warm And Luxurious Fit And Feel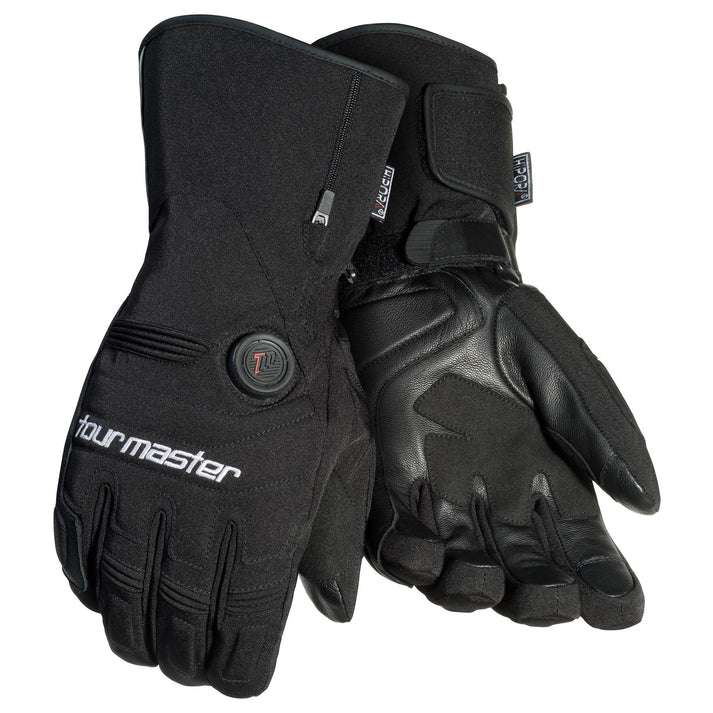 Wholesale Motorcycle Gloves
Wholesale Offers Trusted By 3.5 Million Customers Since 1999 – Buy With Confidence
A good pair of motorcycle gloves will make your ride that much more enjoyable. They can help reduce vibrations from the handlebars to your hands. They will help protect your skin from the blaring sun in the summer, and the cool chill of winter wind. Biker gloves also help protect your hands from debris and more importantly road rash if you ever go down. And most importantly they're the final classic accessory you need to complete your color matched riding gear. Also checkout our line of heated gloves for winter or snowmobile riders. So if you're looking to buy motorcycle gloves today, Wholesale Offers has got you covered.