Wholesale Medieval Swords
The mediaeval era was a time in European history that began with the fall of the Roman Empire and concluded with the advent of the Renaissance. Basically, it lasted from the fifth century AD through the thirteenth or fifteenth century. The Medieval Times saw several conflicts and battles, and among all the remnants of those times that are still remembered, mediaeval swords are the most well-known. The Great sword, Broadsword, Falchion, Scimitar, and Longsword are just a few of the numerous mediaeval swords that attained fame and are still well known today. Even after all these years, these swords are still treasured by individuals who are either collectors, history buffs, or just passionate about swords.
"Get access to unbeatable daily deals and bulk offers with "Wholesale Offers". Our platform offers the best value for money by connecting you with over 800 trusted importers in the U.S. With a focus on overstock and quantity buys, you can enjoy exclusive discounts and savings on a wide range of products. No need to go from store to store or spend countless hours searching online – we bring all the best deals to you in one convenient place. Sign up now and start experiencing the power of bulk buying and unbeatable savings!"
Wholesale Medieval Swords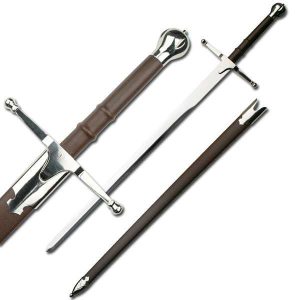 Exceptional Quality William Wallace Brave Heart Claymore Sword
William Wallace's famed Brave Heart Claymore sword, a replica of the knight's sword. This blade, which is 32.28″ in length overall and is made of stainless steel, can wield a powerful force, especially when combined with the handle's thick, tough, brown leather wrap.
Features:
Polished stainless steel blade
Polished steel pommel
Polished steel guard
Leather-wrapped handle
Hard leather-wrapped scabbard with polished metal throat and chape
Measurements:
Blade: 32.28″
Handle: 9″
Overall: 42″
Fantasy Glamdring Replica Sword With Blue Leather Wood Scabbard
This gorgeous fantasy sword from The Lord of the Rings has a blue leather grip. This sword has a crossguard made of solid metal with a complete tang. Silver and gold embellishments are used to beautifully polish the wood scabbard.
Specifications:
Overall Length: 44 Inches
Blade Length: 33 Inches
Handle Length: 10 Inches
Blade Thickness: 1/4 Inch
Features:
Blade Material: 440 Stainless Steel
Handle Material: Solid metal cross-guard and pommel with an metal finish.
leather-wrapped hand-grip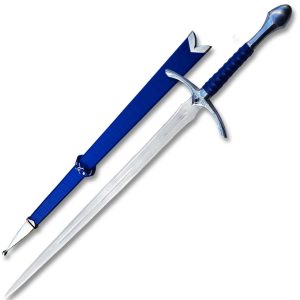 Exceptional Medieval Swords For Sale
We carry a sizable selection of authentic mediaeval swords at Wholesale Blades. These swords are exact reproductions of actual mediaeval swords that were made during the mediaeval era. The designs are flawless in every way, and your collection will benefit greatly from their elegance. Do you want to know the names of a few of the stunning mediaeval weapons we have? We carry the Excalibur, King Arthur's most famous sword. This sword is really beautiful, and we sell the same one to our customers. In addition to this, we also have King Solomon's fabled sword. The guard and pommel of the sword are gold-plated, and it has lovely metal engravings that speak of grace. The distinctively designed Scottish Claymore sword is also available. The The replica we offer showcases The Claymore's authentic splendour and has a chrome-polished hand guard for a timeless appearance.
Roman Gladiator Sword, which has a beautiful design, is another of our top sellers. This one features an extremely fine blade, wood grain finish on the guard, and brass toned embellishments, making it the pinnacle of beauty. In addition to these magnificent items, we also have a large selection of other mediaeval swords, like the Viking sword, the Crusader sword, and many others. We also offer you the most affordable prices on all of these beautiful and sophisticated swords. Isn't this simply amazing? What are you still holding out for? Explore our enormous selection of the most beautiful mediaeval swords available for purchase, and buy one right away at a very affordable price. You can rely on these authentic mediaeval swords to provide a touch of class. to your room.
Wholesale Blades – Top Wholesaler and Drop shipper of Medieval Swords
We are the distributor of Medieval swords with top-notch quality, so if you're seeking for the best Medieval sword wholesaler or even the greatest drop shipper, you should absolutely do business with us. Today, you can get FLAT 20% Discount that item if you purchase six or more of the same mediaeval swords from us. To ensure complete client happiness, we make our customers the greatest wholesale offer possible.
For those of our customers interested in the drop shipping industry, we also provide Complimentary membership and drop shipping services. Take advantage of these deals as soon as you can by choosing from the finest selection of mediaeval swords at the most affordable prices, and then take advantage of the quickest shipping of just one business day.
Medieval Swords for Sale at the Wholesale Prices
The famous swords used throughout the Middle Ages are known as mediaeval swords. These swords still have a place in our times, despite the fact that we have advanced greatly. These historically noteworthy swords continue to be popular. We therefore present a selection of the most popular mediaeval swords among buyers. Purchase a number of mediaeval swords at discounted costs. We promise that our prices are significantly less expensive than retail costs. If you own a retail business, there is a wonderful chance for you to make enormous profits.
An Extravagant Range of Historical Medieval Swords
We have some of the most beautiful mediaeval swords at Cutlery Wholesale. Nowhere else will you discover such a comprehensive selection of swords. We keep in stock the most well-known, authentic mediaeval swords. We at Cutlery Wholesale include the most popular swords to our collection since we are aware of what consumers want and what sells. The well-known Roman Empire Dagger sword, William Wallace's sword, the Medieval Renaissance Rapier sword, and many other historical swords are now available. So stock up on our well-liked mediaeval swords and make sure your retail company makes more money than you anticipated!
Top Wholesale Suppliers Products / Categories Bulk Offers!
"Get access to unbeatable daily offers with "Wholesale Offers". Our platform offers the best value for money by connecting you with over 1000's trusted importers in the U.S. With a focus on overstock and quantity buys, you can enjoy exclusive discounts and savings on a wide range of products. No need to go from store to store or spend countless hours searching online – we bring all the best deals to you in one convenient place. Sign up now and start experiencing the power of bulk buying and unbeatable savings!"