Wholesale Knives Accessories
Do you wish to provide your consumers with more than just top-notch knives for virtually any situation? When you work with Blue Ridge Knives, you can also find a sizable assortment of knife accessories and associated products. Slingshots and first aid kits are among the many wholesale knife accessories that we provide for sale.
"Get access to unbeatable daily deals and bulk offers with "Wholesale Offers". Our platform offers the best value for money by connecting you with over 800 trusted importers in the U.S. With a focus on overstock and quantity buys, you can enjoy exclusive discounts and savings on a wide range of products. No need to go from store to store or spend countless hours searching online – we bring all the best deals to you in one convenient place. Sign up now and start experiencing the power of bulk buying and unbeatable savings!"
Wholesale Knives Accessories Products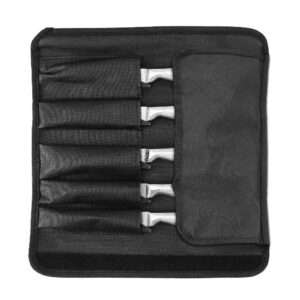 5-Pocket Oxford Cloth Knife Roll LKKRB20001
Key Features
The oxford cloth that was used for this knife roll is thicker than most fabric. Does not shrink over water, and requires little to no maintenance.
Five slots is enough to bring all essential kitchen knives along chef knife, paring knife, bread knife, boning and fillet knife.
The draping cloth is a roll-up flap that serves as a safeguard to prevent accidental injuries caused by sharp blades.
3-Stage Manual Knife Sharpener LKKSP20002-4
Key Features
The sharpener has three different slots that are able to sharpen a wide range of blades including chef knives, cleavers, or even pocket knives.
Sharpener is made from durable, anti-slip ABS material. While the sharpening slots consist of ceramic, stainless steel, and diamond.
Comes in three different colors. Contact us to customize the colors or even add engravings of your brand.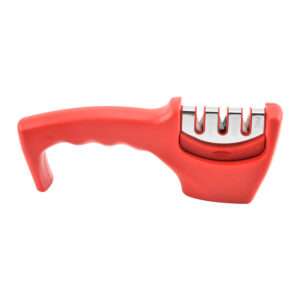 Types of Wholesale Knife Accessories Include:
First Aid Kits
If you're going to sell knives in your physical store or on your internet, it's a smart idea to also sell first aid kits and other wholesale knife accessories. Particularly first aid packages can safeguard your clients in the event that they sustain an injury when camping, hunting, fishing, or engaging in any outdoor activity.
Sling Shots
Sling shots are a form of hunting gear that some people regard to be primitive, but others love using them for both fun and practical reasons. For those shops who want to keep slingshots in stock for clients, Blue Ridge Knives has a variety of them available.
Belt Buckles
Your clients adore being outside. So why not give them a way to express it with rugged belt buckles that round off their outfit? You may get as many belt buckles as you need for your online shop or brick-and-mortar store from Blue Ridge Knives.
Wallets
Are you searching for strong, durable wallets that can withstand almost anything? The wallets Blue Ridge Knives offers will be put to good use by your consumers, who will also appreciate how durable they are.
Watches
Any outdoor enthusiast should spend money on a solid timepiece that can withstand the worst weather. The watches that your consumers demand are in stock at Blue Ridge Knives, and they can provide you with a wide variety of them.
Books
There are many books available at Blue Ridge Knives that can inform and amuse readers who are interested in learning more about the outdoors and all that it has to offer. To draw customers, think about stocking your shelves with books.
Wholesale Knife Sharpeners
Wholesale portable and chef's choice sharpeners from a range of reputable brand names are available from Blue Ridge Knives to retail store owners, website operators, and others. Products from AccuSharp, DMT, Eze-Lap, Fiskars, Hewlett, Lansky, Warthog, Arkansas Stones, Smith's, Norton, Buck, Sentry Solutions  are available from "Your One Stop Global Wholesale Distributor" here. Once you email us a copy of your state-issued resale license, you can look through the sharpeners we have available in our monthly sales catalog.
Multi-Tool Distributor of Victorinox, Swiss Army Knives, SOG, Gerber & More
A large selection of reliable multi-tool manufacturers are represented by the wholesale multi-tool wholesaler Blue Ridge Knives. Traditional Victorinox Swiss Army knives, multi-tools from Gerber, SOG, and more are all available. Blue Ridge Knives is your one-stop shop for multi-tools, whether you want to give your customers traditional multi-tools or more sophisticated multi-pliers. We promise to have equipment that will be useful for your consumers among the more than 750 brands of knives we carry in total.
Top Wholesale Suppliers Products / Categories Bulk Offers!
"Get access to unbeatable daily offers with "Wholesale Offers". Our platform offers the best value for money by connecting you with over 1000's trusted importers in the U.S. With a focus on overstock and quantity buys, you can enjoy exclusive discounts and savings on a wide range of products. No need to go from store to store or spend countless hours searching online – we bring all the best deals to you in one convenient place. Sign up now and start experiencing the power of bulk buying and unbeatable savings!"