Wholesale Hidden Blade Knives
"Get access to unbeatable daily deals and bulk offers with "Wholesale Offers". Our platform offers the best value for money by connecting you with over 800 trusted importers in the U.S. With a focus on overstock and quantity buys, you can enjoy exclusive discounts and savings on a wide range of products. No need to go from store to store or spend countless hours searching online – we bring all the best deals to you in one convenient place. Sign up now and start experiencing the power of bulk buying and unbeatable savings!"
Wholesale Hidden Blade Knives Products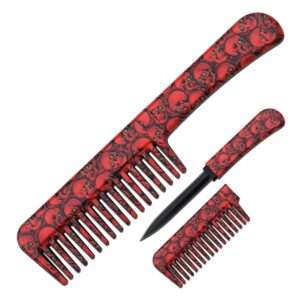 Self-Defense Brush Comb With Hidden Knife - Toxic Skulls Red
This red Self Defense Brush Comb with Knife and Poison Skulls resembles a typical plastic comb in appearance. Remove the top to expose a 3.25″ single-edged blade that is sharp!
Specifications:
Overall Length: 6.5 Inches Approx.
Blade Length: 3.25 Inches Approx.
Self-Defense Brush Comb With Hidden Knife - Toxic Skulls Blue
This blue Self Defense Brush Comb with Knife and Toxic Skulls has the appearance of a typical plastic comb. Remove the top to expose a 3.25″ single-edged blade that is sharp!
Specifications:
Overall Length: 6.5 Inches Approx.
Blade Length: 3.25 Inches Approx.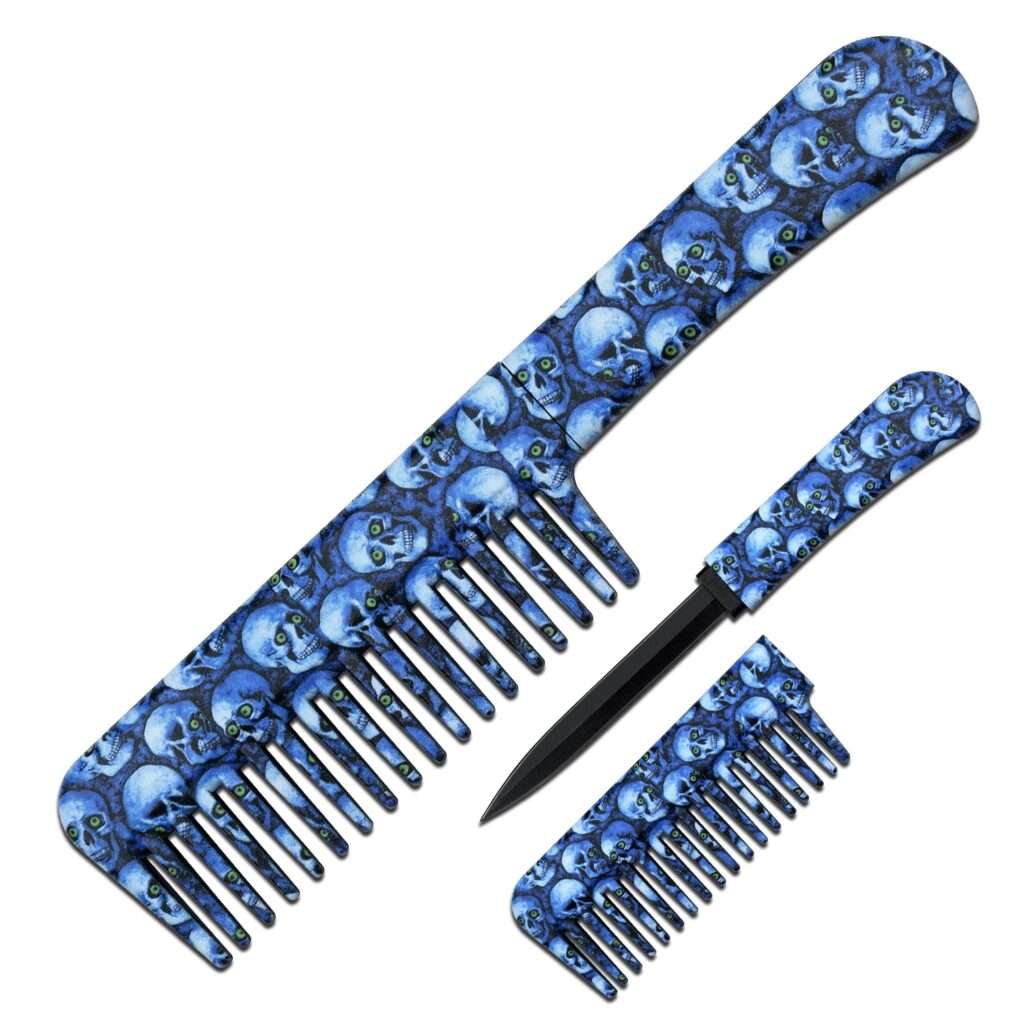 The Diversity of Hidden Blades
When it comes to self-defense, Hidden Blade shows to be quite effective. Several accessories and tools now have a whole new meaning thanks to these blades. A blade that is hidden is one that is hidden from other people's view. When needed, it can be withdrawn and drawn back. Currently, there are many different variations and possibilities for concealing or hiding something. Even the fashion business has been affected by hidden blades. Hidden blade necklaces, lipstick knives, pen knives, boot knives, hidden blade carabiners, and a lot more are commonplace today.
Concealed blades have transformed everyday items into weapons for self defence. Do you, however, question what the advantage is of that? The advantage is rather straightforward and clear. Carrying a self-defense equipment has never been simpler thanks to hidden knives. Even better, this covert weapon offers you the upper hand over your attacker by striking when he least expects it. Even when they are not camouflaged as commonplace objects or items, they come in sheaths, which makes transporting and hiding them considerably simpler.
Real Hidden Blades For Sale
All of our customers can choose from a large selection of genuine concealed blade products at Wholesale Blades. Our hidden blade knives have distinctive designs that make them very covert. The blades are extremely delicate and are capable of performing any act efficiently and covertly. Along with our affordable costs, our beautiful range and designs set us apart from our rivals. Indeed, Wholesale Blades makes an effort to offer the best products at the lowest prices since we aim for 100% customer satisfaction and won't accept anything less.
Wholesale Blades – The Top Wholesalers and Drop shippers
You should try us out if you're seeking for some top-notch hidden blades. We are the leading wholesalers, offering you a wide selection of hidden blades of all types at the most competitive prices. If you purchase six or more units of the same product from us, we will give you an incredible FLAT 20% discount on your order. Also, we have excellent news for everyone involved in dropshipping. With us, you can now grow your dropshipping business without paying any membership or drop shipping fees. Isn't it fantastic? Obviously, it is! Explore our incredible selection of genuine hidden blades to find the best-hidden blades for you. knives for a very good price.
About hidden knives
The go-to self-defense tool is a hidden knife. They are lightweight, portable, and simple to use without the need for special skills or experience. When your life is in jeopardy, you don't want to be caught without a weapon, but you also don't want to expose your cards to the assailant. By staying hidden until the appropriate moment, a concealed knife finds a solution to this.
The finest close-range self-defense tool is a blade concealed in an everyday object since it is convenient to use and reasonably priced. The best knives for concealed carry could mean the difference between escaping and becoming a statistic. Since the aggressor won't discover that you are carrying a knife until it is too late, you will have the upper hand.
Always check the Pocket Knife Database before purchasing a hidden knife. Knife laws and regulations in your state to confirm that they are accepted there.
What are the best concealed carry knives?
Personal defense is essential, especially when you're by yourself, but everyone has different needs when it comes to selecting the best self-defense knife. A lipstick knife or comb may be preferred by women, whereas some people may prefer a belt buckle knife. Simply choose what you feel makes the most sense for you and your preferences.
A well hidden knife can be practical for daily use in addition to being excellent for self defence. A sharp and portable blade is necessary for many people in their daily life, whether they are opening a package, cutting rope, or chopping fruit.
If you're searching for something with even more, you might also want to look into the Kubaton with Blade.
Added benefits over a standard hidden knife
You might also find the Pen Knife and the multipurpose tool card to be interesting examples. Please feel free to browse our whole selection of knives at Superior Defense since we carry more than these.
Attackers could be anywhere.
Not all crime occurs in large cities. Small towns and other low-crime locations are equally represented. You should be ready for occasions when attackers and wrongdoers could appear around any corner.
These individuals seek for unprepared, naive, and visually vulnerable victim. Even if you don't fit any of these descriptions, someone in enough need of help might nonetheless choose to assault you.
But, you need not worry if you carry a concealed knife like the Belt Buckle Knife. Simply grasp your knife from your midsection, reach for the appropriate moment to attack, and do so.
Benefits of carrying a concealed knife
It is one of the best self-defense weapons, if not the best, due to a number of advantages. These three primary characteristics set it apart from the competition:
A knife is simple to operate because there aren't many moving parts in it. Although they are simple to use, it does take some practice to utilize them efficiently and at a higher level.
2. Versatility: Knives have uses other than self-defense. The correct one can assist with numerous daily chores, increasing the knife's worth by transforming it into a more useful tool overall rather than just a weapon.
3. The element of surprise: Having hidden knives gives you the advantage of surprise. in poor circumstances.
Top Wholesale Suppliers Products / Categories Bulk Offers!
"Get access to unbeatable daily offers with "Wholesale Offers". Our platform offers the best value for money by connecting you with over 1000's trusted importers in the U.S. With a focus on overstock and quantity buys, you can enjoy exclusive discounts and savings on a wide range of products. No need to go from store to store or spend countless hours searching online – we bring all the best deals to you in one convenient place. Sign up now and start experiencing the power of bulk buying and unbeatable savings!"