Wholesale Handmade Swords
Swords that are created by hand have the same design and appearance as other swords. Their design, however, is entirely different. Swords created by hand are produced by artisans and smiths. By heating metals to high temperatures, shaping, and forging them into the swords they want to design, these metalworkers put them through a highly drawn-out and difficult procedure. A difficult process. Right? When making these swords, smiths consider a variety of criteria. The most fundamental of these are strength, flexibility, balance, and hardness, and they are rather challenging to achieve in handcrafted swords. These swords are prized for their true craftsmanship and minute detailing and have more details than the others.
"Get access to unbeatable daily deals and bulk offers with "Wholesale Offers". Our platform offers the best value for money by connecting you with over 800 trusted importers in the U.S. With a focus on overstock and quantity buys, you can enjoy exclusive discounts and savings on a wide range of products. No need to go from store to store or spend countless hours searching online – we bring all the best deals to you in one convenient place. Sign up now and start experiencing the power of bulk buying and unbeatable savings!"
Wholesale Handmade Swords

Handmade Sword Death Fang Dark Ninja Katana
It features a beautiful High 1060 Carbon Steel Blade with Blood Grove. This blade comes razor sharp with a mirror polish finish. The guard is the most eye catching part with a one side looking like a curved fang, black color copper. The handle is wrapped with Black Nylon Cord which secures the Double Pegged Handle. The Hilt of the Katana carries a face of a Dark Skull. The scabbard is built on solid wood with a back strap on it for easy carrying. 
Specifications:
Overall Length: 41 Inches
Blade Length: 28 Inches
Blade: Thick, Blood Groove, Sharp, 1060 High Carbon Steel
Handle: 12 Inches, Full Tang
Includes: Wooden Scabbard, Back Strap
Features: Skull Emblem on Pommel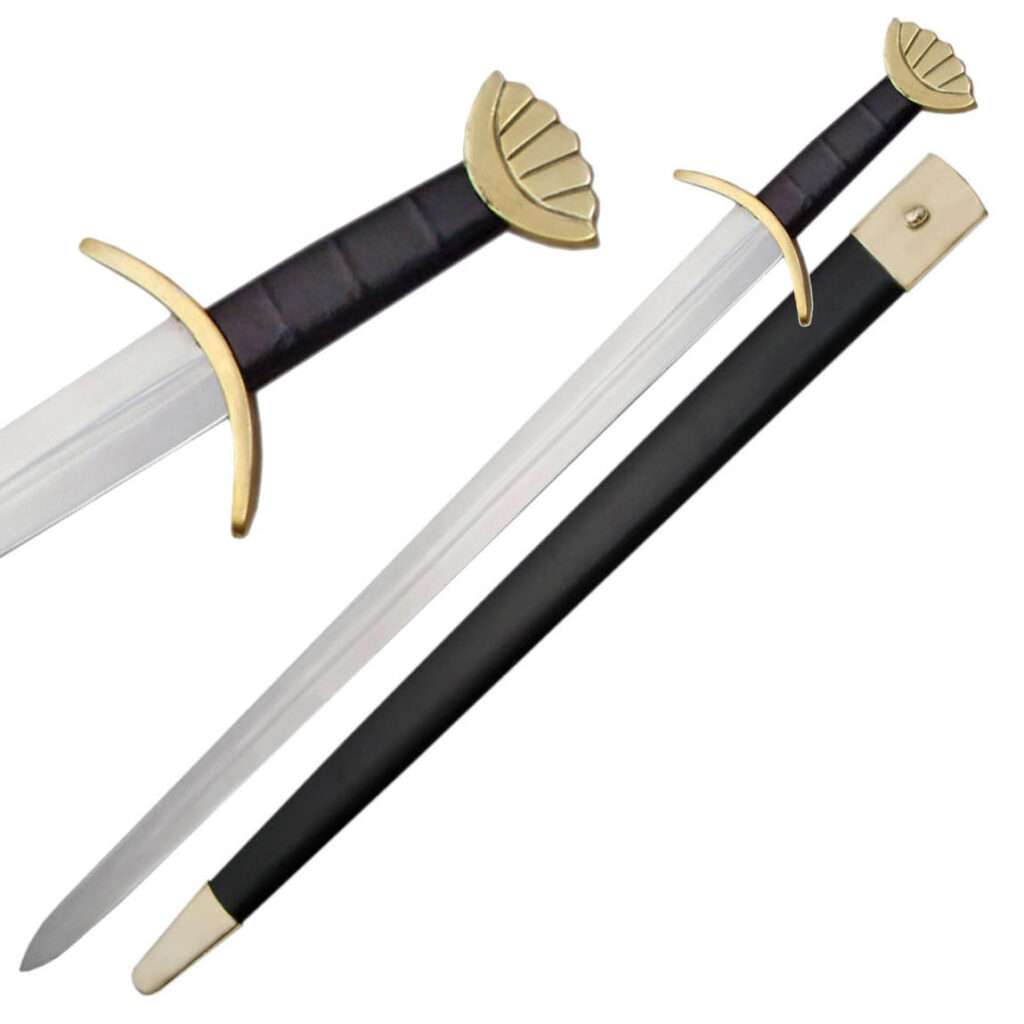 Medieval Viking Handmade Sword
This Viking Sword has an overall length of 36.5 inches. The blade of this sword is constructed from stainless steel with a wood handle wrapped with imitation leather. The Viking Sword includes a leather scabbard that has a brass throat and tip. The guard and pommel of the Viking Sword is brass also. Our Viking Sword would make a great display sword in your home or office.
Key Features:
Great Display Sword
Wood Handle Wrapped In Imitation Leather
Stainless Steel Blade
Authentic To The Viking Era
Brass Guard And Pommel
Includes Leather Scabbard
Intricately Designed Handmade Swords For Sale
The finest and most brilliantly crafted handmade swords are available for purchase at Wholesale Blades. Our custom-crafted swords are the greatest of all and made from the best components. They are incredibly hard-core and precisely designed. Our handmade swords are incredibly robust and long-lasting. Despite being handcrafted, they are incredibly balanced, tough, and flexible. Because they are crafted by reputable and authentic smiths, no one can doubt the quality of the construction of our handmade swords. Our handmade swords for sale are exquisite and accurately represent the patterns. Want to learn more about the breathtaking items we have? The legendary Highlander sword, the spectacular Walking Dead blade, the Crusader sword, and the traditional Medieval Viking sword are all available at Wholesale Blades.  sword and so many others.  
Are you contemplating these handmade swords' blades? Almost worrying that since they were produced by hand, they might not be good enough. There is absolutely no need to be concerned because the blades of our handcrafted swords are one of their specialties and are constructed of the best stainless steel, making them quite sharp and battle-ready. Our handmade swords for sale are really tough to surpass because they are so sturdy. These handmade swords are extremely fantastic and are available for purchase. They will look magnificent on your walls and make a wonderful addition to your collection of swords. We also include scabbards and belts with the swords, as if having swords would not be enough. These are the genuine masterpieces that we are providing to you at the most affordable prices. Browse our selection of superb handcrafted swords for sale to make your choice at the most affordable prices.
Top Wholesaler of The Best Handmade Swords
The best handmade swords are offered at extremely low prices by Wholesale Blades, a dropshipper and wholesaler. You won't want to miss any of our handmade swords because they are the best available. Whether you love swords or not, these magnificent handmade swords captivate you. We also currently have a fantastic wholesale deal. Save 20% OFF the same handmade sword when you purchase six or more of it from us! Absolutely, that is accurate.
For individuals who work in the drop-shipping industry, we also have something. Customers of Wholesale Blades can join for absolutely no cost and use their dropshipping services. Order now to receive one of our fantastic, incredibly sturdy, handcrafted swords with the quickest shipping possible business day only. 
Handmade Swords for Sale
Invented by Cutlery Wholesale is a line of exquisitely crafted hand swords. These are authentic swords made by skilled swordsmiths. We offer the best of them at the most affordable costs in our wholesale store. As comparison to retail prices, our wholesale prices are significantly lower. This is the finest offer if you want to purchase handmade swords in large quantities. Get any of these swords for 90% off the regular cost.We promise that you won't find such a beautiful selection of handmade swords for sale anywhere else. We have the most well-liked, reliable, and premium hand-forged swords at Cutlery Wholesale. Explore our extensive collection at your leisure to discover hundreds of outstanding swords. Our custom-made swords are fashioned from
superb craftsmanship We vouch for the fact that these swords are unmatched, and if you stock them in your shop, you will soon see hordes of consumers buying them! We have an amazing selection of handmade swords, including the Apocalypse Katana, Ten Ryu Samurai Sword, Zombie Slayer Katana, and many more. Thus, scroll through to locate your favourite swords and purchase them for the cheapest prices.
Top Wholesale Suppliers Products / Categories Bulk Offers!
"Get access to unbeatable daily offers with "Wholesale Offers". Our platform offers the best value for money by connecting you with over 1000's trusted importers in the U.S. With a focus on overstock and quantity buys, you can enjoy exclusive discounts and savings on a wide range of products. No need to go from store to store or spend countless hours searching online – we bring all the best deals to you in one convenient place. Sign up now and start experiencing the power of bulk buying and unbeatable savings!"