Wholesale Hand-Forged Knives
"Get access to unbeatable daily offers with "Wholesale Offers". Our platform offers the best value for money by connecting you with over 1000's trusted importers in the U.S. With a focus on overstock and quantity buys, you can enjoy exclusive discounts and savings on a wide range of products. No need to go from store to store or spend countless hours searching online – we bring all the best deals to you in one convenient place. Sign up now and start experiencing the power of bulk buying and unbeatable savings!"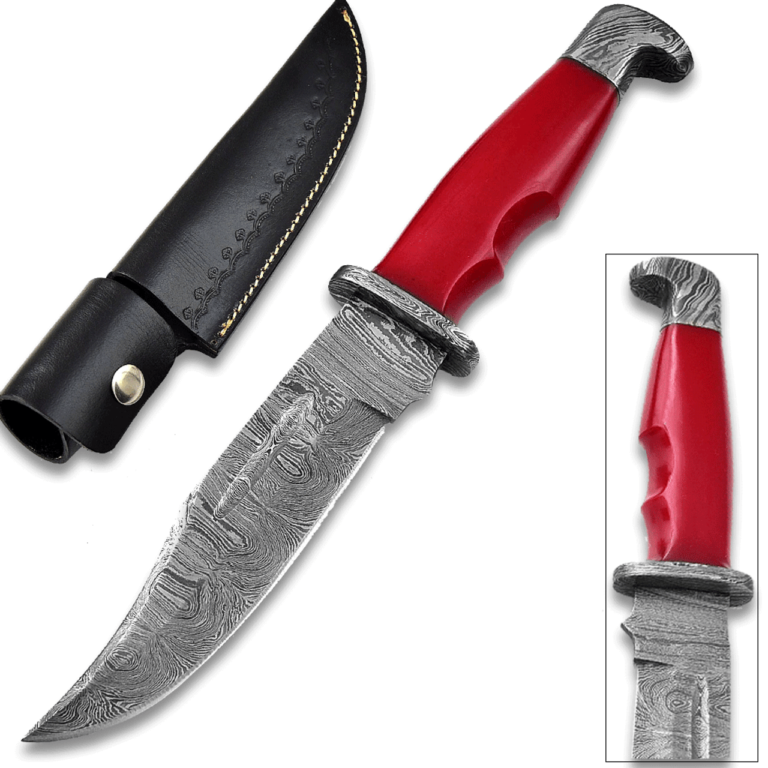 Damascus Steel Bowie Knif Damascus Bolster Red Resin Handle Hand-Forged Knives
This is a beautifully crafted Custom Made Damascus Steel Bowie Ranger Hunting Knife. This knife's handle is solid Cocobolo wood with brass spacers. The Damascus blade is part serrated and has a blood groove. Damascus for this knife was created by forge welding multiple layers of steels into a solid block called a billet (15N20 &1095 High Carbon Steels). The billet is folded and re-welded several times to produce several layers. Patterns are created by manipulating the steel during the forge welding process. When acid is added to the blade, it attacks the layers of hard and soft steels differently, highlighting the attractive layered pattern in the steel. The combination of layered hard and soft steel creates blade flexibility, toughness and produces invisible serrations on the blade that aid in cutting.
The hardness of the Damascus steel is 55-60 HRC on Rockwell scale.
White Dear Handmade Damascus Chef Knife American Flag W/ Bone Handle Hand-Forged Knives
This is a beautifully crafted Damascus Steel Chef's Knife with a American Flag Print in Bone handle. This knife is a 100 % handmade Damascus steel chef knife with a American  Flag Color Bone handle. The blade of the chef's knife is a hand forged steel blade, with a steel quality of 1095 to 15N20 high carbon Japanese steel. 200 layers, and the heat treatment is 52-56 RC. This handle of this knife is full tang, made out of Camel Bone. This knife comes with a 3 mosaic pin embedded in the middle. This knife has one of the best blades on the market, so make sure not to miss out! This knife is a must have for any chef or cooking enthusiast!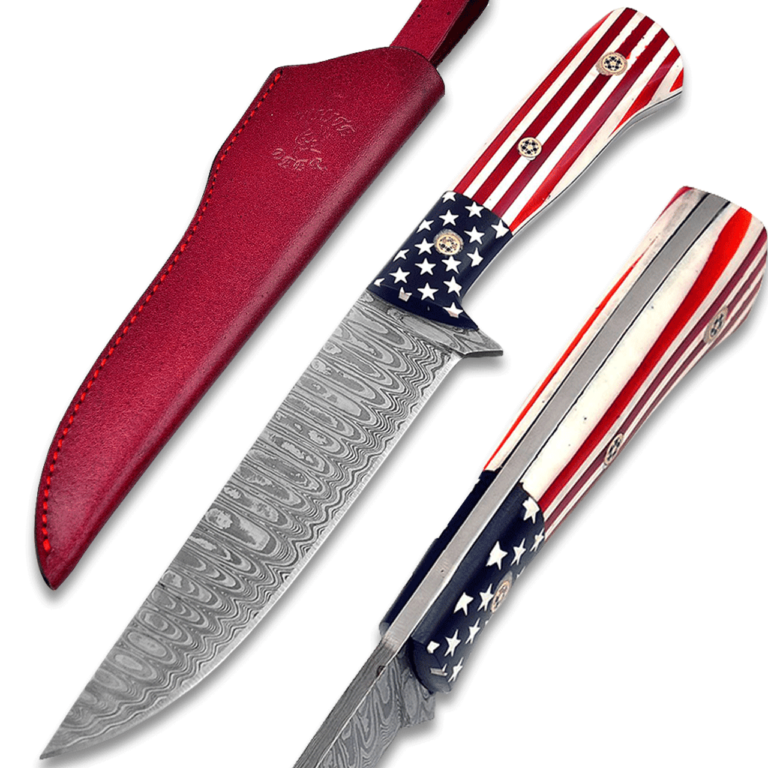 Buy Damascus Steel Knives at Wholesale Price
Wholesale Offers brings the most-awaited collection of knives, Damascus Steel Knives for sale. We have just filled our stock with the most sturdy and stylish Damascus knives. Take your time to explore the entire stock. Scroll through to learn more about our knives. Open each knife to learn about its features. Each of our knives is promising and excellent quality! 
Our Damascus Steel knives are manufactured by a traditional forging technique i-e different steels welded together and folded into different layers. It is the strongest steel ever and very popular among knife makers. We stock a large collection of Damascus knives. Make sure to explore our collection and buy cheap Damascus steel knives!   
Buy Cheap Damascus Steel Knives – Avail Discount!
At Wholesale Offers, we let you buy Hand Forged knives at cheapest wholesale prices. Our prices are 90% less than retail prices. In addition, we have the best quality knives. Compare our quality of knife and prices with others to learn why we dominate the market. So, choose your Damascus knives and buy at extremely reduced prices.