Wholesale Hand-forged knives are the only handcrafted knife company in Melbourne that boasts a three-generation blacksmithing pedigree. Wholesale Hand-forged knives Established by US-born Bud Heyser in the back sheds of Collingwood, Hand-forged knives prides themselves on blending time-honored artisanal skills with cutting-edge standards of social and environmental responsibility.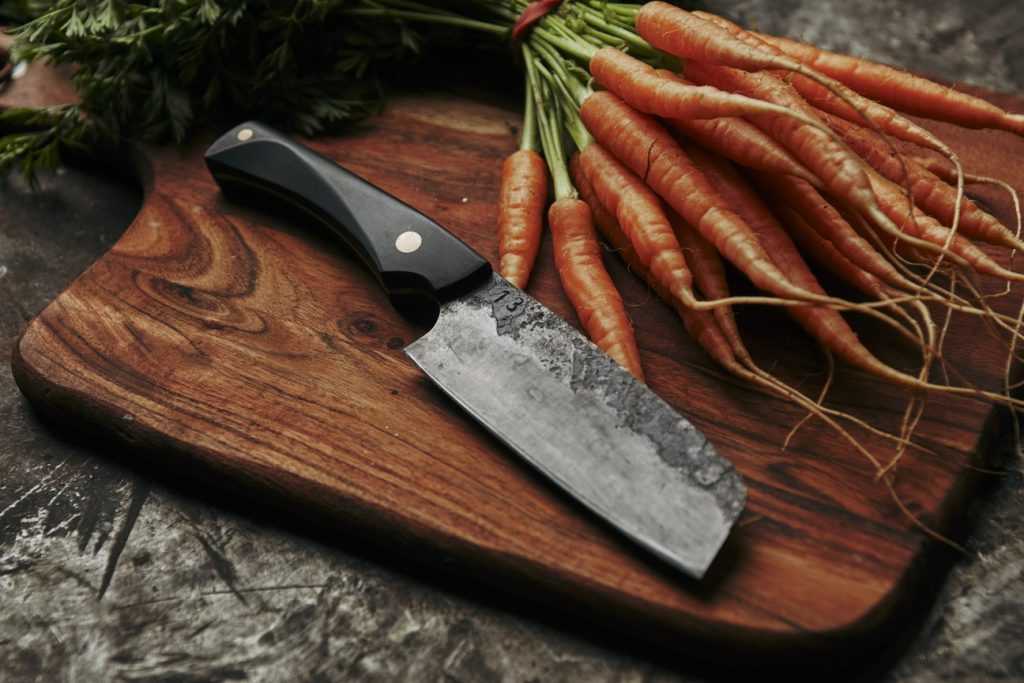 Batch Note: This is an order for the next very limited round of Kitchen Assistants to be completed for pickup or delivery by Christmas. Be sure to read shipping details at the bottom. Cheers!
Providing the balance of every knife you need in the kitchen with aspects and characteristics of an entire knife set. Ever-reliable, always shows up and never disappoints. Produced in an exclusive limited batch, each hand forged and made in Melbourne, Australia.
Knife specifications:
– Forged from 1084 high carbon steel.
– Complex S Grind for slicing and food release.
– Additional belly girth for knuckle clearance.
– Handle is produced from black Bakelight with brass pins.
– Bakelight has a matte satin finish for easy grip.
– Measurements: 130mm long, 45mm wide 160 grams and suitable for both left and right handed people. Read more
Material Sourcing:
Blade steel – Hidelburge, small company that's been here for 25 years.
Handle Material – Brunswick, upcycled from an electronics component manufacturing company.
Pin Stock – Campbellfield, local family foundry that's have been operating here for over 100 years.
Packaging – Thomastown, 80% recycled and manufactured in their local plant
This means that all materials come from within 20km of the workshop by other local small businesses!
Notes on shipping: International Deadline is Nov 16th. Australia shipping deadline is Dec 8th and Pick-Up Deadline is Christmas Eve. Cash upon pickup is always the preferred method. Its quicker and more secure than Auspost. But most importantly, A big reason why I do this is for yall and I love to (socially distance) shake the hand of all my customers. You can come around the workshop and see where the knife is made. Cash Upon Pickup also waves process and shipping fees! 😉
How would you like to order a knife?
Not ready for a knife but still wanna support?
This endpoint has been retired
Bud is a great guy with passion and skill in bucket loads. His dedication and creativity to the task meant that I got a unique, practical and beautiful knife that I will be proud to hand down the generations. May these skills endure. Thank you
Darren Collier
It was a pleasure dealing with Etokra from the beginning. Once we had decided we wanted a full set of knives, he worked with us on design. I was able to incorporate a camping knife into the collection using an old file from my late father's garage. This is now a memento to be handed down.
Kat Nelson
The custom Etokra knives 13Knives made my parents made a wonderful Christmas present. They use them everyday. Good work Bud!
Zachary Becerra