"Get access to unbeatable daily offers with "Wholesale Offers". Our platform offers the best value for money by connecting you with over 1000's trusted importers in the U.S. With a focus on overstock and quantity buys, you can enjoy exclusive discounts and savings on a wide range of products. No need to go from store to store or spend countless hours searching online – we bring all the best deals to you in one convenient place. Sign up now and start experiencing the power of bulk buying and unbeatable savings!"
MTECH USA RED BLADE SPRING ASSISTED KNIFE
Specifications
Overall Length: 7.8 Inches
Spring Assisted Knife 2.75″ 3MM THICK BLADE, STAINLESS STEEL BLACK BLADE 5″ CLOSED BLACK KARAMBIT ALUMINUM HANDLE AND FINGER RING INCLUDES BLACK POCKET CLIP
*Must be 18 years or older to buy*
MTECH Tanto A/O Grey Sporting Knife | Emergency Belt Cutter & Glass Breaker
SPRING ASSISTED KNIFE
3.25″ 3CR13 STEEL, 0.114″ THICK
 BLACK & SATAN TONE TANTO BLADE
4.5″ GOLD ANODIZED ALUMINUM HANDLE
INCLUDES POCKET CLIP, SEAT BELT CUTTER, GLASS BREAKER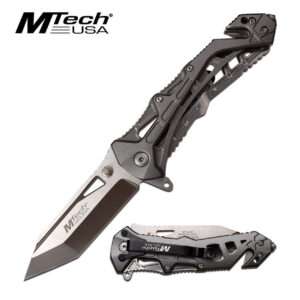 Wholesale Folding Knives and Pocket Knives 
Our large selection of wholesale folding knives and wholesale pocket knives, such as lock-back or Liner Lock Knives includes the popular brands of Kershaw, Maxam Knives, Meyerco, Mossberg, Rostfrei, and Slitzer. Buy one knife or buy wholesale knives in bulk and receive quantity discounts. Many knives include features such as Glass Breakers, and Seat belt Cutters. See our low prices below. We may offer cheap knives, but we do not compromize on the quality. Rest assured that all knives are of a very high quality, and most knives comes with a limited lifetime warranty.
Sturdy & Cool Pocket Knives for Sale
Wholesale Blades brings a range of pocket knives for sale. Check our collection above and buy your desired knives in bulk at the cheapest wholesale prices. Are you looking for a knife to help you out in your everyday chores? If yes, then you should definitely have a look at our huge variety of cool pocket knives. This knife is the perfect EDC tool and makes your daily tasks very easy and simple. 
We stock fixed blades as well as foldable blades. The quality of our knives is simply awesome. They feature the best construction and unique designs. At Wholesale Blades, we provide you with an unlimited variety of cool knives of different types and categories so you can choose the one which suits you the best. Our knives exhibit exceptional quality and unmatchable designs. So, explore our vast collection of cheap pocket knives, and buy your desired ones in bulk at 90% less than retail prices. 
What is a Pocket Knife? How to Use It? 
A pocket knife is a small sized knife, also called a folding knife, thanks to its foldable blade. It is a perfect everyday carry knife with its small blade that can be folded inside the handle. It is quite simple and easy to open and close a pocket knife. Once you start using it, you will become an expert. 
Our folding knives are ideal for routine cutting work. With their small and sturdy blades, you can easily do your utility cutting work. Also, these cool knives can be your perfect travel companions to help you in cutting fruits and veggies. Similarly, these are ideal camping and self defense knives. 
Choose From an Endless Variety of Cool Knives!
At Wholesale Blades, you will find an endless collection of cheap pocket knives for sale at the most affordable rates. We stock a vast range of different pocket knives. Explore our collection to find Spring Assisted Knives, Stiletto Knife, Tactical Knives & Rainbow Pocket Knife for sale. These are a few best folding knives available at our wholesale store. Check these fabulous knives in our stock and buy at extremely low wholesale prices. 
Buy 6+ Pocket Knives and Get Extra 20% Discount
Wholesale Blades is one of the most famous distributor of wholesale knives. We provide the best services and rates to our customers so that they can also have a successful business. The deals and offers we provide cannot be find anywhere else. We give a FLAT 20% off on wholesale items if you buy SIX or more of them from us. And we must tell you that no one else offers that so it's a huge offer which you must grab as soon as possible. So, buy 6 or more similar cheap pocket knives and avail a great discount of 20%. 
Wholesale Blades is also the provider of the amazing dropshipping services. Now you can easily gain more profit by starting to purchase from us as we do not charge any Drop Shipping Fee. Yes, you heard it right and this is another thing that differentiates us from our competitors. Browse our collection of cool pocket knives today and make your purchase at very affordable rates.