Wholesale Fixed Blade Knives
Invest on the top fixed-blade knives. These knives are our masterpieces and are incredibly sturdy. Knives with fixed blades do not fold; instead, the blade is attached to the handle. Bowie knives, skinning knives, fillet knives, hunting knives, and brass knuckle knives are just a few of the many types of knives we provide. Get the knives you want today for 90% less than retail costs.
"Get access to unbeatable daily deals and bulk offers with "Wholesale Offers". Our platform offers the best value for money by connecting you with over 800 trusted importers in the U.S. With a focus on overstock and quantity buys, you can enjoy exclusive discounts and savings on a wide range of products. No need to go from store to store or spend countless hours searching online – we bring all the best deals to you in one convenient place. Sign up now and start experiencing the power of bulk buying and unbeatable savings!"
Wholesale Fixed Blade Knives Products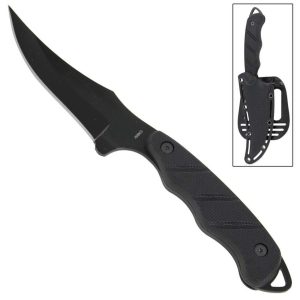 Tactical Skinning Knife Full Tang with G10 Handle
Full tang stainless steel is used in the manufacture of the Tactical Skinning Knife with Paddle, and it features a black anodized finish to cut down on glare and prevent rusting. To remove the flesh from the skin, a highly sharp blade in the skinner style curls upward. Fish scaling is another application for it. The handle is made of G-10, which is a fantastic material to have and utilise for a non-slip surface in all types of weather. The pommel serves two purposes: it breaks glasses and has a hole for a lanyard so you can simply attach this bad boy to your pack. A detachable paddle is included with the firm abdominal sheath. That is the same kind of paddle that is already seen on pistol holsters. Belt loops are also included on the paddle. to slide on, for instance, a duty belt or web. The sheath also contains eyelets to remove the paddle and strap it through your boot, as well as slits to attach the knife to your thigh or calf.
Fillet Knife 12" Fixed Blade Bone Handle Full Tang Fishing
The faux stag fillet knife shown here is from Elk Ridge. Its full tang, 7 1/2″ razor-sharp 440 stainless steel blade is 12 1/8″ overall. The faux stag handles include ridges for a secure grip. has a sheath made of quality leather.
Features:
Fillet – 12.25″ overall
6 7/8″ 440 stainless blade
Full tang
Simulated bone handles
Lanyard hole
Leather sheath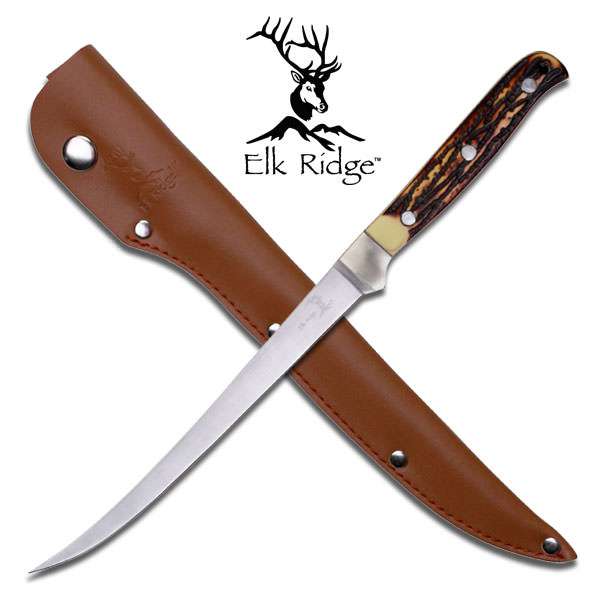 Fixed Blade Knives – Tough Knives For Tough Chores
Knives with fixed blades are renowned for being the most durable. Why? Unlike folding knives, which have movable blades, they have handles that are fixed to their blades. While fixed blade knives are better for the execution and completion of large, difficult tasks, folding knives are easier to carry around thanks to their mechanism. Knives with fixed blades tend to place a heavy emphasis on durability. The outdoors and wild places are where they find the majority of their uses.
Many blades, including survival knives, bowie knives, military knives, hunting knives, skinning knives, and fillet knives, are classified as fixed-blade knives. Each of these knives has a special use and advantage. In a survival emergency, a survival knife comes in handy. Hunting knives are used for all the difficult tasks involved in hunting, while bowie knives have a variety of functions. Tactical knives show to be the best tool in a combat situation. In essence, all of these fixed-blade knives are large and made to perform the difficult tasks for which they are intended.
Impressive Fixed Blade Knives For Sale
A well-known brand of fixed-blade knives is Wholesale Blades. We sell a wide range of top fixed-blade knives. When it comes to fixed-blade knives, nobody can match us because of our products' razor-sharp blades, fine workmanship, best building materials, and of course ergonomic handles that give users a comfortable and stable grasp. Whether you are a hunter, combatant, member of the military, fisherman, lover of the wild, outdoor enthusiast, or just a knife aficionado, we have you covered with our incredible selection of fixed-blade knives. Our fixed-blade knives' designs are elegant and stunning, and their construction is simply the best.
Wholesale Blades – Leading Brand For Wholesale Fixed Blade Knives
Are you trying to find the top supplier of fixed blade knives? You've discovered it because our knives are unbeatable and just enticing, and you can get them for a very reasonable price. And do you know what makes us the best? If you purchase six or more units of the same product from us, you can now receive a FLAT 20% discount on your order. Hence, take advantage of Wholesale Blades' current discounts and purchase the greatest fixed-blade knives.
Fixed Blade Knives- Make Your Life Easier With This EDC Knife
Indeed, fixed-blade knives are standard household objects that are necessary for survival. Knife Import offers a huge variety of various fixed blade kinds, taking into account their high demand.
We guarantee that the quality of our items is unmatched, so once you purchase them from us, you will return to see us frequently. We take great pride in providing the best service to our valued clients.
Get All Kinds Of Fixed Blade Knives For Sale
A variety of fixed blades for everyday carry (EDC) are included in our most recent collection. Some of the best-selling items include knives like the karambit, bowie, and hunting and survival knives.
Because they are non-folding knives, hunters, campers, hikers, and survivalists choose them over all others. Due to its stiffness, an EDC fixed blade is ideal for use in fighting, self-defense, survival in the wild, and many other similar situations.
As a result, whatever your reason for wanting to possess a fixed-blade knife is, you will find the ideal one from us.
Our Tactical Fixed Blade Knives Are Perfect To Choose
Vanity matters! This saying is especially true for tactical fixed-blade knives. Military or tactical knives are typically more popularly purchased simply because they are stylish and appealing to the eye.
Nonetheless, the robustness of tactical fixed blade knives for sale is the reason for their rising appeal. They work well for a variety of difficult tasks, including cutting and chopping wood.
For such jobs, it is difficult to conceive using any other kind of knife; you will end up cutting off the blade entirely. Therefore if you want to get the most out of a cheap fixed blade, our premium fixed-blade knives are the ideal option for you.
Buy The Best Fixed Blade Knives For Sale At Wholesale Prices
Due to the fact that we regularly offer top-notch goods at the lowest costs, our consumers have complete faith in us. Therefore, why would everyone keep coming back to our website to purchase wholesale knives? Once you get some stylish, affordable fixed-blade knives from Knife Import, you will realize this.
Your ordered items may arrive as soon as the following day. All of our clients in the US and Canada will receive deliveries that are prompt and precise as a result.
Another crucial aspect is that organizations can purchase our inexpensive wholesale knives in large quantities to benefit from the most competitive prices. No one in the market will be able to match our pricing range, we assure you.
Don't wait any longer, then! Browse our most recent selection of fixed-blade knives and make your selection. Immediately confirm your order with the information you need! We'll provide you with an offer that will help you save money.
Top Wholesale Suppliers Products / Categories Bulk Offers!
"Get access to unbeatable daily offers with "Wholesale Offers". Our platform offers the best value for money by connecting you with over 1000's trusted importers in the U.S. With a focus on overstock and quantity buys, you can enjoy exclusive discounts and savings on a wide range of products. No need to go from store to store or spend countless hours searching online – we bring all the best deals to you in one convenient place. Sign up now and start experiencing the power of bulk buying and unbeatable savings!"