Wholesale Fantasy Swords​
The fantasy series that feature witches, princesses, princes, kings, pirates, hobbits, dragons, and a plethora of other magical beings are adored by nearly every child. Do you remember when you were a kid and spent hours in front of the television watching fantasy shows and donning a Cinderella or Superman costume? These series were magical at the same time. When you think of these sweet and sour memories, do you feel nostalgic? What if we told you that you can once more visit your favorite fantasy world? Yes, Wholesale Blades has a large selection of stunning fantasy swords available for purchase. What could be better than getting your heart set on owning the fantasy sword you've always wanted? Nothing. Right? Therefore, take a look at our fantasy swords for sale, and you are certain to discover the sword of your dreams.
"Get access to unbeatable daily deals and bulk offers with "Wholesale Offers". Our platform offers the best value for money by connecting you with over 800 trusted importers in the U.S. With a focus on overstock and quantity buys, you can enjoy exclusive discounts and savings on a wide range of products. No need to go from store to store or spend countless hours searching online – we bring all the best deals to you in one convenient place. Sign up now and start experiencing the power of bulk buying and unbeatable savings!"
Wholesale Fantasy Swords​ Products
Devil May Cry Red Queen Sword of Nero with Display Stand
This is the Sword of Nero. With its satin finish 440 stainless steel, this Devil May Cry sword sports a massive 39 inch non sharp blade. The very detailed elongated guard features every design seen on the sword carried by Nero; from the thorn vines to the design guard. The guard also features an extra throttle piece. The red nylon warp handle will feel great in your hands. This massive beast comes equipped with a brown wooden table top stand.
Blue Japanese Tachi Ceremonial Katana Samurai Sword Hand Forged
Blue Japanese Tachi Ceremonial Katana Samurai Sword Hand Forged Sharp Blade. Hardened Samurai Sword Functional. Overall Length With Scabbard: 40.75″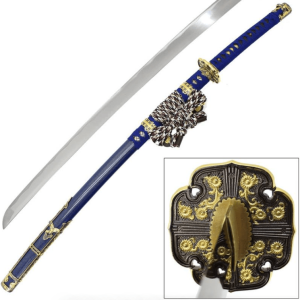 The Real Fantasy Swords for Sale
We carry one of the largest selections of high-quality fantasy swords at Wholesale Blades. For all fantasy fans and collectors, we have all kinds of fantasy swords. We have impressive pieces of the renowned double-bladed Naginata sword, Crusader Arya sword, extremely sleek Touken Ranbu sword, Dragon Katana sword, and demonic Skull Gladius sword for you to choose from based on your choice and preference. Any one of these swords can be used to complete your LARP or cosplay theme. If you love swords and collect them, you can add them to your collection and enter the fantasy world you're so obsessed with.
You can easily complete your LARP or cosplay costume with any of these swords, which come in battle-ready and safe versions made of foam. Our fight prepared dream swords available to be purchased have the best cutting edges and are comprised of treated steel. Some of them even have a black anodized finish, giving them a savage and sophisticated appearance. However, it also prolongs the blade's lifespan and keeps it from rusting. These swords are made and designed exactly like the originals in your fantasy series. The colors are absolutely delectable, and some of these swords even come with safety sheaths. Tempting. Yeah? So, why are you still waiting? Take your pick from our fantastic and captivating fantasy swords for sale right away. Hey, also! Did we inform you that these swords can be yours for very little money? Yes, their extremely low prices make them an absolute necessity for everyone.
Wholesale Fantasy Swords at Reasonable Rates
The best fantasy swords at the most reasonable prices are available from Wholesale Blades. Additionally, our reputation for offering high-quality fantasy knives outweighs our low prices. And now you can get them for a great wholesale deal. If you buy six or more of the same fantasy sword from us, you can save 20% on it!
Additionally, we have something for individuals who operate a drop shipping business. Customers can take advantage of Wholesale Blades' Dropshipping and Membership options for absolutely nothing. Take a look through our incredible selection of fantasy swords and make your purchase right away to take advantage of one business day shipping.
Fantasy Swords – Capturing Your Imaginations
Weapons based on what people imagine, dream, or wish for are known as fantasy swords. The fantasy swords are based on real-life heroes, in contrast to the anime swords, which are based on movie and cartoon characters. They were stylish swords once carried by real people. When people read stories and novels about real-life events, they may meet these characters and want to act in their way.
Top Wholesale Suppliers Products / Categories Bulk Offers !
"Get access to unbeatable daily offers with "Wholesale Offers". Our platform offers the best value for money by connecting you with over 1000's trusted importers in the U.S. With a focus on overstock and quantity buys, you can enjoy exclusive discounts and savings on a wide range of products. No need to go from store to store or spend countless hours searching online – we bring all the best deals to you in one convenient place. Sign up now and start experiencing the power of bulk buying and unbeatable savings!"