Wholesale Dagger Knives
"Get access to unbeatable daily deals and bulk offers with "Wholesale Offers". Our platform offers the best value for money by connecting you with over 800 trusted importers in the U.S. With a focus on overstock and quantity buys, you can enjoy exclusive discounts and savings on a wide range of products. No need to go from store to store or spend countless hours searching online – we bring all the best deals to you in one convenient place. Sign up now and start experiencing the power of bulk buying and unbeatable savings!"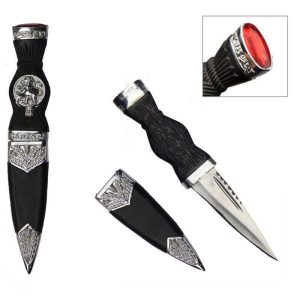 Lion Rampant Sgian Dubh Scottish Dirk Knife Dagger
The Lion Rampant Sgian Dubh found its place in society as a secret weapon, to be kept close in case of attack and for normal daily activities because it was dangerous to travel unarmed in mediaeval Scotland. The rear of this little Highlander blade includes one full edge, one partial edge, and a short serration just above the hilt. A thistle-adorned cap made of silver zinc alloy replaces the conventional guard and pommel. The black nylon fibre grip features diagonal grooves running the length of it, and a cast-metal plate with a lion rampant pattern is positioned in the middle of the grip. A synthetic stone that resembles a real stone is set on the sgian dubh's pommel. the previously valuable cairngorm stones that were used to adorn the original daggers. The dagger and sheath are an exact match
Sgian Dubh Knife Traditional Scottish Blade Dagger
With a tiny serration on the rear edge of the blade just above the hilt, this little blade has one full edge and one half edge on the reverse. The standard guard and pommel are replaced by cast-metal caps that are adorned with Celtic knotwork on a textured background. A cast-metal plate is positioned in the middle of the grip, which has diagonal groove lines running the length of it. On this plate, a G is inscribed beneath an image of a feather and a gun that are crossed. An artificial blue stone, placed to resemble the once-valuable cairngorm stones that originally embellished the real daggers, is set on the pommel of the sgian dubh. Celtic design on the supplied sheath, which perfectly fits the dagger. The cast-metal accents that embellish its mouth and tip are decorated with knotwork.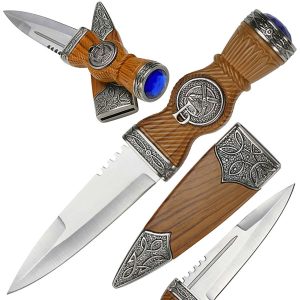 Daggers – The Ancient Tool Among All
We all understand what a dagger is. Do we not? Throughout the beginning of time, they have been with us. Its precise beginnings remain a mystery, a matter of uncertainty, and an enigma. Nonetheless, it's believed that daggers date back to the Stone Age. They used to make spear-shaped, pointed daggers out of stone that had dagger-like blades. These were among the earliest and oldest tools ever created by humans. Basically, a dagger is a form of knife. It typically has a pointy tip and one or two sharp edges. Because to their pointed and sharp points, daggers are mostly used for thrusting, stabbing, and piercing.
They have always been employed in conflicts, wars, and battles. They are additionally employed as a means of self defence. A little dagger can be used perfectly for self defence, and since it is a type of knife, it can also be used for a whopping 101 other things. Even now, men still wield daggers as a sign of masculinity, power, and strength. Men of all ages used to wear daggers that hung from the sides of their belts and were finely crafted. The most recognisable and defining characteristics of daggers are typically their one or two edges, pointy tips, and crossguards. Yet, over the years, their basic design has undergone several revisions, and today, there are numerous versions.
Intricately Designed Daggers For Sale
We at Wholesale Blaes provide our clients with a huge variety of the most stunning daggers. Depending on your taste and preferences, you can choose from a variety of daggers. Push daggers, mediaeval daggers, and fantasy daggers are all items we carry. Whether you enjoy fantasy, mediaeval culture, or are just a fan of traditional, classically designed daggers, our incredible selection has something for everyone.
Our daggers' designs are incredibly stunning and drool-worthy, making you want to seize them right away. Our daggers also come with exquisitely crafted, safe sheaths to shield the dagger's owner and those nearby from damage and unintentional harm. These daggers are ideal for collection keeping, combat use, or self-defence.
Wholesale Daggers at Very Affordable Rates
If you're looking for a reputable and well-known wholesaler, you've come to the right place. The best wholesale daggers are available from Wholesale Blades at incredibly low prices. We provide our clients with wonderful deals in addition to the highest calibre products at reasonable prices. If you purchase six or more of the same products from us, you can now receive 20% off your order. This is significant since no other place will make you an offer like this.
Dagger – Warriors' Weapon of Choice
Before there were swords, daggers were the most common weapon used by warriors. Dagger, though, was more than just a weapon. The dagger was a personal ornament as well as a weapon of protection and conflict from the Roman Empire through the Renaissance. Daggers were often patterned like swords, but because of their smaller blades, they were excellent for thrusting and stabbing. Daggers were typically used as self-defense and off-handed weapons that were perfect for quick counterattacks and deft parries. You may still discover traditional Medieval Daggers and contemporary Fantasy Daggers at Sharp Import since the conventional or classic designs of daggers have not disappeared.
Despite the vast array of contemporary self-defense equipment available to knife collectors today, short thrusting daggers continue to be a common weapon. The wide range of options available now reveals the popularity of these blades. You may purchase a variety of fashionable daggers at Sharp Import, including single-blade hunting daggers and daggers with fantasy-inspired designs. We enable you make the best decision if you're looking to buy a dagger, whether it's for yourself or as a gift for a friend or family member. Spend some time perusing Sharp Import's selection of the most exquisite daggers.
A Distinct Array of Daggers
We provide the most amazing selection of daggers for sale at Sharp Import. We provide you with access to a diverse selection of daggers, including both conventional and contemporary types and styles. We offer a variety of daggers, including Fixed Blade Daggers, Push Daggers, Claw Daggers, Single- and Double-Edged Daggers, and Medieval Daggers. From our astoundingly wide selection, we make sure you discover your favourite dagger.
Prepare yourself to examine our finely crafted daggers. Since we offer everything you're seeking for, we vow not to deny you of your choices. Do you like daggers from the mediaeval times or do you prefer fantastical daggers? The most amazing fantasy and mediaeval daggers are available from us. The fact that they are compact and have a protective sheath makes carrying them about a breeze.
Cheapest Price Wholesale Daggers for Sale
What weaponry is lacking from your arsenal? You should probably get one of our striking and fashionable daggers to add to your collection. Your amazement at our reasonable prices will be justified. We provide the cheapest prices for our daggers and the quickest shipment (approximately 24 hours). Thus, get our affordable daggers right away to receive them at your door in a hurry.
Top Wholesale Suppliers Products / Categories Bulk Offers!
"Get access to unbeatable daily offers with "Wholesale Offers". Our platform offers the best value for money by connecting you with over 1000's trusted importers in the U.S. With a focus on overstock and quantity buys, you can enjoy exclusive discounts and savings on a wide range of products. No need to go from store to store or spend countless hours searching online – we bring all the best deals to you in one convenient place. Sign up now and start experiencing the power of bulk buying and unbeatable savings!"