Wholesale Motorcycle Boots
the largest selection of motorcycle boots for street, dirt, atv, and cruiser riding styles. All the top brands at the lowest prices. connect with us and get best offers on wholesale Motocycle Boots.
Wholesale Motorcycle Leather Boots
We have some of the best most aggressive and comfortable biker boots on the market. The two most Iconic boot brands for riders, from classic looks, to Joe Rocket and Cortech modern boots. Wholesale offers has you covered.
"Get access to unbeatable daily offers with "Wholesale Offers". Our platform offers the best value for money by connecting you with over 1000's trusted importers in the U.S. With a focus on overstock and quantity buys, you can enjoy exclusive discounts and savings on a wide range of products. No need to go from store to store or spend countless hours searching online – we bring all the best deals to you in one convenient place. Sign up now and start experiencing the power of bulk buying and unbeatable savings!"
Wholesale Motorcycle Leather Boots​
Wholesale Offers Trusted By 3.5 Million Customers Since 1999 – Buy With Confidence
Motorcycle boots are as iconic in the motorcycle world as leather jackets and custom choppers. A great pair of durable, long-lasting leather biker boots can last a rider for years. A pair of street bike books can help weekend racers stay safe in the turns, both on and off the track. Motocross boots protect dirt bike riders against all the elements and anything else mother nature can throw at them. No matter your needs, we carry the riding boots you've been looking for. No matter your riding needs,  motorcycle boots are sure to provide cool style and plush comfort. Select from top selling brands like Xelement or Milwaukee Leather for Cruisers and Fly Racing or O'neal Boots for Motocross. always has you covered. 
Boots – Safety, Comfort, Style
When you browse through our huge selection of ATV, Street Bike, Motocross, and leather motorcycle boots, you can shop with the confidence of knowing you're getting the finest materials for the absolute best prices online. We carry all the best brands such as Joe Rocket, Vulcan, Cortech, Speed and Strength and dozens more. And whether you're looking for a new pair of biker boots just for riding, or if you need some motorcycle shoes that's just as comfortable and fashionable on the bike and off, we have you (and your feet) covered. carries a bigger selection of high-quality boots than almost any store in the world. And the ones we carry have some of the highest ratings and customer satisfaction results you'll find anywhere. People keep coming back to us for their next motorcycle boot purchase because they know we can offer the lowest prices, the fastest shipping and the best possible quality you'll hope to find anywhere
BEST MOTORCYCLE WHOLESALE LEATHER BOOTS
Men's 'Crazy Horse' Brown Leather Harness Motorcycle Boots
Women's Black 'Classic' Full Grain Leather Harness Motorcycle Boots
Men's 'Vigilant' Black Leather Logger Boots with Inside Zipper
Men's 'Sprocket' Black Leather Advanced Lace-Up Motorcycle Boots
Men's Stone Wash Grey 13-inch Leather Harness Motorcycle Boots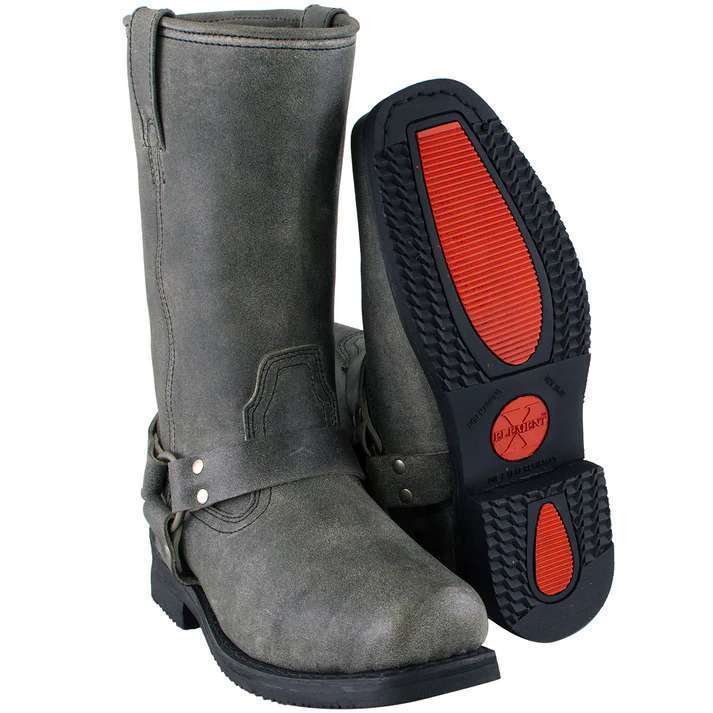 Men's Stone Wash Grey 13-inch Leather Harness Wholesale Motorcycle Boots
Made of Heavy Duty Full-Grain Oiled Leather Uppers
Stone Wash Leather Finish – Hard To Find
Cushioned Insole
Oil and Heat Resistant Out-sole
Non-Marking Out-sole
Non-Skid Out-sole
Square Soft Toe
O-Ring Ankle Harness Straps
Order Your Pair Today!
The Men's 13-Inch Stone Wash Black Harness Motorcycle Boots Are the Most Technologically Advanced Harness Biker Boots Ever, Emphasizing Durability, Long-Term Use and Style. With Its Cushioned Insole, They Are the Most Comfortable Harness Boots Available. Features A Heavy Duty, Authentic Full-Grain Leather Upper and An Oil and Heat Resistant Outsole to Protect From Liquid Damage And Stains, Non-Marking Outsole, Non-Skid Outsole, Attached O-Ring Ankle Harness Straps And Square Soft Toe, Goodyear Welt Construction.
Men's 'Crazy Horse' Brown Leather Harness Wholesale Motorcycle Boots
Made of Top Grain Cowhide Leather
Crazy Horse Brown Leather – Hard to Find
Cushion Footbed for Comfort
Cushion Insole
Square Soft Toe
O-Ring Ankle Strap
Classic Harness Design
11 in. Upper Height
10.5 in. Shaft
1.5 in. Heel
Non-Marking Sole
Oil and Heat Resistant Sole
Resole-able
Xelement Emblem Heel
Stamped Xelement Logo on Ankle
Classic Pull-On
Our Men's Crazy Horse Brown Boots Provide Bikers with Real Protection, Flexibility, Comfort, And Long-Term Durability of All Their Products. Good Year Welt Construction Boots (Long Term Durability, Resole-Able, Better Comfort When Wore In). Buy with Confidence from The Web's Most Popular Leather Store and Save Hundreds Off the Retail Price.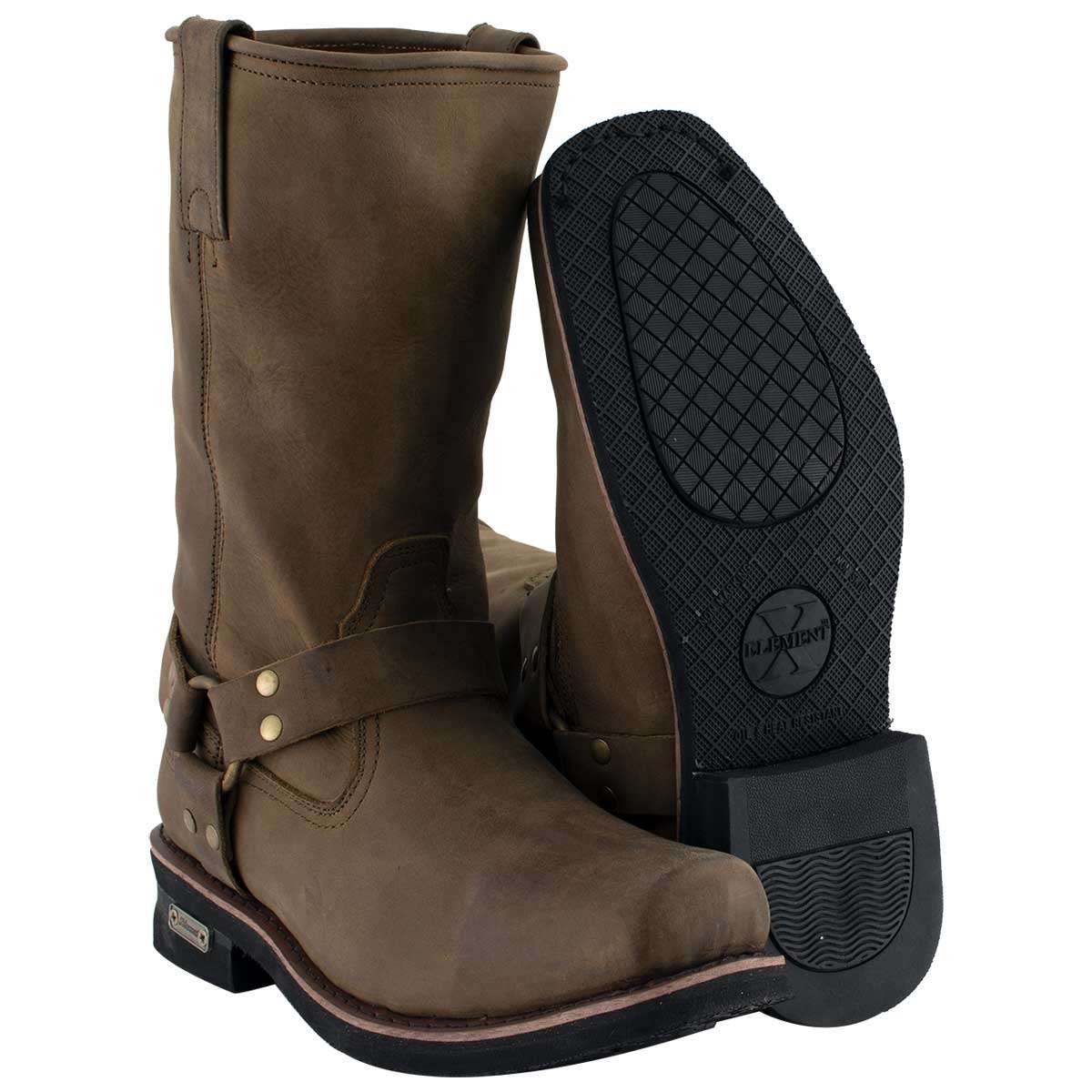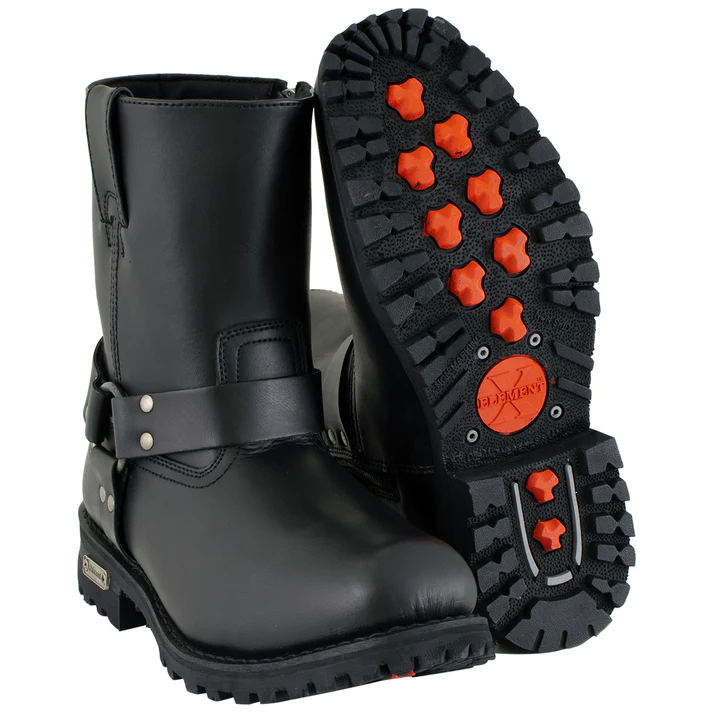 Men's 'Killa' Black Leather Zippered Harness Wholesale Motorcycle Boots
Black Heavy Duty Full-Grain|Oil Tanned Leather Upper|Good Year Welt Construction|Cusion Insole|High Density EVA Plug for added Support|Cushion Foot bed for Comfort |Plain Soft Toe|Goodyear Welt Construction|Buy With Confidence Buy direct from our factory and save hundreds! 30 days return and; exchange and low price guarantee. Highest quality guaranteed.|Side Zipper for easy On and Off|Neoprene Oil-Resistant Sole|8 Inch Shaft (Full 9 Inch With Sole)