Do you want to know the top websites for wholesale suppliers? To compare and choose from the list of the top online wholesale vendors and suppliers' websites, read this review: Websites for wholesale vendor suppliers provide wholesale company directories. The phone number and email mentioned on the website can be used to get in touch with wholesale suppliers. While choosing the top wholesale merchants, websites save you time and effort. The top websites for wholesale merchants and suppliers have been examined in this post. You will gain knowledge of the various goods and wholesale price bundles.
What You Will Learn:
Considerations for Selecting Wholesalers
While compiling a list of wholesalers, you must use due diligence. Here are some pointers for choosing the ideal wholesale suppliers for your company:
1. The payment and shipping terms.
You must review the wholesale supplier's payment and shipping policies. Verify if the vendor mentions safe payment methods. Avoid direct bank or Western Union transfers because they don't provide the buyer with any security.
You should also ask about the shipping conditions. Find out how much delivery will cost. Learn more about the wholesaler's delivery options as well. Keep in mind that the shipping charges and price are subject to change. The best prices can always be negotiated with the wholesalers.
2. Read the Review Online
When choosing a wholesale dealer, you must study internet reviews. To locate reviews from other merchants, try searching "supplier name + review" on Google. To be sure you are doing business with a reputable wholesaler, look up their BBB ratings.
3. Speak with customer service
Furthermore important when working with a wholesaler is customer service. Make sure the supplier provides quick customer service. Ask about available contact options, such as phone, email, and live chat. Find out if the wholesaler provides customer help every day of the week, including holidays. Make careful contact with the supplier if there is a problem with the delivery or the merchandise.
4. Choose specialty wholesalers
The supplier's ability to sell a range of products is a crucial consideration when choosing an online wholesaler. It is preferable to use specialized distributors over generic ones because they are more likely to be knowledgeable about the product. They will be knowledgeable about the best items available to meet consumer demand.
5. Test before making a large purchase.
A helpful tip for bulk purchases is to never place a bulk order without first placing a sample order. Verify that the supplier will provide you with the proper kind of products. Prior to making a large purchase, ordering samples is essential to verify that you won't end up with subpar goods that you can't sell.
FAQs On Wholesale Companies
A wholesale corporation is what?
To retailers, wholesalers sell their products in large quantities. The businesses offer a wide variety of discounted products for distribution.
What is an illustration of a wholesale company?
Right away from the producer, wholesalers purchase products and then sell them to retailers. Let's say a business manufactures cereals. Cereals will be bought in bulk from the manufacturer by a wholesaler. Then it will give them out in large quantities to merchants who will sell them to customers.
What are wholesale goods?
Products sold by wholesalers at a discount are referred to as wholesale products. Wholesalers offer drastically discounted bulk prices for their goods.
How can I place an order from a wholesaler?
The answer is to ask the wholesaler for a sample. If the sample satisfies your standards for quality, create a Minimum Order Quantity (MOQ) before you place an order with the wholesaler.
What are the three different kinds of wholesalers?
There are three different kinds of wholesalers. They include commission merchants, merchant wholesalers, and the sales division of the manufacturer.
List Of Top Wholesale Vendor Companies
Some popularly known wholesale suppliers:
Wholesale Offers
eBay
DHgate
Wholesale Central
SaleHoo
Inventory Source
Costco
4WholesaleUSA
Worldwide Brands
SourceLow
TopTenWholesale
Tundra
TradeKey
Alanic Clothing
The Wholesaler UK
Printful
#1) Wholesale Offers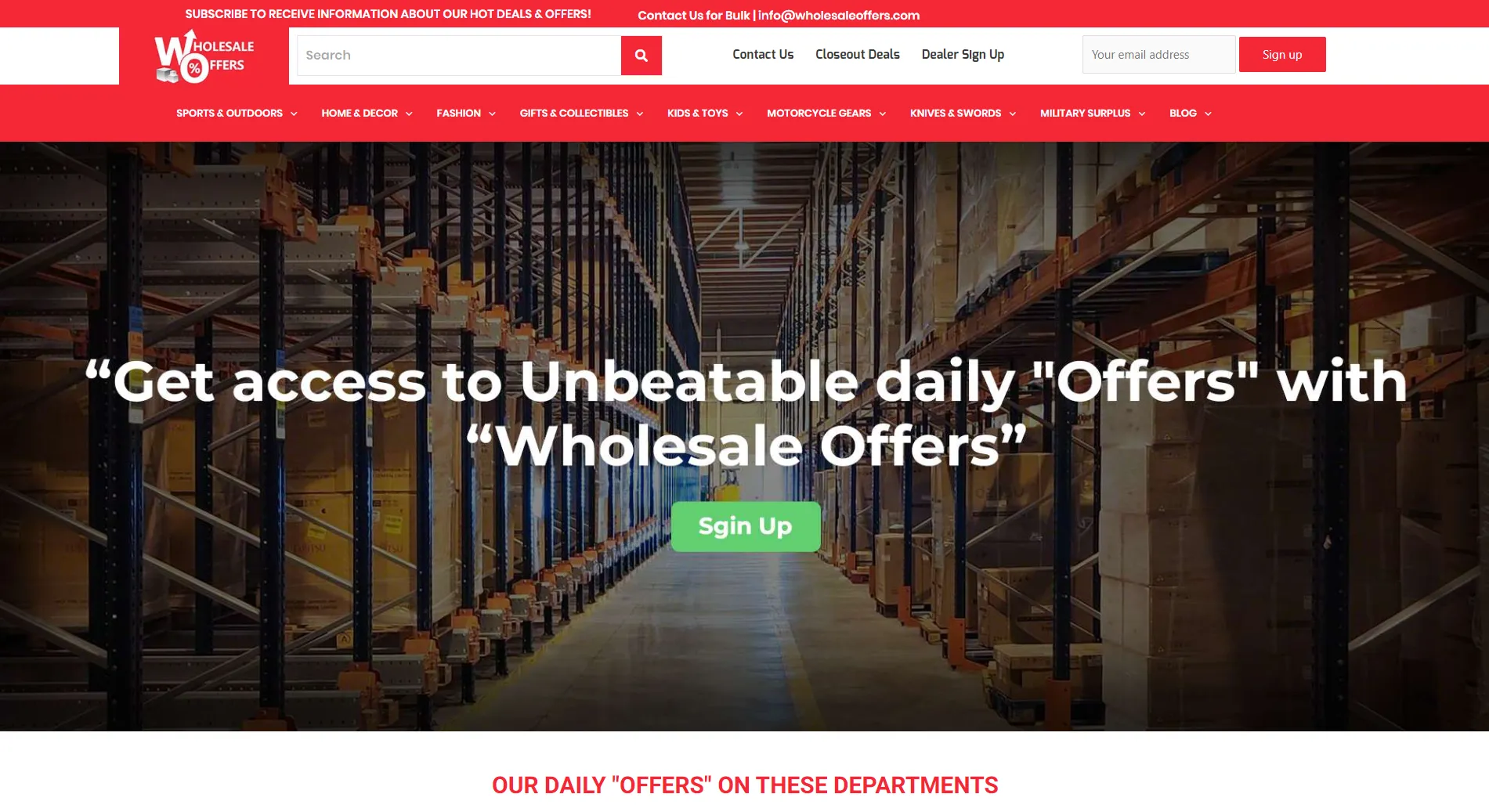 Top Wholesale Suppliers Products / Categories Bulk Offers!
"Get access to unbeatable daily offers with "Wholesale Offers". Our platform offers the best value for money by connecting you with over 1000's trusted importers in the U.S. With a focus on overstock and quantity buys, you can enjoy exclusive discounts and savings on a wide range of products. No need to go from store to store or spend countless hours searching online – we bring all the best deals to you in one convenient place. Sign up now and start experiencing the power of bulk buying and unbeatable savings!"
#2) eBay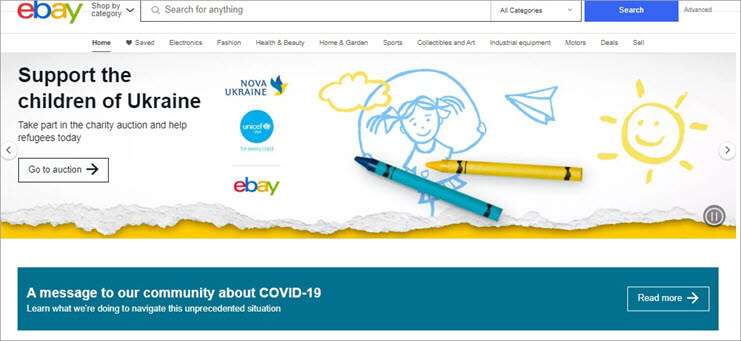 One of the most well-known eCommerce systems is eBay, which was founded in 1995. Almost anything can be purchased online. The marketplace offers products at reasonable costs. The website offers a wide range of products, including athletic equipment, home gardening supplies, and automotive accessories.
The online company that runs PayPal is well-liked and trusted all across the world. You have the option of placing a fixed-price bid on the goods or buying them outright. It is a user-friendly site that makes it simple to purchase things at bargain pricing.
Features:
150 products are listed for free.
Bid amounts
Price-fixing listings
Shopfront
Featured Listings
Pros:
Seamless creation of an account.
For suppliers, fixed prices.
150 products are listed for free.
Cons:
Every product may not be eligible for bulk listing.
Scalpers could charge more for goods.
Conclusion: In the US, eBay is a reliable source for large-scale product purchases. Due to the lack of strong quality standards for listing products, it is a bad platform for enterprises.
#3) DHgate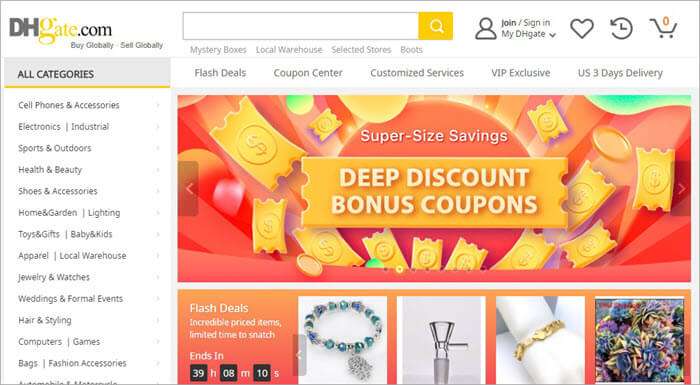 A Chinese eCommerce portal called DHgate was established in 2004. The company has a wide selection of goods available at incredibly inexpensive costs. You can see things that are offered at a discount and daily specials. You can choose from a variety of sources, including:
Top Merchants: The best suppliers
Premium Merchants: Reputable vendors chosen by DHgate based on testimonials and sales figures
The majority of sellers on DHgate are Chinese. The best prices are available when you purchase items in bulk. Similar to Alibaba, the business offers buyer protection through escrow payment accounts.
Features:
Tailored services
Quick deals
Discount center
Install
Pros:
Escrow transaction
affordable goods
Purchases made over time
exceptionally cheap costs
no fee to join
Cons:
China has the most traders.
The suppliers aren't checked.
Conclusion: DHgate is a fantastic place for finding products at incredibly affordable costs. The majority of items are even more affordable than on Wholesale Offers and other respected retailers. The majority of vendors are not vetted, which is the sole drawback.
#4) Wholesale Central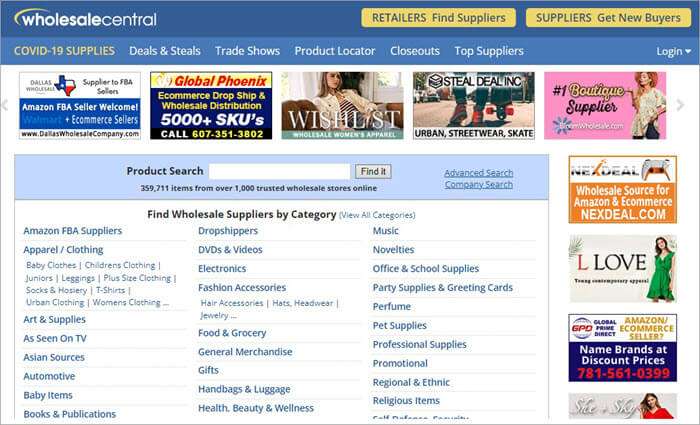 A platform provided by Wholesale Central makes it easier for wholesale suppliers and retailers to conduct business. The platform features goods from reputable providers. On the platform, you can learn about popular products.
The website is simple to navigate. The website lists a sizable number of vendors and products. The only requirement to access a verified list of suppliers is the creation of a free account.
Features:
B2B vendor
bestselling items
Locator service for goods
Enhanced search capabilities
Pros:
Many search options
Simple to navigate
Use is free
Cons:
No support via email or live chat.
Small-scale integration
Conclusion: Wholesale Central is a reliable source for wholesale purchases. The platform's lack of sophisticated functionality, such as automatic upgrades and product integration, is a drawback.
#5) SaleHoo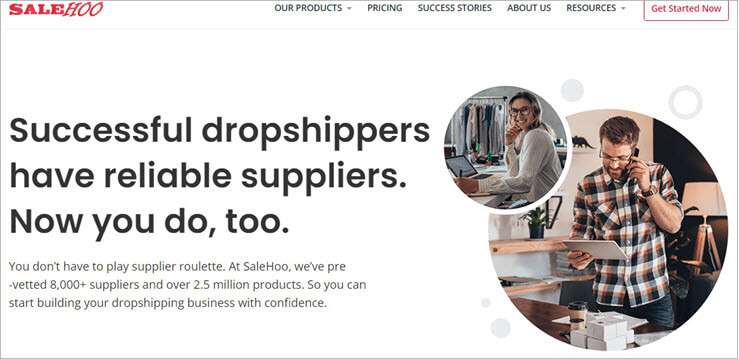 A reliable online wholesale directory is SaleHoo. The website's round-the-clock customer service is its standout feature. You may always receive assistance with any problems relating to the website.
All vendors are screened and had their validity verified. Users have access to 8000+ verified suppliers for product searches. The New Zealand-based business also provides training manuals and lectures on dropshipping, wholesale, and online retail.
Features:
Market analysis
Education for the dropshipping industry
Comprehensive seller profile
Over 8000 verified merchants
Pros:
The dashboard is organized neatly.
Money-back guarantee for 60 days.
Small minimum order amounts.
Verified vendors.
Cons:
Fewer products
High prices
Conclusion: SaleHoo provides a package that is reasonably priced for accessing a list of wholesale vendors. For merchants who cannot afford to spend thousands in subscription fees, the platform is best.
#6) Inventory Source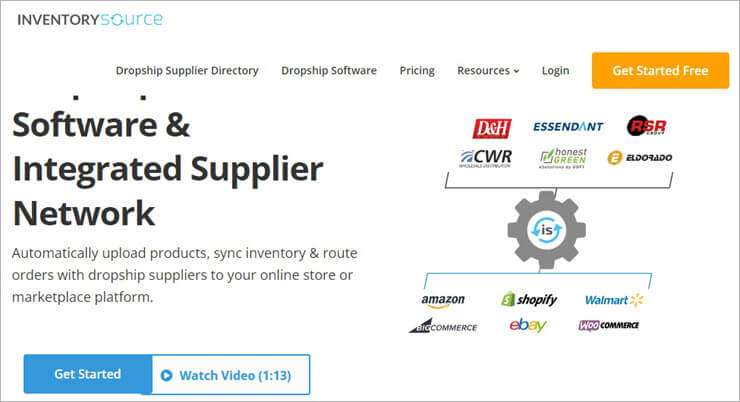 One of the top online wholesale stores is Inventory Store. The business offers goods in 26 different categories. The website provides a one-click order function that makes buying in bulk faster. The automatically updated list of integrated products is a function of the inventory sync capability.
Features:
E-commerce dropshipping automation
250 plus integrated vendors
Product Feed Administration
A platform for retail operations
Conclusion: Inventory Source sells a wide variety of goods, including books, gadgets, and clothing. If you require more sophisticated capabilities like inventory automation and automatic, one-click orders, you can choose a premium version.
#7) Costco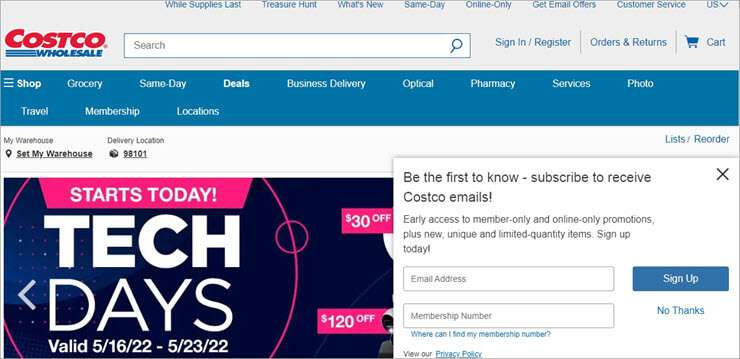 The renowned wholesale company Costco was founded in 1983. Around the world, the company has more than 800 offices. It offers wholesale prices on a wide range of products. The company sells a variety of things on its website, including groceries, electronics, and medicines.
Features:
Same-day shipping
800+ locations globally
house delivery
Car Costco Program
Conclusion: Costco is among the best wholesalers. It is the ideal choice for purchasing cheap, in-bulk office and home products.
#8) 4WholesaleUSA
One of the top wholesale websites is 4WholeSaleUSA. It provides goods from more than 700 suppliers. There are 54 categories of products in the free wholesale directory.
An address, phone number, and website link for the provider are included with each of the listed products. Also, the business permits wholesale suppliers to display their goods and advertise them via banners.
Features:
listing of vendors
adverts on banners
the 54 categories
700+ vendors
The 4Wholesale USA includes a wide variety of vendors, in conclusion. It works well for companies looking to purchase goods at lower prices, both online and offline.
#9) Worldwide Brands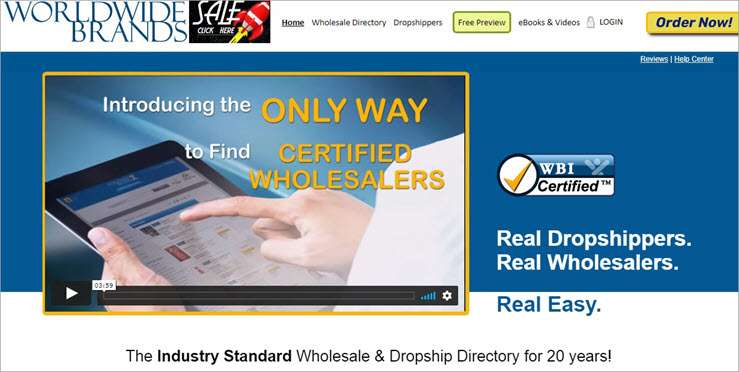 Perhaps one of the first online wholesale businesses is Worldwide Brands (WWB). The business works with approximately 8000 vendors. The wholesale directory offers more than 16 million products for you to select from. The business has stringent requirements for choosing suppliers. Before presenting them on the website, the warehouses of each wholesaler are visited.
Features:
Over 8000 suppliers
iPhone and Android apps
Public forum
Restricted search
Conclusion: One of the greatest wholesale suppliers for businesses is Global Brands. It requires a low minimum order quantity (MOQ). Because of this, it's a great option for companies looking to purchase fewer items.
#10) SourceLow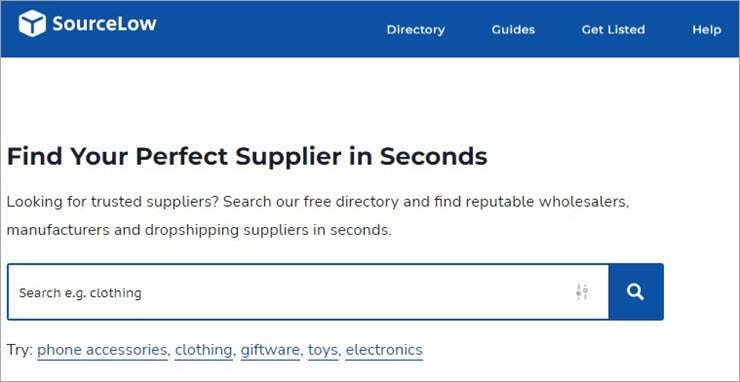 SourceLow is a free online supplier directory for dropshipping and wholesale purchases. Several providers' products are available for viewing. Also, the website offers information on dropshipping companies that are for sale.
Features:
constructors for online stores.
program for dropshipping automation.
research instruments
For sale are dropshipping stores.
Conclusion: The section on online shop builders informs you about the tools available for website development.
#11) TopTenWholesale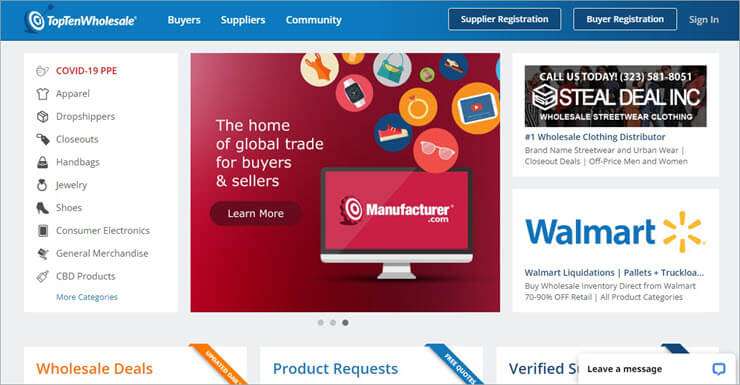 Retailers should use TopTenWholesale as a valuable resource. To vet verified suppliers, the company has a supplier verification process. It makes it easier for merchants to communicate with reliable wholesale businesses. Due to its long history of successful operations, the company is among the most reputable wholesale websites in the US.
Features:
Deals at wholesale
product demands
Customer Pass
Videos and News at Wholesale
Conclusion: TopTenWholesale provides retailers with community resources. It offers a free directory of wholesalers in addition to a wealth of additional data, such as videos and news about wholesale.
#12) Tundra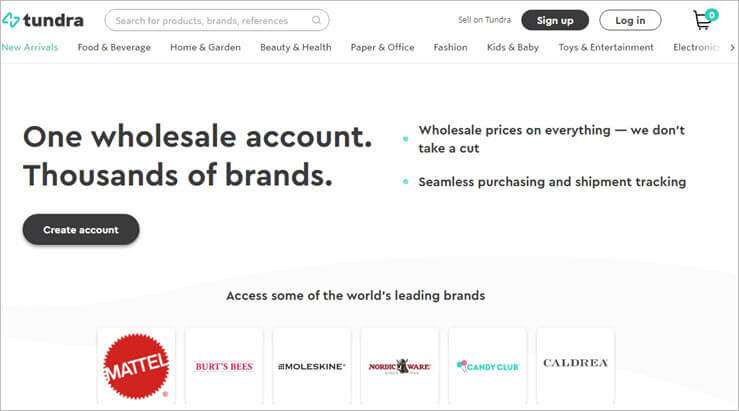 Retailers and wholesalers can both benefit greatly from Tundra. The business provides customers with a FAQ section and purchase tracking. Supplier handbooks, product listings, and promotions are among the services that wholesalers provide.
Features:
Integration of POS
Order Monitoring
product advertising
Supplier Guide
Support for iOS and Android
Conclusion: Tundra serves as a one-stop shop for both retailers and wholesalers. The business offers priceless services that let the two parties conduct business with one another.
#13) TradeKey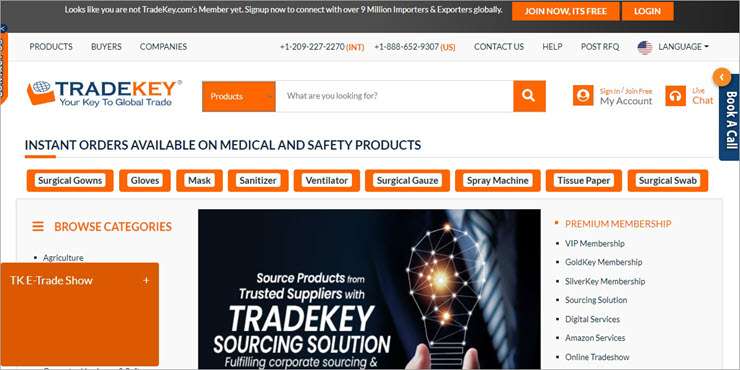 A Chinese business called TradeKey was founded in 2006. The business gives wholesale enterprises the tools they need to keep a strong web presence. Also, it offers shops the chance to get in touch with the top wholesaler. The business opposes direct purchasing. You have to use the platform to purchase goods from wholesalers.
Features:
Trust Factors
Comprehensive supplier profile
Electronic Trade Office
Site DHS
Keyword Symbol
Conclusion: TradeKey offers a wide range of services to merchants. A listing of up to 10 products is supported by the free basic service. You must choose one of the premium plans if you want advanced services.
#14) Alanic Clothing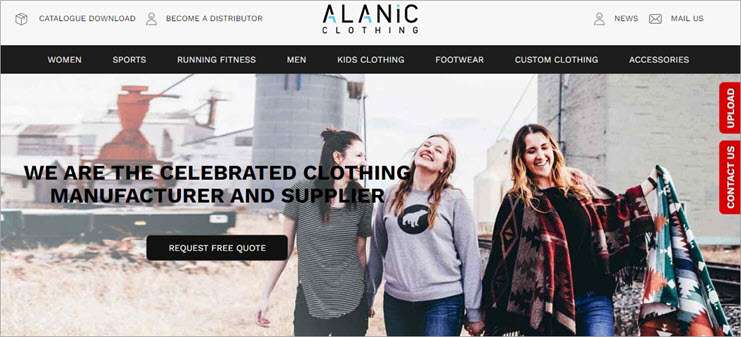 One of the most reputable wholesalers of apparel is Alanic Clothing. It offers wholesale apparel for men, women, and children. The business additionally offers retailers fashion accessories. In the US, there is no delivery fee for orders above $50. You can even get apparel made to order and market it under your own name.
Features:
Fashionable Clothes
Sporting Goods
Unique Clothes
Accoutrements and things
Conclusion: Alanic Clothes is a wholesaler and a manufacturer. The US, Canada, Australia, and the UK are all home to the company.
#15) The Wholesaler UK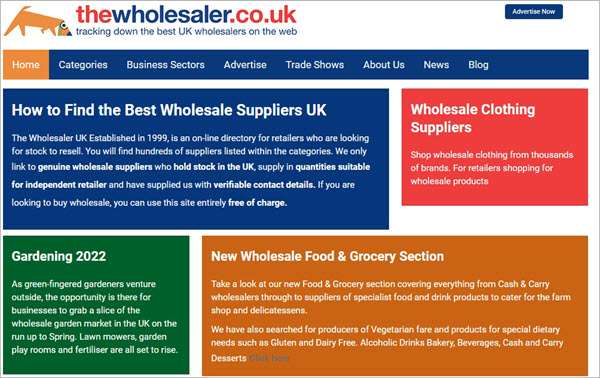 The Wholesaler UK directory features a wide selection of apparel, jewelry, presents, and toys. Each provider is profiled in-depth in the online directory. Also, businesses can read the news and blog sections to gain important information for product promotion and sales.
Features:
100+ vendors
Commercial promotion
Price calculator for detail
Conclusion: Wholesaler UK is a fantastic resource for UK clients and suppliers. It is one of the top websites for wholesale vendors and suppliers where you can speak with the distributors directly and order things that will be delivered to your home.
#16) Printful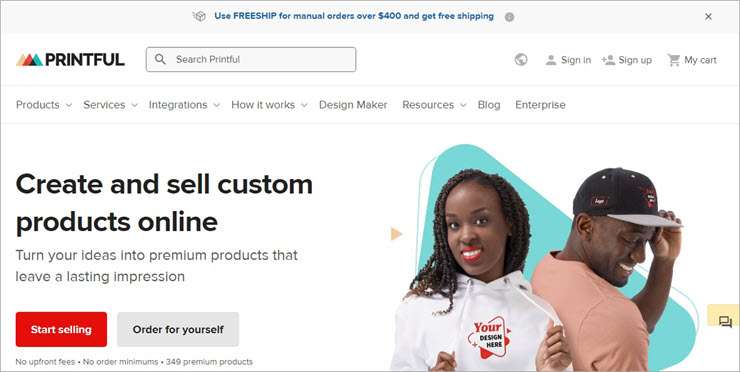 Companies who want to offer goods to clients locally and internationally should use Printful. Custom labels and packaging are an effective way to brand your items. The integration is automatic, and products are imported directly from your online store.
Features:
396K+ clients
With no order minimums
Automated command
Specific branding
Order completion
Conclusion: Printful is a fantastic tool for new businesses looking to sell branded goods. The service is provided without any up-front or ongoing costs. The cost of shipping is only due when an order is received.
Conclusion
In this article, we analyzed a wide range of wholesale vendors, suppliers, and websites. To choose the best wholesale businesses to purchase products in large quantities, you must conduct your own research.
One of the top USA-based wholesale websites is eBay. Consider Wholesale Offers and DHgate, Alanic Apparel, and Printful as the top online wholesale purchasing destinations for custom branding of bulk products if you're looking for inexpensive Chinese goods in large quantities.