Description
Storm Firestorm Damascus Wholesale Viking Swords. The blade reflects the scene as though it were actually happening. Storm Damascus Wholesale Viking Sword has a stunning sword. Sword in bulk with a camel bone handle and parts of wood stained red. This full-tang sword from Wholesale has a Damascus guard and pommel. Damascus is coated on the outside and brass is stacked inside the guard. It gives the pattern a wonderful touch of gold. The blade is made of brilliant Damascus steel as a consequence. The pattern of high carbon 15N20 and nearly hallucinogenic 1095 energy. A genuine leather sheath with a belt loop is also included with the sword in Storm Damascus Wholesale Viking Swords to make carrying it simple. 29.5 Inches. Weight: 2.80 lbs.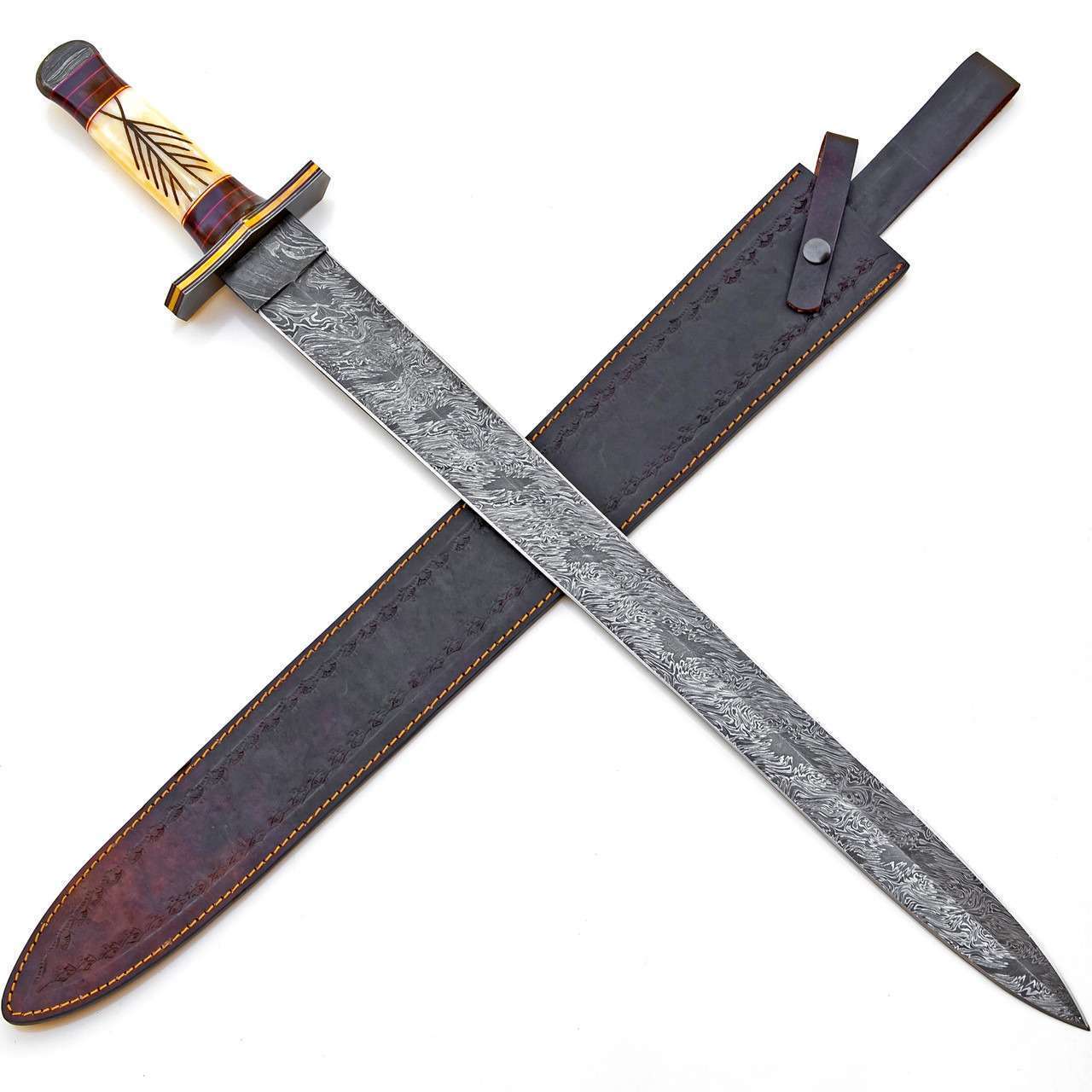 Storm Firestorm Damascus Wholesale Viking Sword
The Storm Firestorm Damascus Wholesale Viking Sword is an excellent choice for collectors and enthusiasts looking for a high-quality blade. Known for its toughness and durability. A beautiful wavy pattern that is a result of the forging process. The blade features a razor-sharp edge that can cut through tough materials with ease. The handle is made from hardwood. Providing a secure grip for the wielder. This sword is part of our extensive collection of Viking swords, which also includes other types of swords, axes, and shields. We offer wholesale prices on all of our products, making it easy for retailers to stock up on a wide variety of items. Our inventory includes thousands of products across hundreds of categories, from the top importers in North America. We offer daily deals on thousands of items, ensuring that our customers always get the best prices.
In addition to our swords, we also offer a range of accessories and armor to complement any collection. From leather sheaths to display stands, we have everything you need to showcase your swords and keep them in top condition. Our collection of armor includes helmets, chain mail, and plate armor, perfect for cosplay, reenactments, or just adding to your collection. With our wholesale prices and extensive inventory, we are your one-stop shop for all things medieval and Viking.
Wholesale offer is offering a lot of variety of Swords, and here are some of our related to swords.
You can Signup with us if you want any product category.
Below here, some of our related swords categories.
Our Service
Deeply Discounted Wholesale Offers. Over 10,000 wholesale offers on New Arrivals, Daily Deals, Overstock, Closeouts, and Qty buys. Great Seller Support, Fast Shipping, No Minimum, and Free Drop Shipping with a web store plan. 100 categories include Housewares, Home Decor, Gift & Collectibles, Fashion and Apparel, Motor-Sports Gear, Sports & Outdoors, Travel & Recreational, Seasonal, Toys & Games, and much more. We can only sell to businesses and individuals buying resale products. You have to open a Wholesale Account to view pricing and place orders. Please take a minute to signup for your Wholesale Offers account.
"Get access to unbeatable daily deals and bulk offers with "Wholesale Offers". Our platform offers the best value for money by connecting you with over 800 trusted importers in the U.S. With a focus on overstock and quantity buys, you can enjoy exclusive discounts and savings on a wide range of products. No need to go from store to store or spend countless hours searching online – we bring all the best deals to you in one convenient place. Sign up now and start experiencing the power of bulk buying and unbeatable savings!"