Description
It's important to note that any grading information in the manifest only applies to the worst-case scenario and does not take the unit's technical capabilities into account. This pallet may contain customer returns that have not been tested. For correct condition details for each unit in the cargo, please refer to the manifest. As demand for portable speakers continues to rise, LG and Samsung have emerged as some of the most popular brands in the market. Both companies offer a wide range of portable speakers that cater to different needs and budgets. Some of the categories of portable speakers offered by LG and Samsung
include Bluetooth speakers, waterproof speakers, outdoor speakers, and smart speakers with built-in voice assistants.
If you're looking to purchase portable speakers in bulk, you may want to consider wholesale options from LG and Samsung. Many authorized distributors and wholesalers offer discounts on bulk orders of portable speakers, making it a cost-effective solution for resellers or businesses. By purchasing in bulk, you can take advantage of lower prices and increase your profit margins.
In addition to LG and Samsung, there are many top importers in North America that offer wholesale options on thousands of products covering hundreds of categories, including portable speakers. By working with these importers, you can access daily offers on a wide range of products and take advantage
of their expertise and resources to find the best deals on portable speakers from top brands. Whether you're looking to start a business or expand your product offerings, wholesale options from LG, Samsung, and top importers in North America can help you meet your goals.
Merchandise Condition:
TESTED NOT WORKING – Preliminary examination of the inventory revealed that it failed tests for technical functionality and/or physical condition.
This inventory has not even been attempted to be repaired. Opened, damaged, or missing packaging are all possible conditions. There could be some units without the necessary parts, attachments, or documentation.
DAMAGED / MISSING PARTS –Retail returns that have undergone a visual inspection, clearly display damage or lack essential components or accessories are included in inventory. These products have not been put through any testing or repairs. Unknown operational situation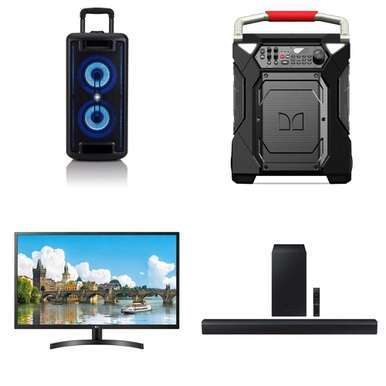 Portable Speakers Wholesale Products LG, Samsung
Wholesale offer is offering a lot of variety of Computer Products, and here are some of our products related to Computers.
You can Signup with us if you want any product category.
Below here, some of our related computer Product categories.
Our Service
Deeply Discounted Wholesale Offers. Over 10,000 wholesale offers on New Arrivals, Daily Deals, Overstock, Closeouts, and Qty buys. Great Seller Support, Fast Shipping, No Minimum, and Free Drop Shipping with a web store plan. 100 categories include Housewares, Home Decor, Gift & Collectibles, Fashion and Apparel, Motor-Sports Gear, Sports & Outdoors, Travel & Recreational, Seasonal, Toys & Games, and much more. We can only sell to businesses and individuals buying resale products. You have to open a Wholesale Account to view pricing and place orders. Please take a minute to signup for your Wholesale Offers account.
"Get access to unbeatable daily deals and bulk offers with "Wholesale Offers". Our platform offers the best value for money by connecting you with over 800 trusted importers in the U.S. With a focus on overstock and quantity buys, you can enjoy exclusive discounts and savings on a wide range of products. No need to go from store to store or spend countless hours searching online – we bring all the best deals to you in one convenient place. Sign up now and start experiencing the power of bulk buying and unbeatable savings!"