The Polo Style HI-Gloss Black Wholesale Half Face Helmet is a perfect combination of style and protection for any rider. The sleek design of this helmet features a glossy black finish that is sure to make a statement on the road. This helmet is designed with a half-face shield, offering protection to the face and eyes from wind, debris, and bugs. The helmet is made from high-quality materials that make it lightweight, yet durable. The interior of the helmet is padded for maximum comfort during long rides.
The Polo Style HI-Gloss Black Wholesale Half Face Helmet is perfect for riders who want to make a statement with their style without compromising on safety. This helmet is suitable for a wide range of motorcycle riding styles, including cruisers, sports bikes, and even scooters. It is also DOT-certified, meaning it has been tested and approved for safety by the Department of Transportation.
Riders can rest assured that they are getting a quality product that meets strict safety standards. Importers can offer this helmet at wholesale prices, making it an affordable option for retailers and riders alike. With daily offers on 1000's products covering hundreds of categories from the Top Importers in North America, retailers can get great deals on bulk purchases.
The Polo Style HI-Gloss Black Wholesale Half Face Helmet can be a great addition to any retailer's inventory. It can be categorized under motorcycle helmets, half-face helmets, or even trendy riding accessories. Riders looking for a helmet that offers protection without compromising on style can benefit from this product. With its sleek design, durable construction, and affordable price point, it is sure to be a hit with riders of all levels of experience. With the help of wholesale importers in North America, retailers can stock up on this helmet and offer it to their customers at competitive prices.
Product Info
Our Wholesale Helmet meets and exceeds D.O.T. FMVSS 218 Standards and has a soft touch high gloss black finish. Additionally, it comes in high-gloss black. Included are a free headband and a cloth drawstring bag. Sizes are 2XS to XL.
New!! A sleek, contoured shell with a slim design that huggingly covers your head eliminates the mushroom appearance! Interior Designed For Comfort.
meets and surpasses FMVSS 218 of the D.O.T. Safety Standards
Keeps Your Head Cooler And More Comfortable with Moisture Wicking Fabric
Sliding Adjuster and Nylon Y-Strap Retention System
Easy Detachment Using Quick Release Lock With One Finger Release Lever
Steel Rivets in Rolled Form with Nickel Plate
Black Finish with a Soft Touch HI-Gloss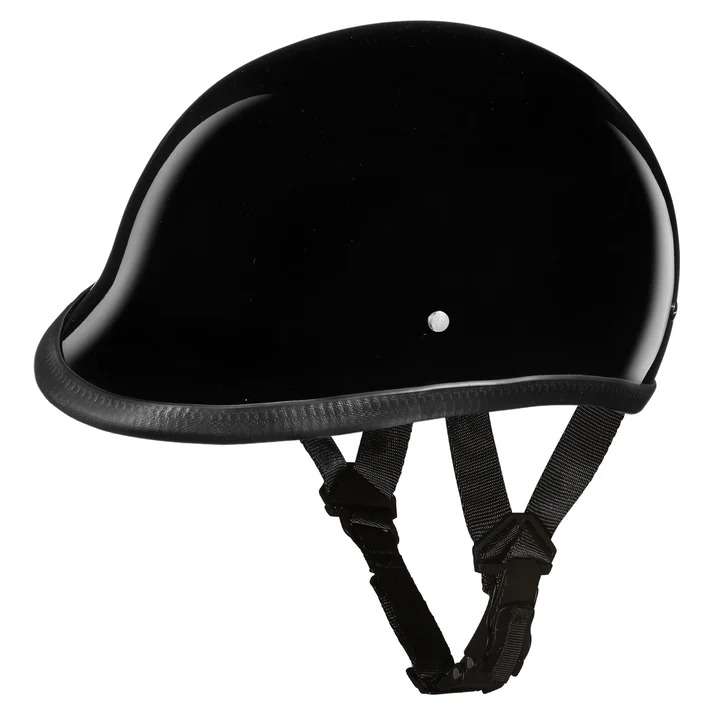 Polo Style HI-Gloss Black Wholesale Half Face Helmet
Wholesale offer is offering a lot of variety of Motorcycle Helmets products, and here are some of our products related to Helmets.
You can Signup with us if you want any product category.
Below here, some of our related leather products categories.
Our Service
Deeply Discounted Wholesale Offers. Over 10,000 wholesale offers on New Arrivals, Daily Deals, Overstock, Closeouts, and Qty buys. Great Seller Support, Fast Shipping, No Minimum, and Free Drop Shipping with a web store plan. 100 categories include Housewares, Home Decor, Gift & Collectibles, Fashion and Apparel, Motor-Sports Gear, Sports & Outdoors, Travel & Recreational, Seasonal, Toys & Games, and much more. We can only sell to businesses and individuals buying resale products. You have to open a Wholesale Account to view pricing and place orders. Please take a minute to sign up for your Wholesale Offers account.
"Get access to unbeatable daily deals and bulk offers with "Wholesale Offers". Our platform offers the best value for money by connecting you with over 800 trusted importers in the U.S. With a focus on overstock and quantity buys, you can enjoy exclusive discounts and savings on a wide range of products. No need to go from store to store or spend countless hours searching online – we bring all the best deals to you in one convenient place. Sign up now and start experiencing the power of bulk buying and unbeatable savings!"