Wholesale Motorbike Chaps
We sell WHOLESALE MOTORCYCLE CHAPS at best rates.
Protection. Chaps provide your legs with another layer of protection. This could be from wind, rain, and road debris while riding, or road rash from a fall off your bike. 
Warmth. Leather chaps will help keep your legs warm while riding. Due to wind chill, it can feel significantly colder on the bike than when stopped. Chaps help you stay warm while riding and give you the freedom to take them off when hot. 
Style. There's no denying that chaps will give you a certain instantly recognizable biker style. Look for chaps that have extra detailing such as zippers, braids, and embroidery for even more style. 
Our Motorbike Leather Chaps
If you ride a motorcycle, Quality Chaps keep you safe at comfort.
while sage brush remains a hazard out on the range, it's the wind, flying debris, and the pavement you battle while riding on highways and freeways. For superior protection in these riding environments, wear leather chaps and performance riding pants. Leather chaps and pants are versatile for warm or cold weather temperatures, providing wind protection in all seasons. Reflective designs keep your ride safe. Remember, chaps can to be cut to fit. In addition to Harley-Davidson®, we also have chaps made Our High Standard Leather®. We have a large variety of styles and extended sizes. Leather ® Zippered Thigh Pocket style chaps are available in sizes as small as 3XS and as large as 9XL.
On a motorcycle, it's only you against the elements. Dress for the part. We've got what you need at Wholesaleoffers®.
We Offer Wholesale Motorcycle Chaps at best rate. From Production to your door. We take care of everything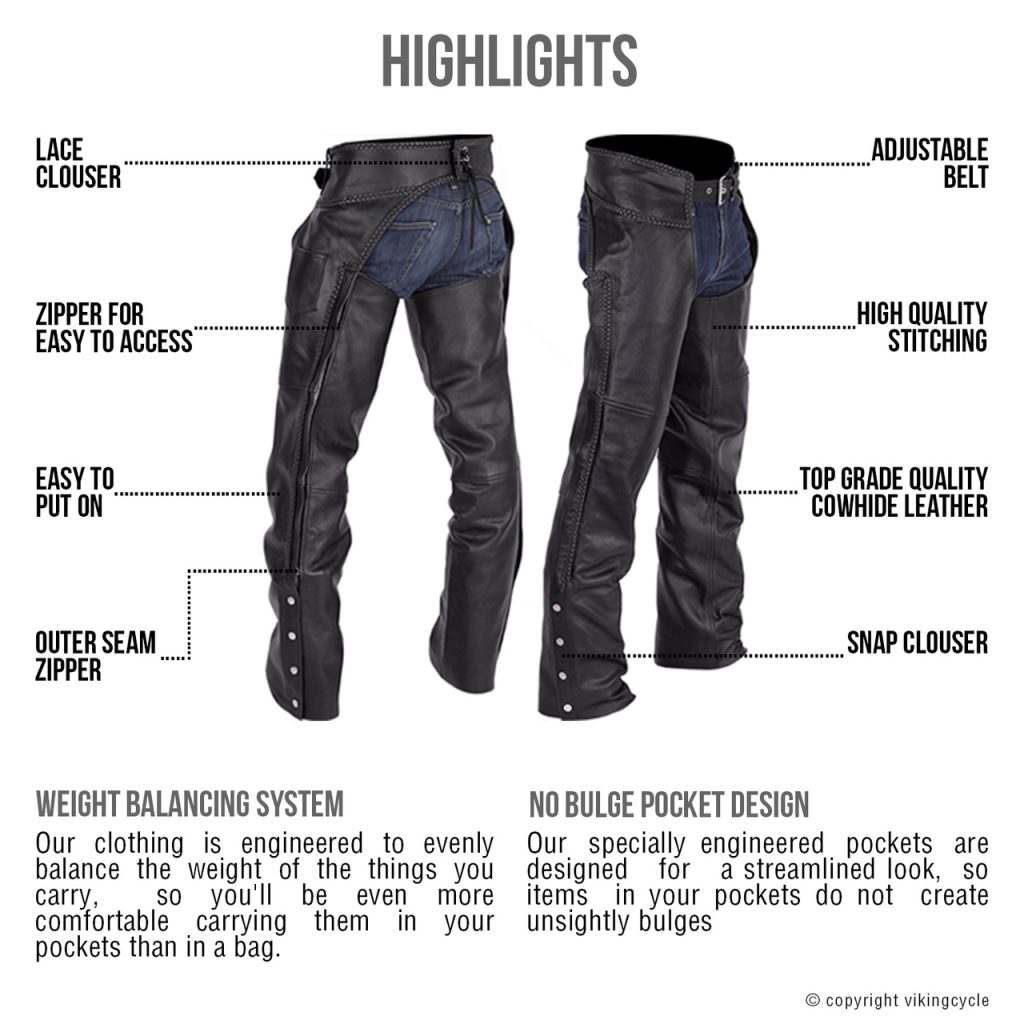 FULL LEATHER CHAPS 
Full leather chaps cover your entire leg from the top of your leg down to your ankle or even the bottom of your boots. They have zippers or snaps that extend the entire length of your leg so that you can easily take them on and off. You'll find the leather quality to vary, but they're typically made from cow or buffalo hide. The vast majority of chaps are black, but you can find brown too. 
HALF LEATHER CHAPS
Half chaps extend from just below the knee to your ankle or the bottom of your boots. They can zipper, snap, or lace up. They give you the same level of protection on the bottom half of your legs without being as hot as wearing full chaps. They also take up less room in your saddlebag if you plan to take them off and stow them away. 
NON-LEATHER CHAPS
You can find chaps in other materials if leather isn't your taste or style. Ballistic nylon is a common material that will provide you with protection. They may not be as warm as leather options. There are also vinyl options that are lower cost and quality. These look like imitation leather.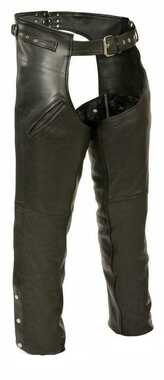 Leather King Slash Pocket Chaps w/ Side Set Gun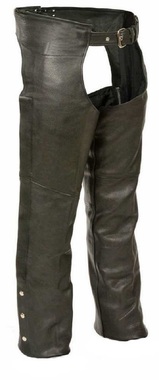 Leather Men's Basic Coin Pocket Leather Chaps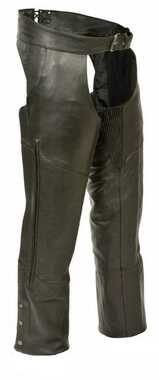 Leather Men's Vented Jean Pocket Chaps w/ Thigh Stretch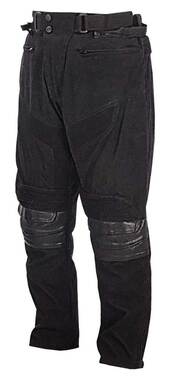 Men's Cordura Protective Riding Motorcycle Water-Proof Pants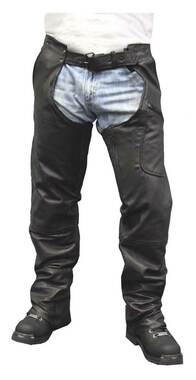 Mens Goat Skin Leather Motorcycle Chaps w/ Snap-Out
We Sell Wholesale Motorcycle chaps
You can customize and select the options you want in your leather motorcycle chaps. Choose the leather thickness, leather color, hardware, size, pockets and trim. In hardware you can choose our authentic Minted Coin Snaps which are handcrafted right here! Shotgun shells and .45 cal. bullets are made from real, fired rounds that have been cut, filed, and sanded. Then hand soldered to solid brass attachment hardware. Shotgun Shells could be either WIN AA or WINCHESTER. The size of the pockets are approximately 7″ x 9″. The zipper pockets are only available with antique silver zippers. The buckles are made of brass except for the Silver option which is stainless steel.
Please note: if you order the Wholesale offers Leather, the chaps will have a 2 piece front (shown above).
Because we want you to be completely happy with your fit, we may ask you try on an unaltered pair before we make your options/alterations. Since we make them specifically for you, we can't take them back for refund or exchange even if you opt out of the trial process. Please contact us if you have any questions.