Wholesale Military Swords
We have the finest selection of military swords at Wholesale Blades. These swords' designs were influenced by those used by the armed forces. These are by far the most effective bladed combat weapons. The US Cavalry Civil War Sword, the Nazi SS Officer sword, Shelby's Officer sword, and many others are among the finest swords we offer. Discover our endless selection of military swords and get the best deals on your favourites.
"Get access to unbeatable daily deals and bulk offers with "Wholesale Offers". Our platform offers the best value for money by connecting you with over 800 trusted importers in the U.S. With a focus on overstock and quantity buys, you can enjoy exclusive discounts and savings on a wide range of products. No need to go from store to store or spend countless hours searching online – we bring all the best deals to you in one convenient place. Sign up now and start experiencing the power of bulk buying and unbeatable savings!"
Wholesale Military Swords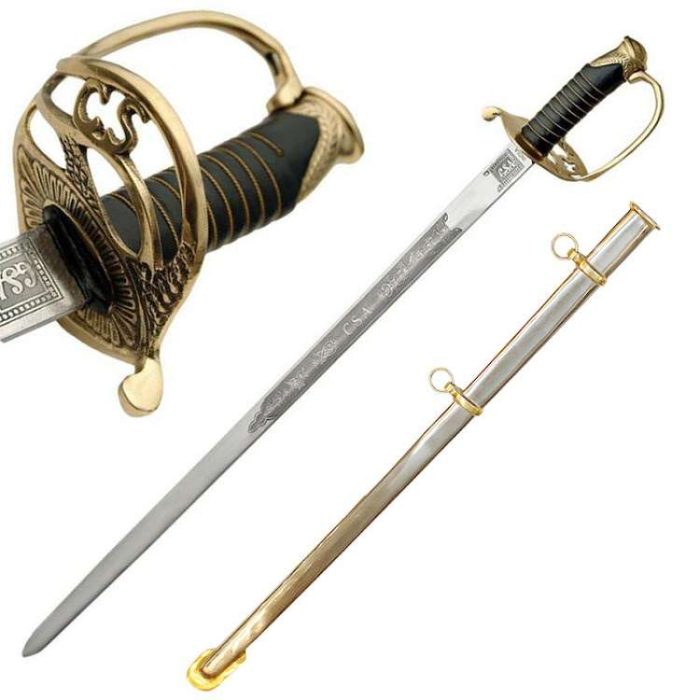 1860 CSA Shelby Officer Civil War Replica Sword
With a superb grip, this replica's entire length is 37 inches. The wire-wrapped leather handle is made of solid brass with a golden shine. Moreover, it has highly ornamental solid brass embellishments and a polished brass pommel. Weighting the pommel creates the ideal balance. The blade is made of premium steel and has a mirror finish. Although it comes sharpened to a razor's edge, it ships with a factory edge. The engravings and C.S.A are engraved on the blade. Included is a steel sheath with brass embellishments that has been brilliantly polished.
Features:
High-Quality Steel Blade
Solid Brass Handle
Hand Polished
100% Handmade
Premium Quality General Officers Sword with Scabbard and Sword Bag
The sword of a general officer represents power. The new soldiers can tell that the person carrying it is higher in rank due to its elegance and adornment. The General Officer's Sword is a stylish way to show off your power. The single-edged, delicately etched blade of the General Officers Sword is notably curved. It has a faux ivory crossed hilt with ornate mounts that have a golden finish. The sword's brass finish guard is likewise deeply engraved. The steel scabbard has two free rings on cruciform bands, a square shoe, and is nickel-plated. Most officers of light cavalry and hussar carried these swords as dress swords.
Materials:
420 Stainless steel blade
Faux Ivory handle with brass finish guard
Steel Scabbard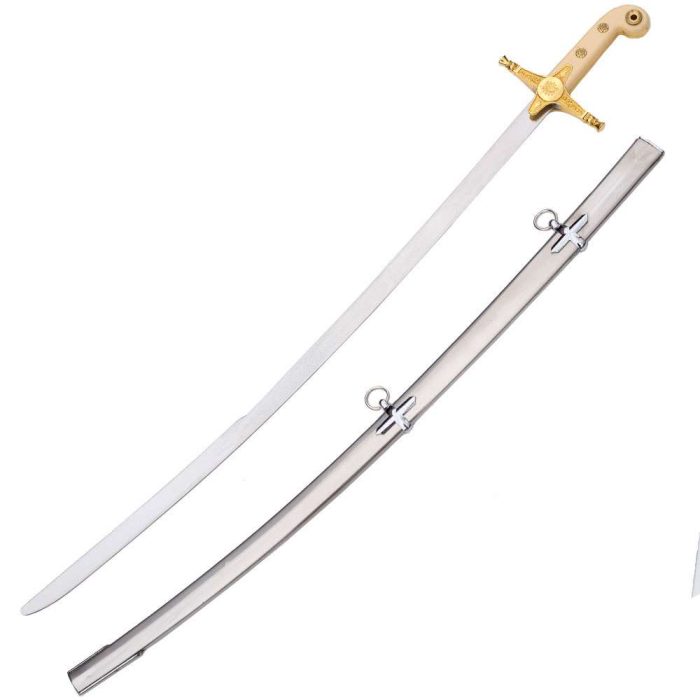 Military Swords – A Fantastic Collection at Wholesale Blades
A well-known wholesale dealer of exquisitely crafted military swords is called Wholesale Blades. We also make sure to charge reasonable prices for them. We are able to provide you with swords of the highest calibre thanks to our amazing quality control. We have the most accurate copies of some of the well-known swords that the military has employed over the years. Are you looking for any ancient military swords? To locate and select them, look through our collection. We promise to offer the best pricing
Cheapest Price Military Swords for Sale
One of the most well-known wholesale brands in the US is Wholesale Blades. We are renowned for both our affordable rates and extremely robust swords. Since we are wholesalers, our prices are much lower than those of stores. If you take the time to compare our pricing to those imposed by the merchants, you will notice a significant difference.
Explore our selection of magnificent military swords, and then purchase your favourites at these discounted costs. Simply place an online order to have your goods delivered to your door. Also, we work hard to provide speedy shipping, so if you order today, your sword will arrive tomorrow. We truly are that quick!
There is more about Wholesale Blades that you need to know, hold on. Don't forget to take advantage of our discount. 20% off of similar military swords when you purchase six or more of them.
Explore our categories of Samurai Swords and Medieval Swords to find some outstanding ones to purchase if you're interested in purchasing additional historical swords.
Military Swords for Sale – Choose from a Gigantic Preponderance
The best wholesaler of military swords is Sharp Import. You can choose from among hundreds of stunning blade designs in our extensive collection of military swords. The swords used by the armed forces served as inspiration for our own. Several of our swords are modelled after those that military personnel throughout history have worn. Love weaponry used in warfare? Get our military swords to arm yourself with the same weapons used by the military.
Buy a Military Sword at an Incredibly Low Wholesale Price
Have you seen our incredible collection of swords used in warfare? If not, visit them right now to find some fantastic swords. Our military swords are well worth purchasing if you're a fan or collector of fantastic swords. The most amazing addition to your collection of swords would be a military sword. Also, we promise the lowest prices on our military swords. Get a military sword from Sharp Import today and save 90% off the retail cost. Do you think that is incredible? To take advantage of this discounted pricing, buy our military swords.
Top Wholesale Suppliers Products / Categories Bulk Offers!
"Get access to unbeatable daily offers with "Wholesale Offers". Our platform offers the best value for money by connecting you with over 1000's trusted importers in the U.S. With a focus on overstock and quantity buys, you can enjoy exclusive discounts and savings on a wide range of products. No need to go from store to store or spend countless hours searching online – we bring all the best deals to you in one convenient place. Sign up now and start experiencing the power of bulk buying and unbeatable savings!"