Description
Beautiful Smooth 1-2-1.3mm Thick Leather is Used. To Make the Men's Paisley Wholesale Leather Motorcycle Vest. The Inside Liner's Paisley Design Complements the Vest, and the Red Stitching with its Accent on the Leather's Color Makes It Stand Out in a Crowd. For a long-lasting fit. The stitching has been strengthened around the edges.
Outside Features
made of 1.2-1.3mm thick premium cowhide leather.
With hidden snap buttons and two zippers. Red stitching is used as an accent throughout.
The Edges of the Stitching Have Been Strengthened
Open-Collar Style
Perfect for patches or embroidery, the plain back panel
Two lower exterior pockets with zippers
Two chest pockets with concealed snap buttons
Sunglasses can fit through a slit in the left chest pocket.
Genuine YKK Zippers Are Known For Their Durability and Longevity
Inside Features
The interior lining has a Paisley pattern.
Quick Draw Gun Pocket (If You Don't Carry. It Can Be Used As a Regular Large Storage Pocket)
Inside "Patch Access" Zipper Openings Using Patented Patch Access Technology
Make it possible to sew patches or embroidery without opening the jacket.
Using Patch Access Technology, adding a patch or embroidery is simple.
Headphone wire feeds and a media pocket for a smartphone are inside.
Bonus Interior Pocket with a Snap Button
Hardware in Chrome
Only Here at This Low Price Can You Find Exclusive Design and Finish
Integrated Hanging Loop
Going Above and Beyond with Comfort, Performance, and Style is Wholesale Biker Gear.
A Men's Paisley Wholesale Leather Motorcycle Vest is a stylish and functional addition to any biker's wardrobe.
Made from high-quality leather, this vest is perfect for protecting against the wind and other elements while riding on the open road. It features a classic paisley pattern, which adds a touch of sophistication to any outfit. This vest is designed to provide comfort, durability, and style to bikers who want to look their best on and off the road.
In addition to the Men's Paisley Wholesale Leather Motorcycle Vest, there are several other related categories that you may be interested in. For example, there are leather jackets, chaps, gloves, and boots that are designed specifically for bikers. These items offer the same level of protection and style as the Men's Paisley Vest, and are perfect for riders who want to complete their biker look.
When it comes to wholesale offers, you can find a wide range of products covering hundreds of categories from the top importers in North America. These wholesale offers are available on thousands of products, including the Men's Paisley Wholesale Leather Motorcycle Vest. Whether you're looking to buy in bulk for your business or just want to save money on your personal purchases, these offers are a great way to get the products you need at a discounted price.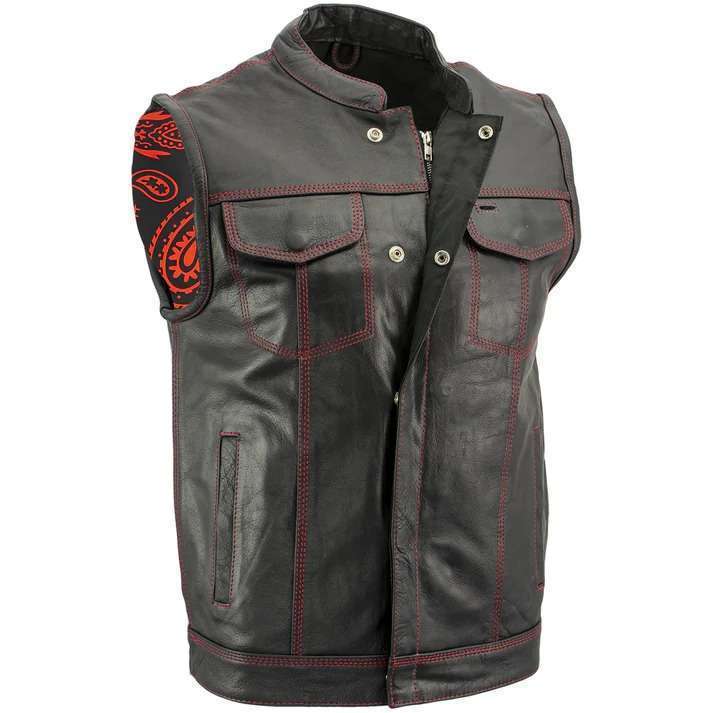 Men's Paisley Wholesale Leather Motorcycle Vest
Wholesale offer is offering a lot of variety of leather products, and here are some of our products related to leather.
You can Signup with us if you want any product category.
Below here, some of our related leather products categories.
Our Mission
Deeply Discounted Wholesale Offers. Over 10,000 wholesale offers on New Arrivals, Daily Deals, Overstock, Closeouts, and Qty buys. Great Seller Support, Fast Shipping, No Minimum, and Free Drop Shipping with a web store plan. 100's of categories to include Housewares, Home Decor, Gift & Collectibles, Fashion and Apparel, Motor-Sports Gear, Sports & Outdoors, Travel & Recreational, Seasonal, Toys & Games, and much more. We can only sell to businesses and individuals that are buying products for resale. You have to open a Wholesale Account to view pricing and place orders. Please take a minute to sign up for your Wholesale Offers account.
"Get access to unbeatable daily deals and bulk offers with "Wholesale Offers". Our platform offers the best value for money by connecting you with over 800 trusted importers in the U.S. With a focus on overstock and quantity buys, you can enjoy exclusive discounts and savings on a wide range of products. No need to go from store to store or spend countless hours searching online – we bring all the best deals to you in one convenient place. Sign up now and start experiencing the power of bulk buying and unbeatable savings!"