MOTORCYCLE JACKETS OFFERS COLLECTION
Wholesale Motorcycle Jackets Then Anyone Online, Over 3.5 Million Bikers Have Trusted Us Since 1999 – We sell several exclusive brands like the #1 Selling Biker Brand in America. We have jackets for all your needs, heated to cooling jackets, from armored, to casual wear.
"Get access to unbeatable daily deals and bulk offers with "Wholesale Offers". Our platform offers the best value for money by connecting you with over 800 trusted importers in the U.S. With a focus on overstock and quantity buys, you can enjoy exclusive discounts and savings on a wide range of products. No need to go from store to store or spend countless hours searching online – we bring all the best deals to you in one convenient place. Sign up now and start experiencing the power of bulk buying and unbeatable savings!"
BEST MOTORCYCLE WHOLESALE LEATHER JACKETS
Wholesale Women's Popular Leather Jackets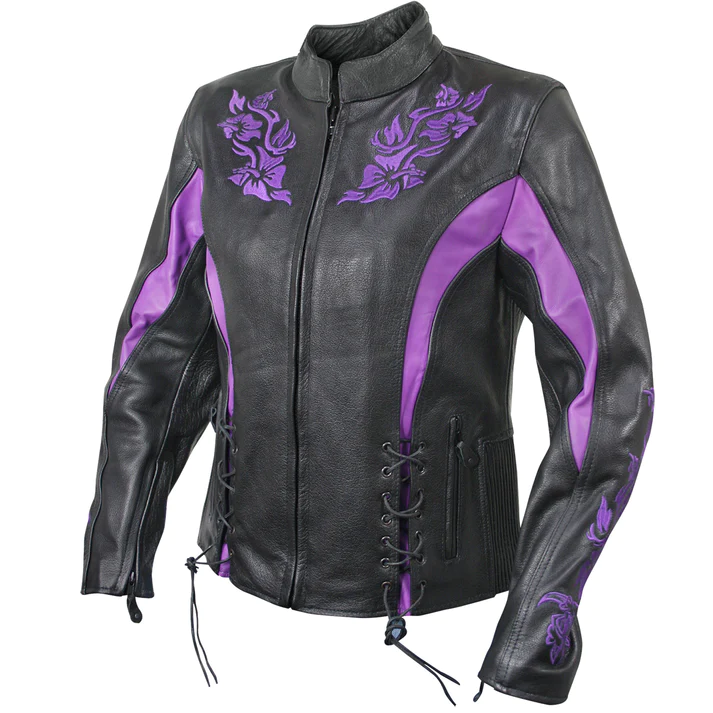 Women's 'Gemma' Black and Purple Leather Embroidered Jacket with X-Armor Protection
Outside Features:
Made of Premium Buffalo 1.2-1.3mm Thick Leather
Royal Purple and Black Color Combination (The Color Of Kings And Queens!)
Mandarin Collar
Front Zipper Closure
Adjustable Front and Back Lacing Detail for an Optimal Fit
2 Outside Hand Pockets with Zipper Closure
Front and Back Panels In Royal-Purple
Zippered Cuffs with Webbing
Elastic Side Hip Panels for Flexibility
Genuine YKK Zippers -Known for Longevity and Durability
Comfort, Performance and Style by Xelement Bike Gear Always Going the Extra Distance
Wholesale Men's Popular Leather Jackets
Men's 'Sliver' Distressed Gray Classic Motorcycle Leather Jacket
Outside Features
Made of 1.2-1.3mm Premium Cowhide Distressed Grey Leather
Distressed Leather is Designed to Scuff and Distress Naturally for a Rustic Vintage Worn in Look
A Symmetrical Front Zipper Closure
Snap Button Down Lapel Collar (with Bonus Hidden Snap Buttons to Fully Zip-Up Jacket)
Snap Down Shoulder Straps
2 Lower Hand Pockets with Zipper Closure
1 Outside Classic Coin/Ticket Pocket with Snap Button Flap Closure
1 Angled Chest Pocket with Zipper Closure
Adjustable Half Belt for an Optimal Fit
Zippered Cuffs with Snap Button Strap
Full Action Back Shoulder Panel for Movement While Riding
Plain Back Panel – Perfect for Patches or Embroidery
Genuine YKK Zippers – Known for Longevity and Durability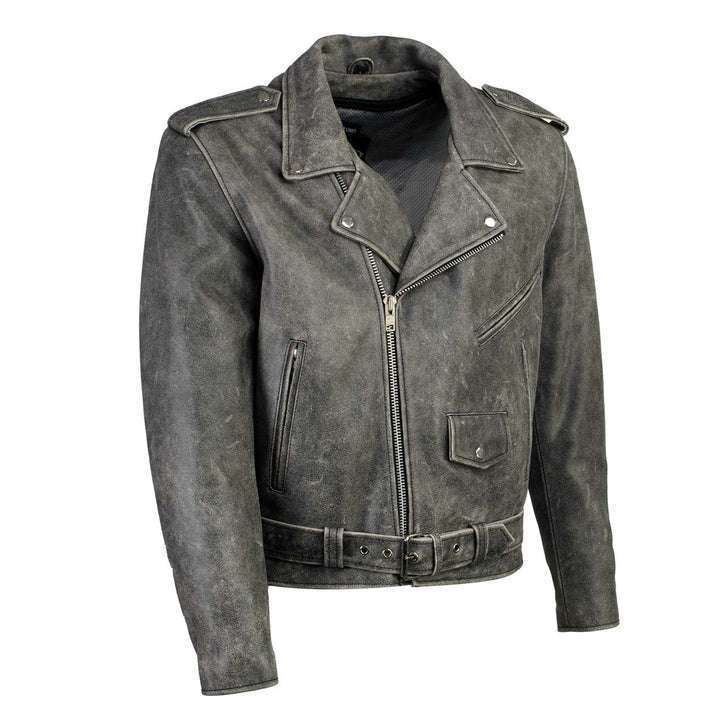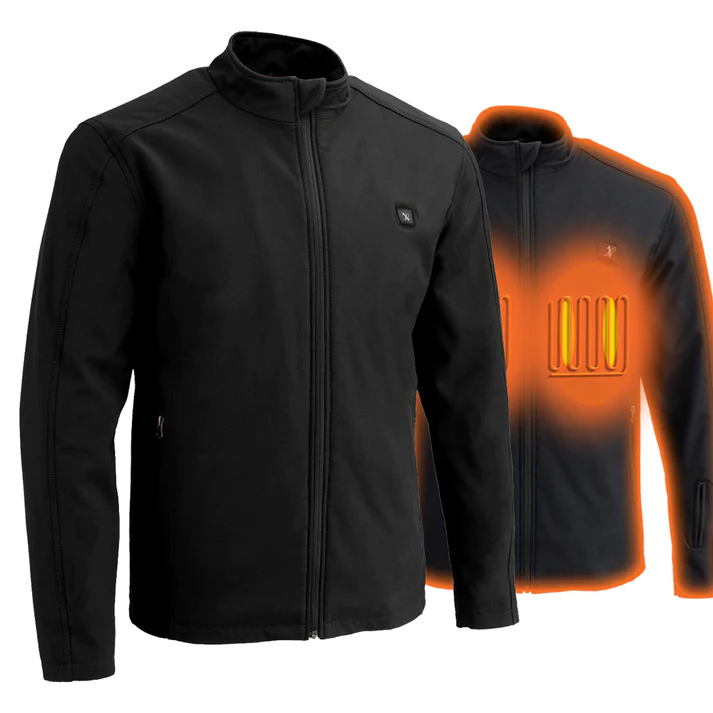 Heat MPM1762SET Men's Black Collarless 'Heated' Soft Shell Jacket for Ourdoor Activities w/ Battery Pack
Features
Made of Durable Lightweight Soft-Shell Poly Material
Water Construction Exterior
Interior Satin Lining
Front Zipper Closure with Waterproof Seal
2 Outside Pockets with Zipper Closure with Waterproof Seal
Easy on and off Button Switch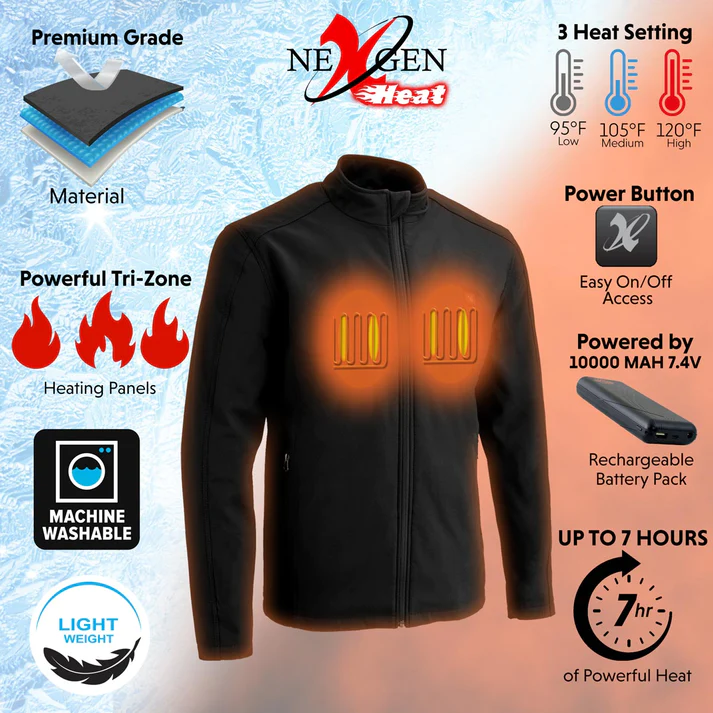 Motorcycle Jackets
Wholesale Offers Trusted By 3.5 Million Bikers Since 1999 – Buy With Confidence
Motorcycle jackets come in all shapes and sizes. Whether you're going after that classic black leather biker look, or the cool and stylish mesh jacket to match your sport bike or V-Twin, we've got the motorcycle jackets you're looking for. carries the largest selection from all your favorite biker brands like Speed & Strength, Xelement, Milwaukee Leather, Joe Rocket, Cortech, Firstgear, Tourmaster and more. We carry vintage looking jackets in rare distressed brown and gray leathers to exclusive matte flat leather jackets. We have developed several exclusive hides to make riders in our line of Xelement Gear collection stand out. When you buy from several top brands come direct from our own factory giving you the premium look and design of the best quality leather gear for cheap prices. has the largest line of armored motorcycle jackets and conceal carry gear. For the winter riders also check out our extensive line of heated motorcycle jackets. Wholesale Offers Trusted By 3.5 Million Bikers since 1999, the ultimate and best place to get all your riding gear. Buy with confidence.