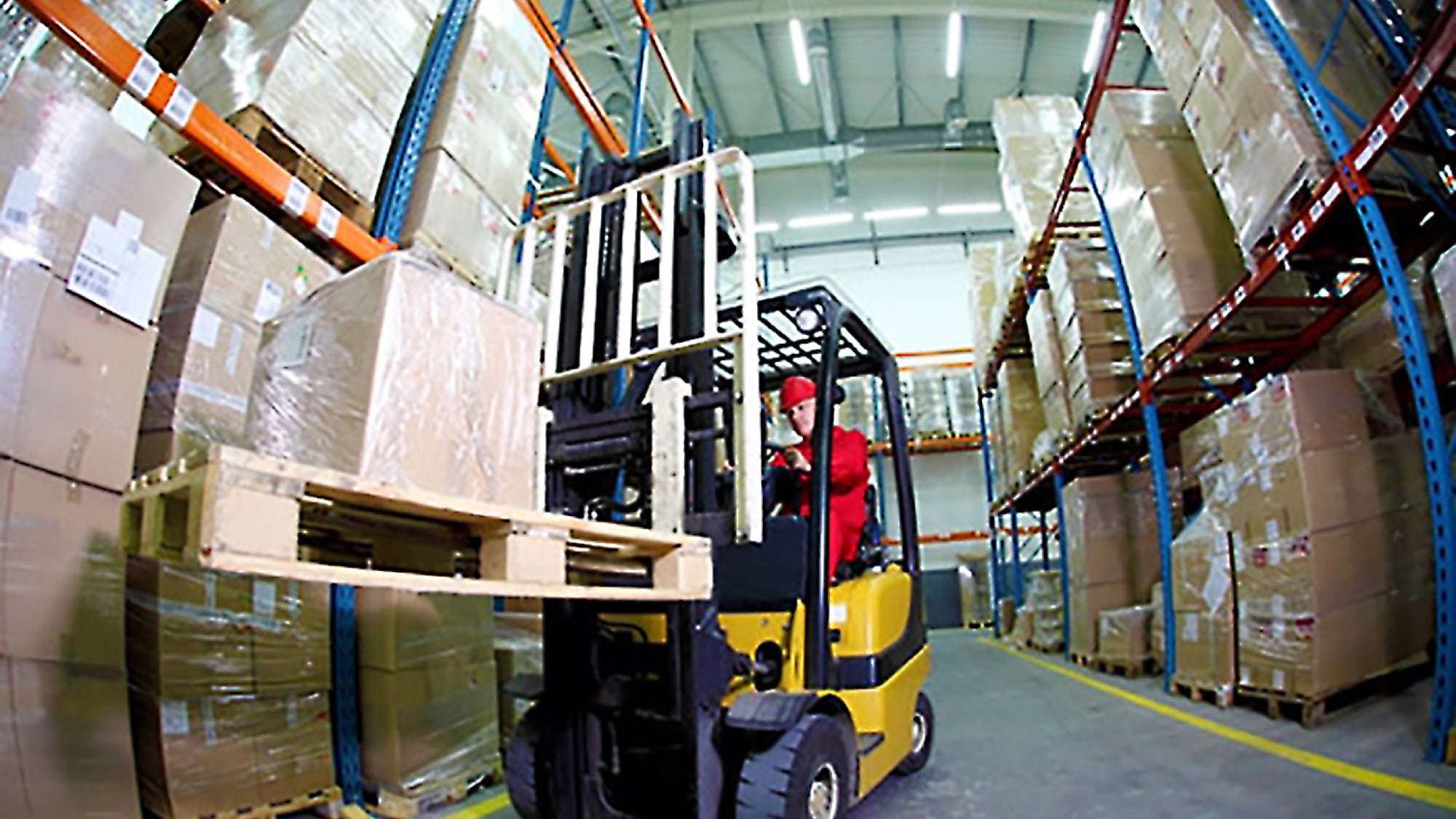 How To Find the Right Wholesale Suppliers In 2023. The value of wholesale trade alone in the United States is close to half a trillion dollars each year, and it has increased by more than 11% over the previous five years. That makes it difficult for sellers to ignore those figures, which is why more vendors, dropshippers in particular, are vying for a slice of the wholesale e-commerce pie.
Start selling online right away with Shopify
Yet, you can't sell something that you don't have. The hardest part of product sourcing is locating a reliable supplier. It might be difficult to choose the best wholesale supplier for your company when there are so many possibilities available worldwide.
Nevertheless, things don't have to be that way. We'll delve deeply into the specifics to assist you to identify the ideal partner in this guide to selecting the best wholesale supplier:
Why do you need a wholesale supplier and what one is
How to locate trustworthy wholesalers
Unusual methods for locating wholesalers
How to determine if they are ideal for you
What is a wholesale supplier?
A corporation that purchases products directly from manufacturers and resells them to retailers for a profit is known as a wholesale supplier. Beginning in the 19th century, when mass production and marketing strategies emerged, the wholesale model had a meteoric rise in popularity.
Without wholesalers, producers would have to market and advertise their products to retailers on their own, which would be quite inconvenient. Throughout the supply chain, wholesale providers effectively serve as middlemen. They purchase goods in such huge quantities from producers that they receive a sizable discount, which they can subsequently pass along to retailers. They typically hold a product license, so as a result, average consumers cannot purchase their products, at least not at the same prices as their retailer partners.
The wholesale goods are subsequently repackaged by retailers for individual sale at a profit. Although there is always room for negotiation, dropshippers, and other retailers often pay wholesalers 60% to 70% of the price they quote to customers.
What problems does a wholesale supplier solve?
The objective for organizations that wholesale goods is to choose and curate the best products for clients while managing all marketing and client relations. But, such goods must originate somewhere. You would have to create your own products and supply chain otherwise. Wholesale providers can help with that. Working with wholesalers has a lot of benefits, including the following:
Without having to worry about high storage rental costs, you can purchase however many goods you require.
You already work with a supplier, so you can swiftly resupply if something suddenly sells out.
You can sell discounted goods at a profit.
You save time and money by virtually skipping the full product development process.
Dropshipping businesses and wholesale suppliers
The wholesale strategy is one that dropshipping companies frequently employ.
Dropshipping is a fulfillment strategy where a store doesn't maintain inventory of the goods it sells. Instead, the shop orders the goods from a third-party vendor and arranges for direct delivery to the consumer. Because of this, the vendor never deals with the goods directly. Consider it to be the marriage of wholesale buying with third-party fulfillment (as opposed to traditional retailers that buy wholesale or create and produce their own products and manage fulfillment on their own).

How to find legitimate wholesale suppliers
There are many possibilities available, therefore here are some considerations:
Quality. Do your research before you're trapped with thousands of low-quality things because some websites do feature more knockoffs and inferior goods than their fair share.
Price. Keep thorough records of the costs and keep in mind that everything is adjustable.
The discount ought to increase as you make additional purchases. You're among the fortunate ones if you can receive a 10% discount.
Complaints. Who is responsible for fixing everything that goes wrong? Dropshipping relies heavily on customer service, thus you should only cooperate with reputable suppliers.
The difficulty of finding wholesalers who can handle a short turnaround is a big worry for retailers. Achieving this deadline is essential because, according to studies, 71% of customers want their purchases within three to five days.
"Fulfilling wholesale orders is different from selling DTC. Brands must ship large quantities of goods securely and promptly, which necessitates unique packaging. Look for companies that have been engaged in the wholesale business for some time to make sure you are working with a trustworthy partner. Look for their own wholesale gateway and the number of years they have been in operation. This makes sure you're dealing with an expert rather than a novice who might still be getting acclimated to shipping in bulk as opposed to single SKUs."
Ali Kriegsman, COO of Bulletin
So where do you look for reliable, high-quality wholesalers? The wholesale supplier markets listed below are all there; we'll briefly discuss different strategies later. Because every company has distinct priorities, we divided some of the more well-liked choices into three groups.
Top wholesalers in terms of product selection and cost
The best wholesalers for business owners in North America or Europe
The best wholesalers for seasoned dropshippers
Wholesale Offers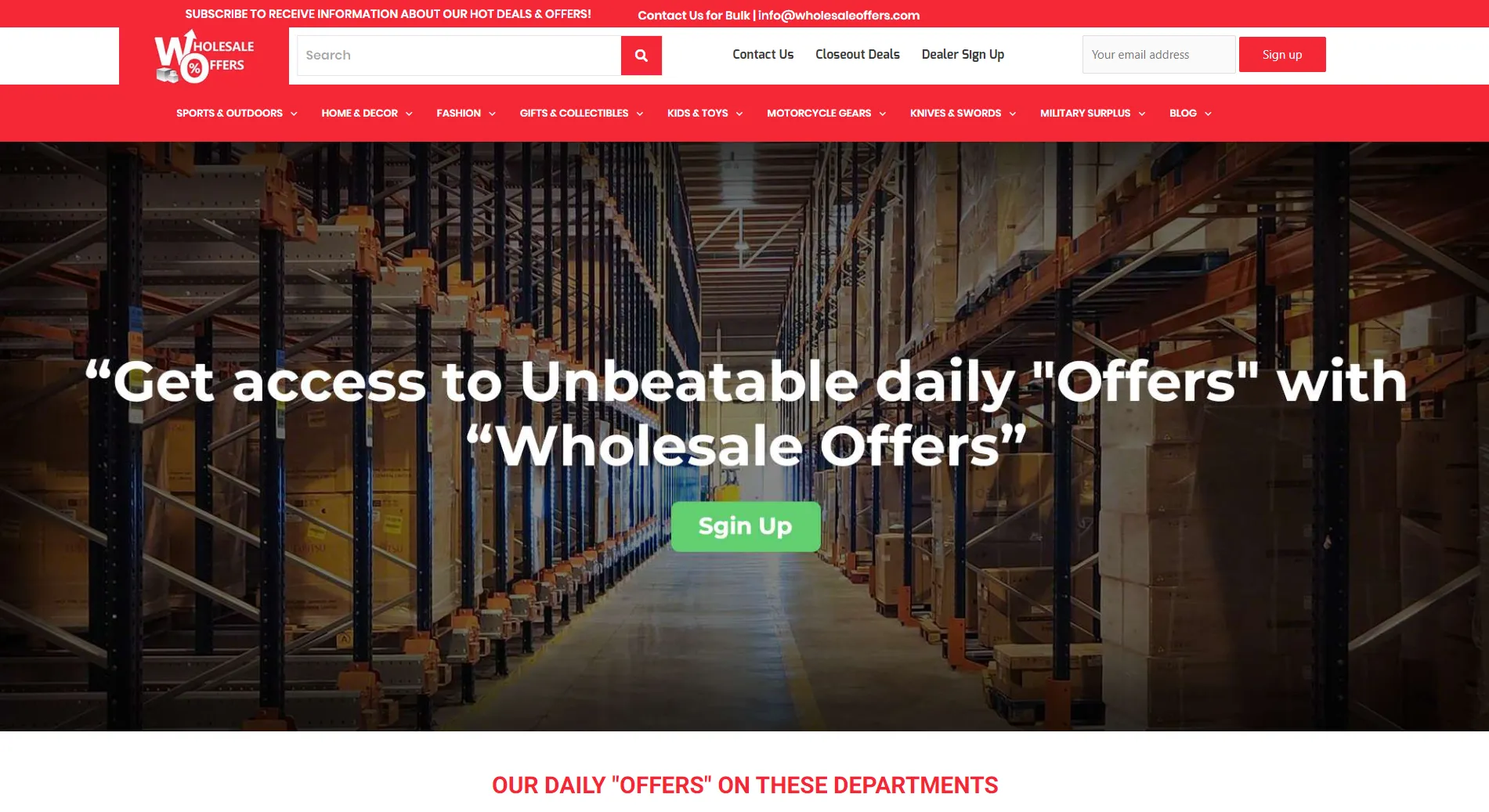 Top Wholesale Suppliers Products / Categories Bulk Offers!
"Get access to unbeatable daily offers with "Wholesale Offers". Our platform offers the best value for money by connecting you with over 1000's trusted importers in the U.S. With a focus on overstock and quantity buys, you can enjoy exclusive discounts and savings on a wide range of products. No need to go from store to store or spend countless hours searching online – we bring all the best deals to you in one convenient place. Sign up now and start experiencing the power of bulk buying and unbeatable savings!"
DHgate

Another wholesaler located in China is DHgate. DHgate is renowned for having a large selection of replica goods but has reduced costs on many items. It's worth looking through the bargains to see what you can find if that's not a problem for your company.
This choice is ideal for:
Being able to choose from a variety of products to fit any merchant and specialty
The integrated grading system to assist you in selecting the best supplier
Although costs fluctuate, we generally advise conducting thorough product research across a variety of marketplaces.
2. By location
Selecting a wholesale provider based on location is sometimes the best option. Modern consumers place an increasing emphasis on quick delivery. These are the wholesalers you need to be aware of whether you live in North America or Europe.
EK Wholesale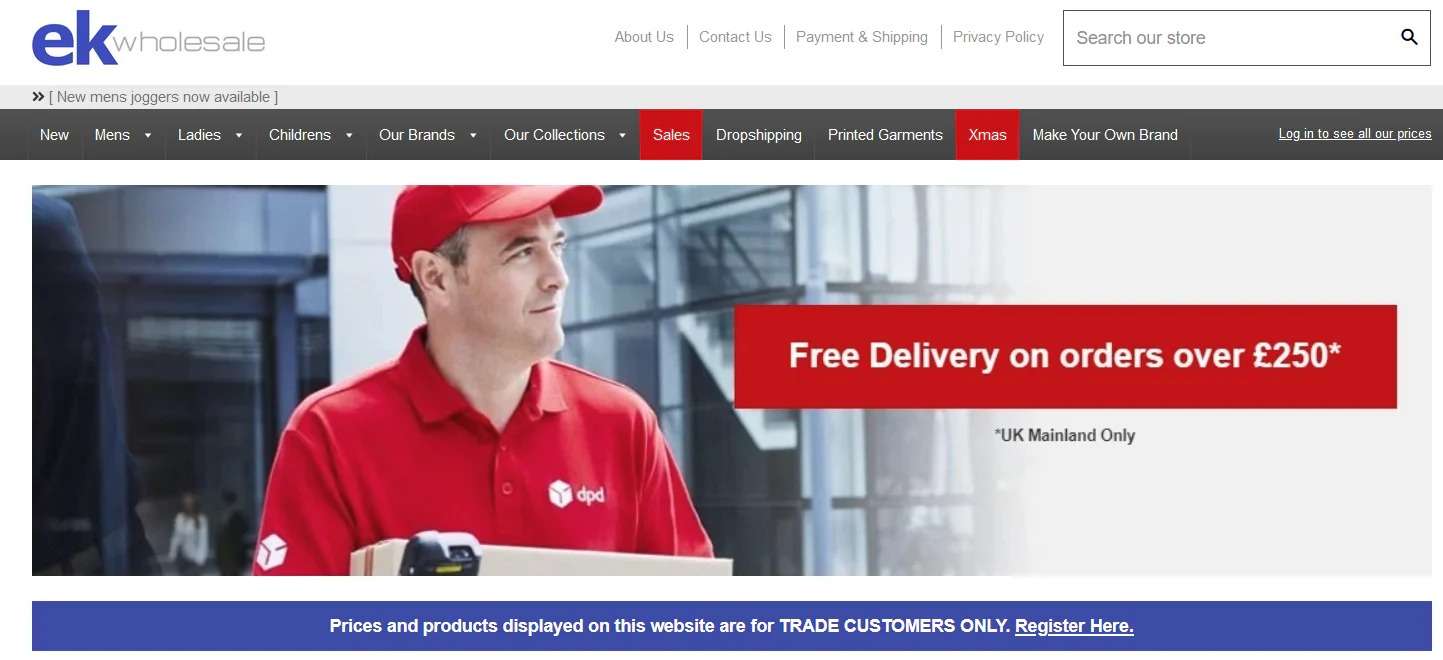 EK Wholesale is a great alternative for merchants who do the majority of their business in Europe because it is situated in Scotland and has been in operation for more than 30 years. In addition to providing free delivery to the UK mainland on orders of $250 or more, EK is renowned for carrying high-quality products. Additional advantages are:
Clothing-related specialization (but you might want to check elsewhere if you're not selling clothes)
Complete synchronization with the Shopify POS
The capacity to create your own clothing line for private label
Working with EK Wholesale can be the best choice for you if the majority of your clients are located in the EU or if your company specialised in the fashion market.
Tundra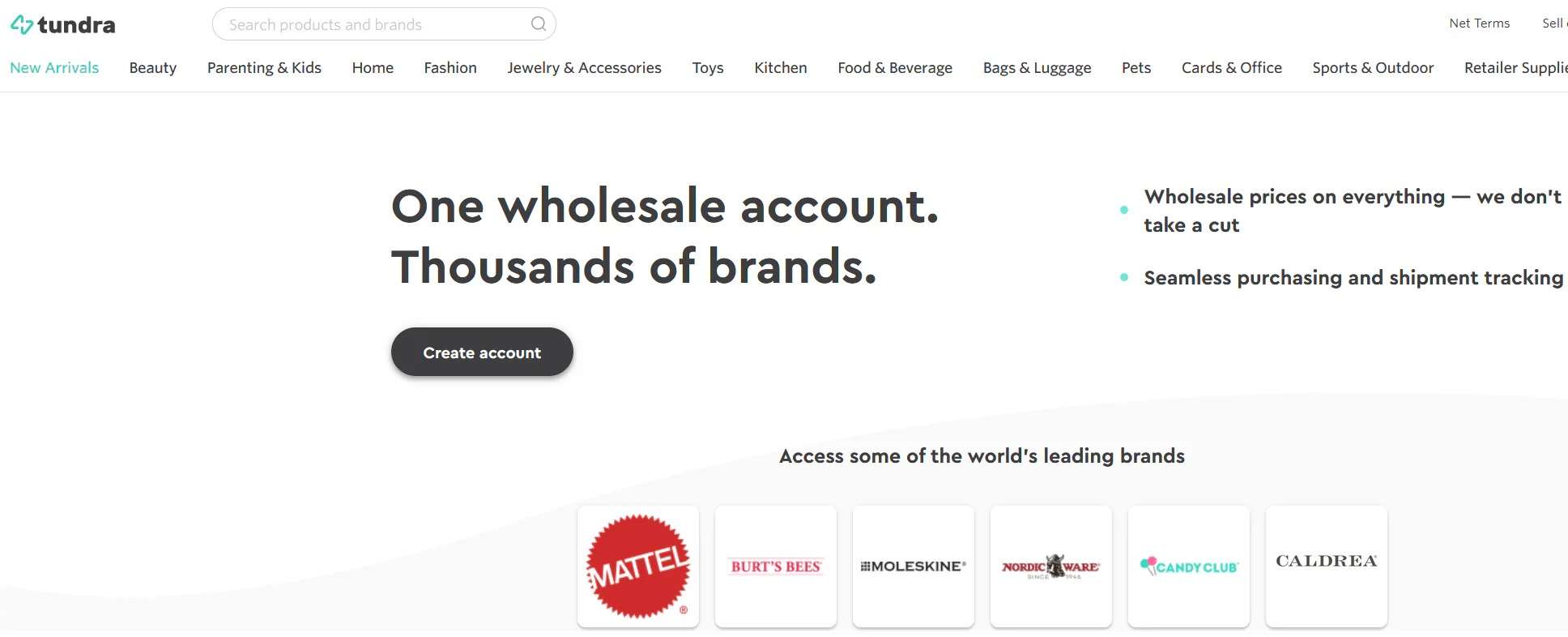 Tundra, which was established in 2017, is excellent for North American-based retailers. It has a wide range of domestic suppliers as well as a wide range of products, including bags, pets, kitchenware, and cosmetics. Added information:
Doesn't charge suppliers any fees. (Taking fees is a typical part of the wholesale business; if you come across a company that does charge, don't be startled.)
For Pro Users (those who spend more than $500 each month), shipping is always free.
Completes all aspects of shipping operations, earning money through accelerated service, supplier promotion, and brand exposure.
For dropshippers seeking lower shipping costs, we advise Tundra. The free delivery bonus could significantly impact your company, particularly if you're.
3. For dropshippers
If dropshipping is something you're familiar with, look at some of the choices we've provided below. Dropshippers with some experience who don't mind traversing clumsy websites or those who specialize in a narrow market are sure to find some excellent price points.
Wholesale Central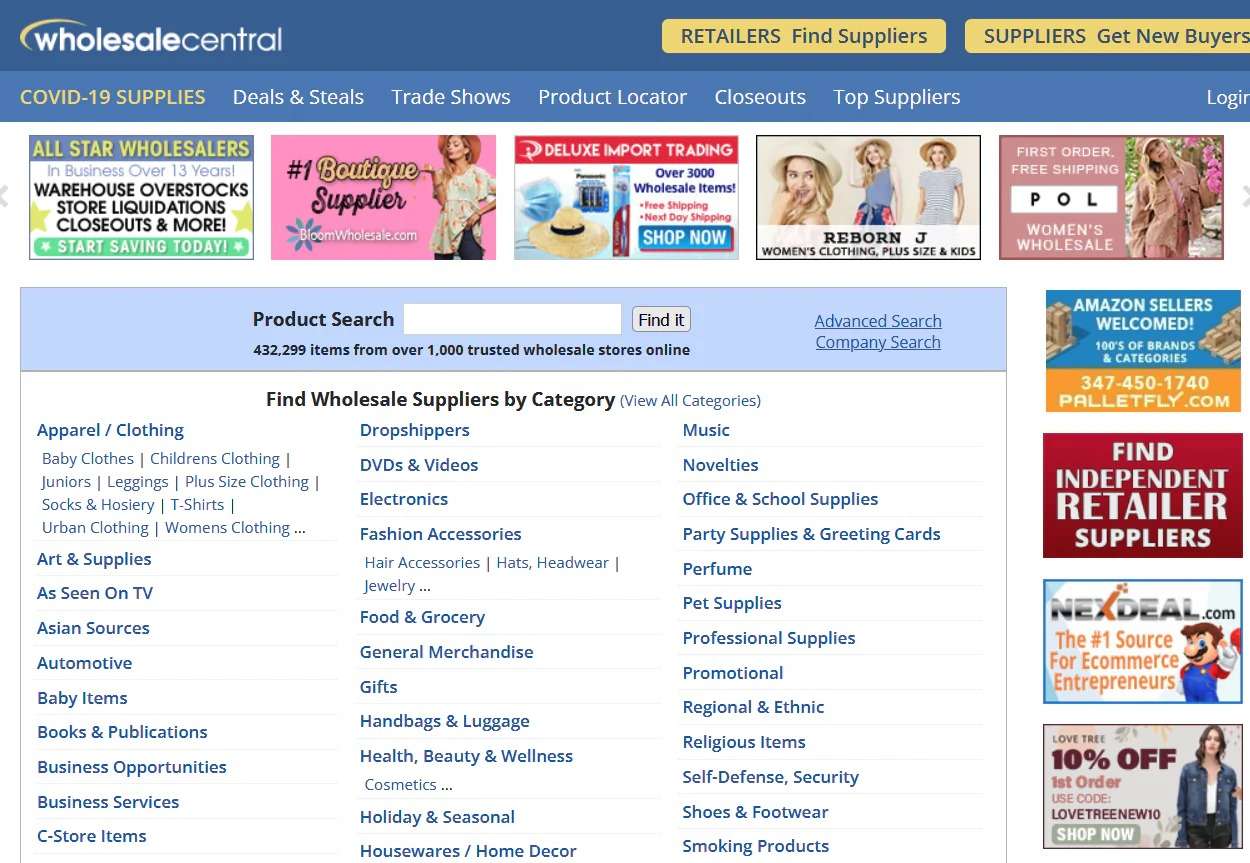 More than 1,400 vendors and 700,000 products are available on Wholesale Central, which has no membership fees. Although the website isn't particularly attractive, it may be a good choice if you know what you're searching for and have some experience in wholesale.
Dropshipping and wholesale-only alternatives are many at Wholesale Central. There are no retail prices at all, so be prepared with your business identification number and tax identification number.
Direct searches for dropshippers return results that are arranged geographically.
You can immediately begin searching for and connecting with wholesalers without registering. When they process your registration, some other websites demand a waiting period.
There is no waiting period for registration if you're anxious to begin your dropshipping journey.
IndiaMART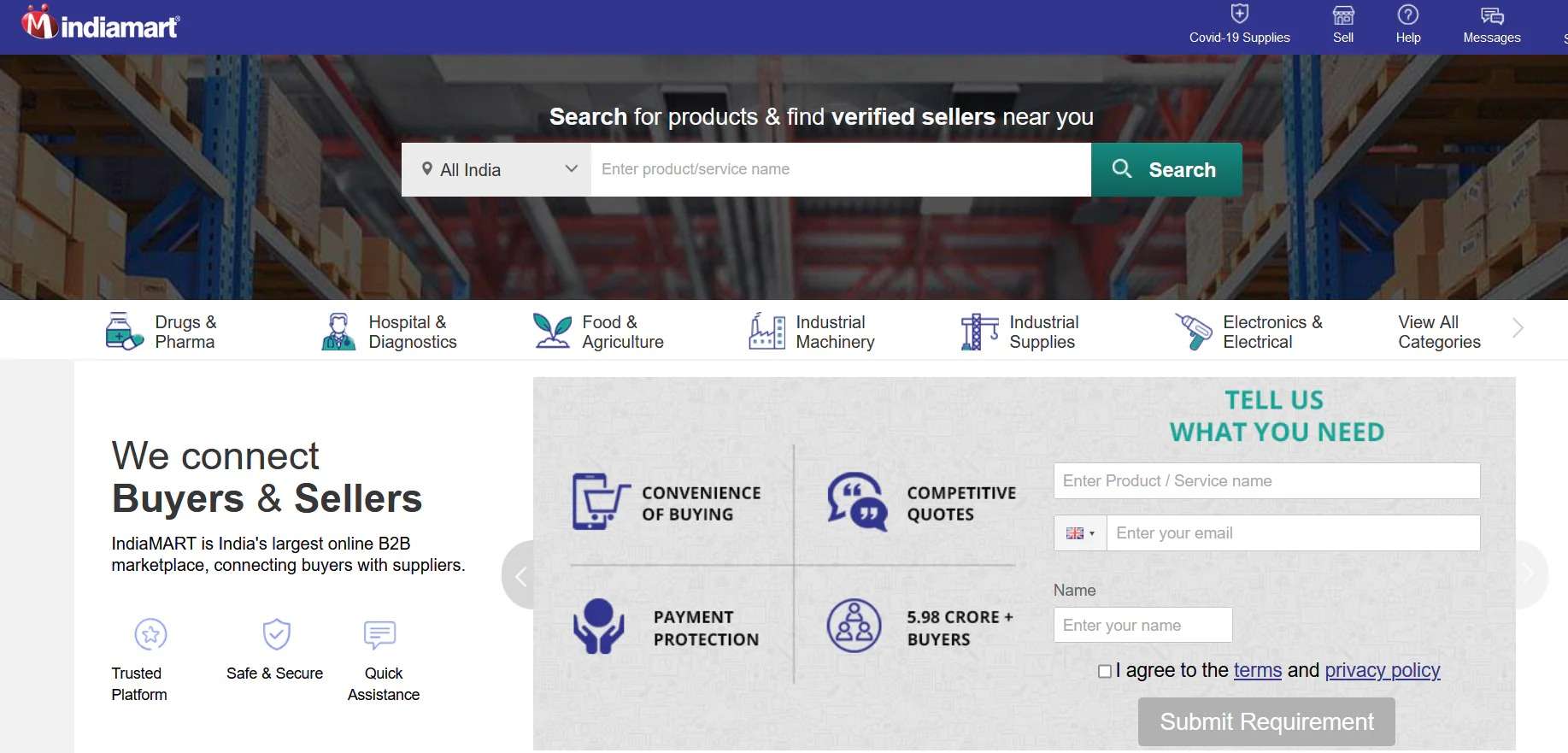 IndiaMart has a surprising variety of vendors; in addition to the standard consumer goods, it also carries industrial, agricultural, and medical supplies. This could be the finest option for you if you fall into one of the markets it serves. This is why:
IndiaMart excels in particular markets; if you're in the business of selling industrial, medical, or automotive products, this is the website for you.
It is also one of the few that provide services for dropshipping over-the-counter (OTC) medications.
The areas where IndiaMart excels are its specializations. Other wholesale vendors don't frequently interact with the sectors that IndiaMart does.
Other considerations for finding your ideal wholesale supplier
You'll undoubtedly locate the ideal wholesale provider for your company if you have the patience to sift through the possibilities we've provided. Just watch out for some of the typical pitfalls:
Overspending. On the one hand, you should pay enough to genuinely gain from working with a wholesale supplier, but on the other hand, you shouldn't bet everything on a product that hasn't been thoroughly tried in the market. Calculate what you should be paying and be aware of your financial constraints.
Fees. To avoid being caught off guard, be aware of the membership fees and any additional expenditures you are paying for. In the world of wholesale, membership fees are standard, but be sure your supplier is honest about it.
selling in public. A warning sign is when a wholesaler makes products available to the general public. For legitimate wholesale prices, business identification is necessary.
Consider using drop shipping software if you're just beginning your dropshipping career and might use a little more assistance. Your Shopify account syncs with an app, allowing you to add products straight to your store. Stress associated with inventory management, shipping, and packaging is reduced through dropshipping.
There are numerous ways to find wholesale suppliers, but using tools like Alibaba, which has a verified supplier program in place, can help to verify that you are corresponding with a reliable company. When practical, I also promote seeing potential suppliers in person at trade exhibitions like ASD Market Week that are devoted to bringing wholesalers and companies together.
Non-conventional ways to find wholesale suppliers
The simplest, though not the only, way to get in touch with a wholesale supplier in 2021 is through marketplaces for wholesale suppliers.
Those who are ready to veer off the usual path might just discover a fantastic deal waiting around the next bend. Additional means of locating wholesalers include:
Attending a trade fair for the business and meeting with wholesale suppliers in person
Joining organizations on social media for your industry and networking with other business owners
Registering with trade associations to see if any potential customers emerge Individuals that are eager to do their introductions in person may locate a solution that perfectly fits their particular business requirements. Building a business relationship face-to-face can result in higher productivity for some people.
Questions to ask a prospective wholesale supplier
Make sure you have the required tax documents and business license on hand before you pick up the phone. Without this information, you won't be able to order from some businesses or even catch their attention. Each state has its own set of regulations. Perform research. Wholesalers frequently hold a special product license, which prevents them from legally transacting with customers and only with other firms.
These are some crucial inquiries to make when you do call:
How much must be ordered in minimums (MOQS)? There may be a problem if you want to order 100 pieces of jewelry but the supplier only offers discounts on orders of over 500 pieces.
How much does each unit cost? The answer to this query is related to MOQs. The economies of scale state that your cost per unit (CPU) will decrease as you place more orders. But, resist the urge to place a larger-than-necessary order, especially if you're just getting started. A product that doesn't sell as well as you had hoped for will leave you with a sizable surplus and a loss.
What are the return guidelines? Do you have to pay the expense of returning a large order if there is a problem with it, or will the distributor cover it? Ahead of time knowing the solution will reduce danger.
How long will it take? You must maintain pleased clients if you run a dropshipping firm. Understanding a product's lead time enables you to manage client expectations and avoid keeping them waiting an excessive amount of time. Extended delays result in dissatisfied customers. especially when restocking would take too long because the product had run out.
Your most critical questions will be answered if you ask simple, direct queries.
The kind of hazy email that a busy wholesaler would just dismiss is "I'm thinking of maybe launching a dropshipping business sometime soon." But direct inquiries that demonstrate your seriousness—like, "What's your best price for 250 units per month?"—are more likely to get a response.
When conducting sourcing research, "I send many copies of the exact same letter and compare response times, the content of replies, industry knowledge, costs, turnaround estimates, and overall vigor of any follow-up calls."
Final checks before you sign on the dotted line
You've completed all of your research and are almost prepared to reach an agreement with your wholesaler. Here are a few more things to look into, though, before you sign that contract:
Request testimonials from past clients. A corporation may be a warning sign if it is unwilling to give you this information.
Are they insured against liability? If not, take caution. This kind of insurance is meant to safeguard you in the event that someone gets hurt because of a faulty or defective good you sold them.
Are the numbers logical? Keep your firm from going overboard just because there is a deal being offered. The ideal approach if you're new to dropshipping is to only purchase what you require. If what you believed was the next big thing turns out to be a dud, you don't want to be left with excess stock.
"One of the quickest and simplest ways to gauge competency is the capacity to swiftly supply pertinent information, such as extra photographs, delivery estimates, and videos. Reputable wholesale vendors place a high priority on communication. —Ada Powers, writer for e-commerce
Let's move on to some unique considerations for well-known products that are offered wholesale, as well as some points you should be aware of before placing a sizable order.
Popular wholesale products and considerations
Wholesale Jewelry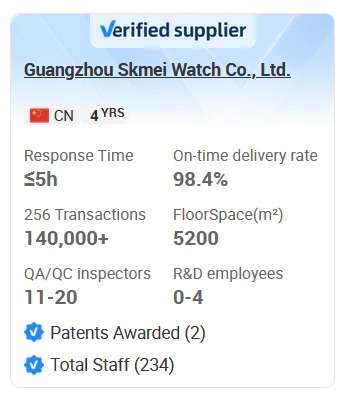 Ensure that the wholesale provider you choose for your watch or jewelry needs to mention the following vital details. You might wish to keep looking for a different supplier if they don't.
What kind of product reviews are there? Does the product's quality meet customers' expectations?
Who now receives supplies from the wholesaler? Trust is increased if the e-commerce company is well-known.
Little and delicate, jewelry is. Who bears the cost in the worst-case scenario? Solve such problems before you place an order.
Wholesale clothing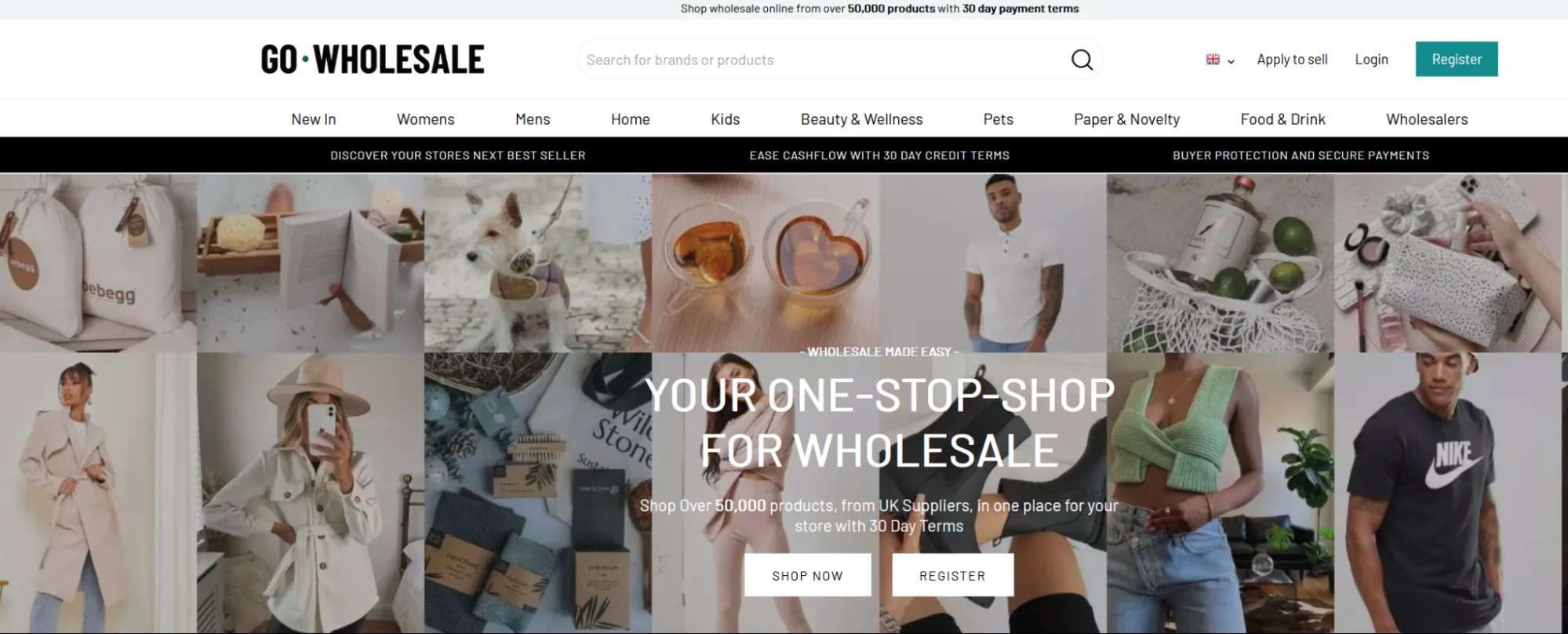 Dropshippers are quite fond of the fashion industry, and the options are always evolving to reflect the most recent trends. Several factors can make or break a fashion wholesaler, including:
Customization of brands is a possibility (e.g., custom t-shirts or hoodies).
Packaging is the single route that reaches all of your clients, so the quality of the unboxing experience is crucial.
Wholesale tea and coffee

An easy starting point for selling coffee online comes with its own considerations:
Coffee drinkers don't notice logos. So packaging is your sole chance to engage customers.
For individuals in the food industry, developing a brand identity is crucial, and a reputable wholesaler ought to be eager to assist you with that.
Find out more about 17 Hot Online Items to Sell in 2023. (And How to Market Them)
Excellent wholesalers are a terrific place to start.
It can be frustrating to find a supplier because you can't launch a business unless you have products to sell. Nevertheless, finding a reputable supplier of high-quality goods has never been simpler (who also delivers on time). Look for a wholesaler with a good reputation who understands your market. Get some samples. Ask for a price that you can live with. then start up that shop.