Hand-Forged Highlander in Carbon Steel Dragon Katana Swords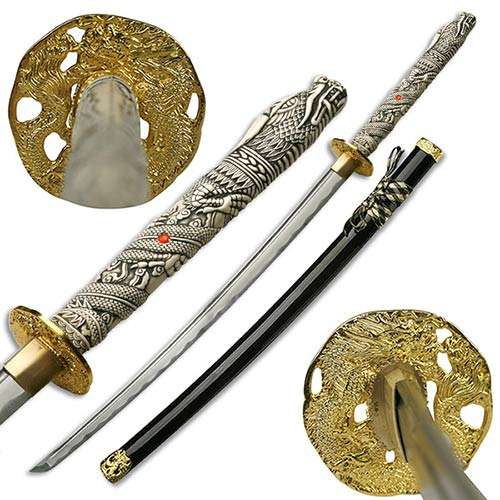 Handmade Wholesale Swords Suppliers In 2023. This 43-inch Highlander Dragon sword is enormous "in breadth. It has an impressive 27 "The sword comes with a black sheath that protects the hand-sharpened carbon steel blade.
Features:
Hand Forged Sword
High Carbon Steel Blades with Blood Groove
Hand Sharpened
Blade: 27″
Handle 13″
Overall: 40″
Weight: 2.2 Lbs

Handforged Legend of Reverse Katana replica Swords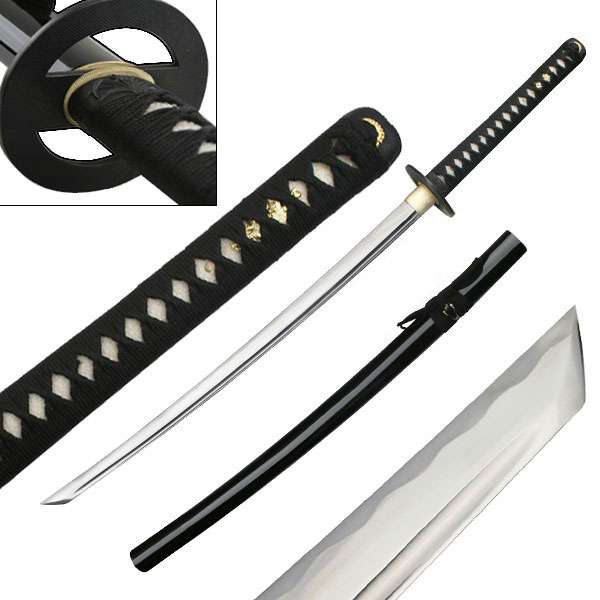 Fans of the anime Rurouni Kenshin have been looking for a good reverse-blade sword that faithfully reproduces Kenshin's blade. This new sword begins with a hand-forged carbon steel blade and is finished with a premium-wrapped tsuka that uses double mekugi to secure the full tang blade.
Sword Qualities:
Hand-forged reverse blade made of carbon steel
Really sharp
Full Tang
Metal sword in the Kenshin style
Tsuka is wrapped in genuine rayskin and premium cotton.
Multiple mekugi (pinned)
Glossy, lacquered saya made of wood
Fantastic for fans of Rurouni Kenshin
Fully operating
Specifications:
Blade: 27″
Handle 11″
Overall: 39″
Weight: 2.3 Lbs

Handmade Samurai Sword Carbon Steel Full Tang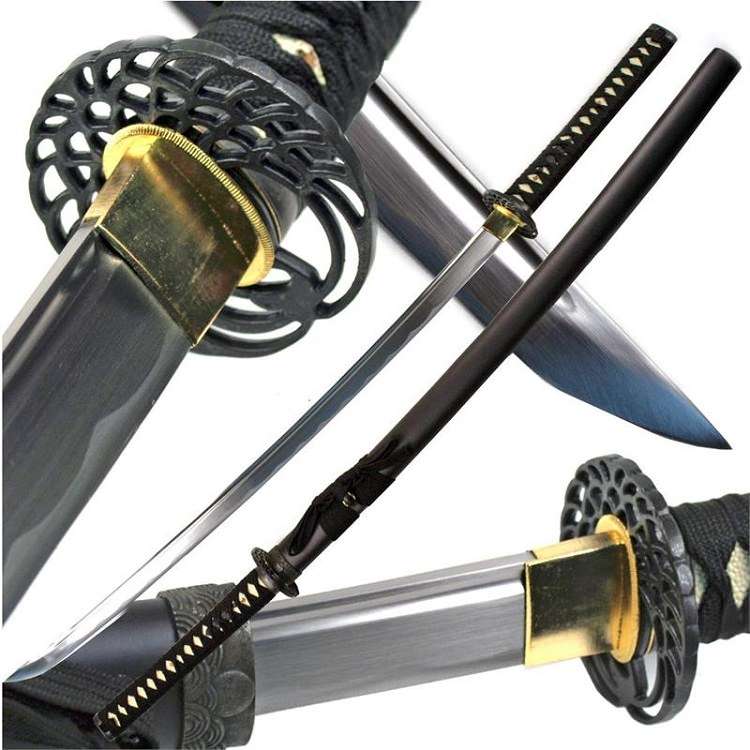 Fashioned to offer the best katana to our consumers. Our Crane Katana is a great option for basic backyard beater cutting and exhibition use, as well as for light entry cutting, training, building a functioning sword collection, gifts, and presentations.
Features:
Thick blade constructed of high-carbon steel.
Battle-ready full-tang sword (Not a "display replica").
The edge of a hand-honed blade is razor sharp.
The handle's end is where the full tang blade finishes.
Bamboo structure with two pegs.
Unique fittings and a guard (tsuba). Every fitting is secure and has a black metal finish.
Saya, a black matte scabbard with a metal mouth and an etched pattern.
Wrapped in a black cotton cord is a hardwood handle.
Includes black cotton storage and carry pouch for a sword.
Handle resembling ray skin.
For maintenance or display, this sword can be disassembled.
Specifications:
Blade Length: 28″
Handle Length: 10.75″
Overall Length With Scabbard: 40.5″
Overall Length Without Scabbard: 39.25″

Medieval Viking Handmade Sword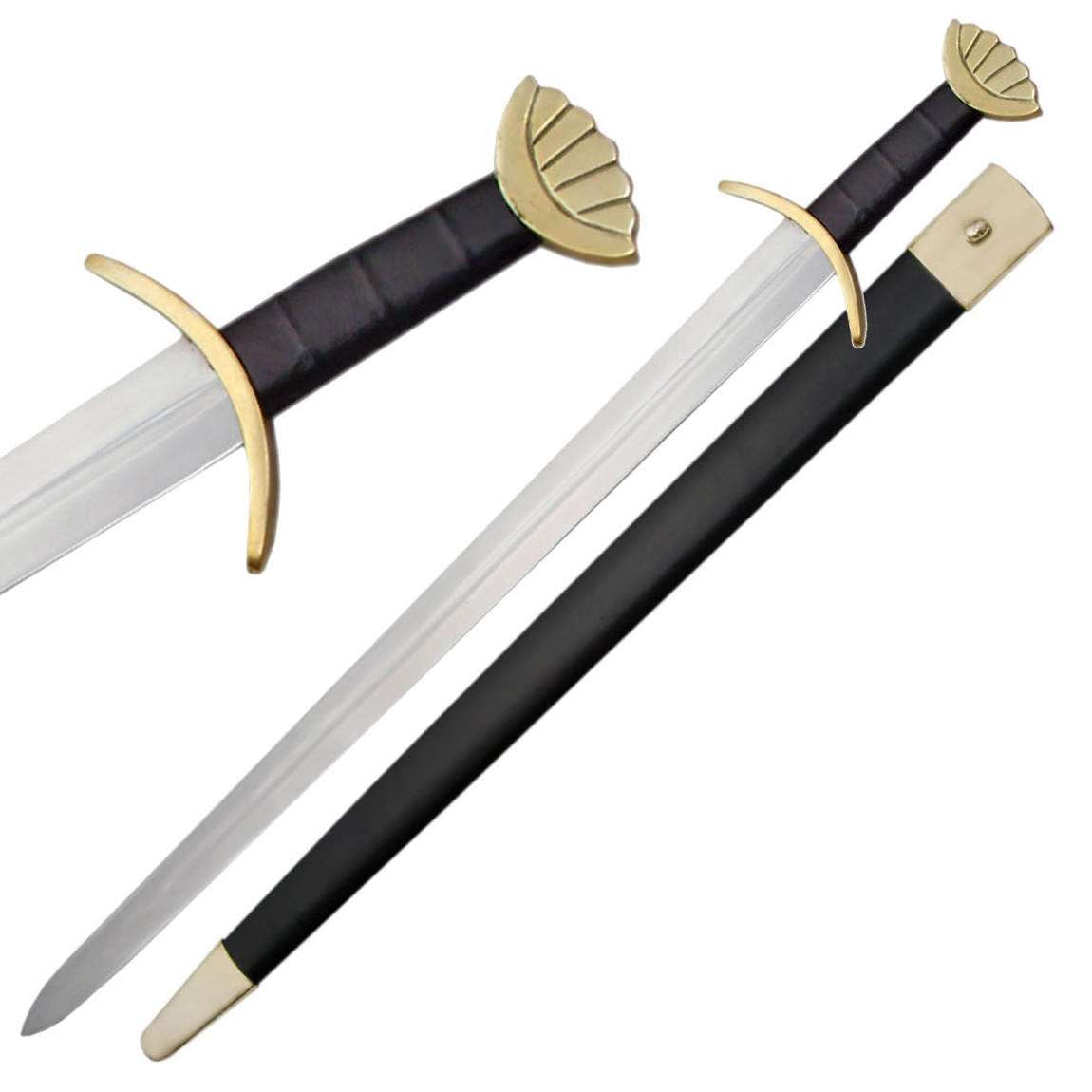 The entire length of this Viking Sword is 36.5 inches. This sword has a wood grip that is covered in faux leather and a stainless steel blade. The leather scabbard for the Viking Sword has a brass throat and tip. The Viking Sword also has a brass guard and pommel. In your home or place of business, our Viking Sword would look excellent on display.
Features:
Excellent Show Sword
Wood Handle With Fake Leather Wrapping
Blade: stainless steel
Genuine Viking Artifacts
Brass Pommel And Guard
consists of a leather scabbard
Overall Length: 36.5 Inches

Handcrafted Sword of the Knights Templar Crusader and Renaissance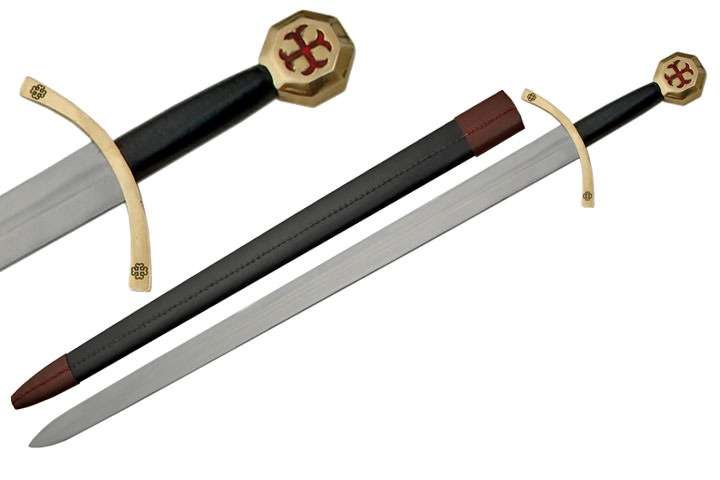 The Knights Templar is one of the most well-known orders of knights in existence today; they are renowned for their mystery and intrigue as much as for their strength and valor in battle. And this Templar's Medieval Battle Sword is a physical representation of their prowess in battle. This distinctive and one-of-a-kind sword has a high carbon steel blade with a modest fuller along the length of the blade and a progressive taper in the profile, giving the blade a broad cutting edge and a rounded, yet effective point at the tip. The elaborate hilt, which has a downwardly curving brass guard that is carved with elaborate crosses close to the tip of the quillons, is what really distinguishes the sword.
The grip is covered in black leather for a straightforward and solid grip. The sword comes with a matching, two-tone leather scabbard. This massive 36.5-inch-long Templars Medieval War Sword will serve as a constant reminder to anybody who sees it that, despite the Templar order's religious roots, it was really a military order.
Features:
A recognizable and traditional-looking medieval sword
Features a short fuller on the blade of high carbon steel.
Unsharpened Blade with Slow Profile Taper and Rounded Point
Guard has Quillons that Curve Downward.
Brass Hilt Accents and Carved Crosses Adorn the Wooden Hilt
Has a black leather sheath included?
Excellent for display, carrying, or use as a costume
All handcrafted

Handmade ninja katana death fang swords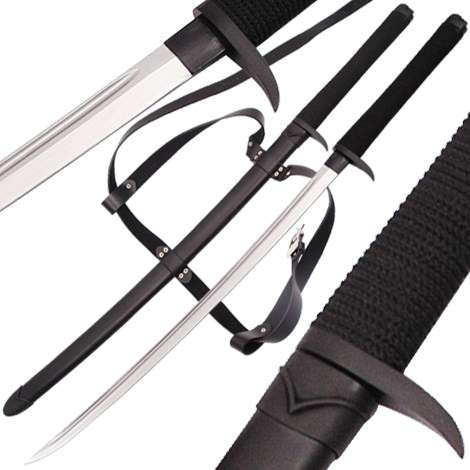 It has a stunning Blood Grove High 1060 Carbon Steel Blade. This blade has a mirror polish finish and is extremely sharp. A curving fang is the most striking component. The double-pegged handle is secured. The Katana's hilt features the face of a dark skull. The scabbard has a rear strap for ease of carrying and is made of sturdy wood.
Specifications:
Overall Length: 41 Inches
Blade Length: 28 Inches
Blade: Thick, Blood Groove, Sharp, 1060 High Carbon Steel
Handle: 12 Inches, Full Tang
Includes: Wooden Scabbard, Back Strap
Features: Skull Emblem on Pommel

Handmade Swords Made of 1045 Steel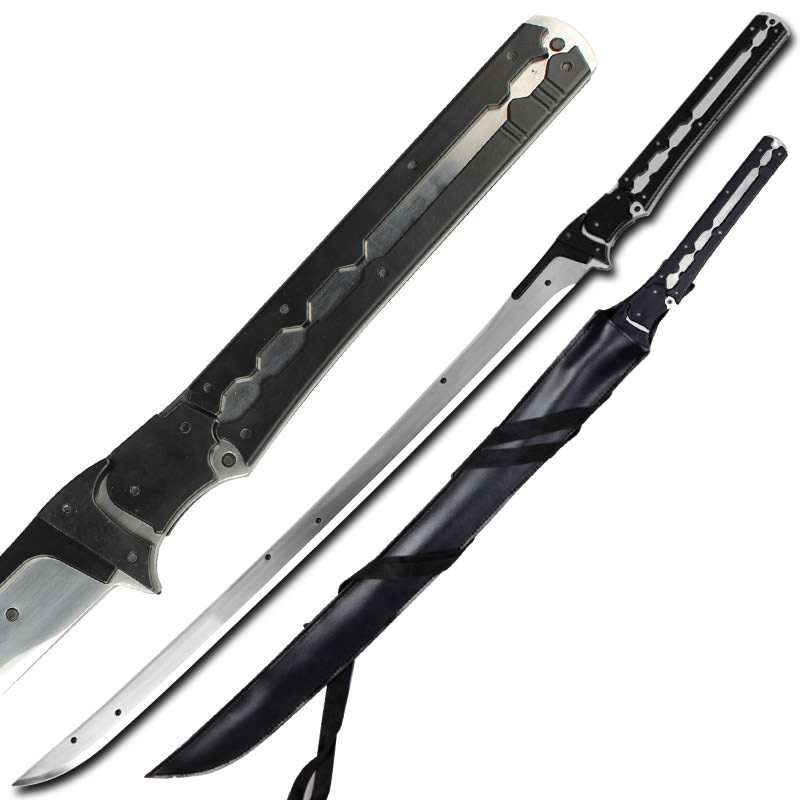 This is a copy of Raiden's High-Frequency blade from the newest Metal Gear Rising: Revengeance game. From top to bottom, this flawless sword is a one-piece handcrafted fabrication. The 1045 High Carbon Steel structure of the Full Tang blade features a sharp edge and mirror polish finish. As shown in the identical replica sword carried by Raiden in the Metal Gear video game, metal screws are embedded throughout the blade of the sword, which has a Katana-like appearance.
Specifications:
Overall Length: 38.75 Inches
Blade Length: 27 Inches
Blade Material: 1045 High Carbon Steel, Mirror Polished, Screw Fixtures
Handle Length: 11.75 Inches
Handle Material: ABS Inserts, Steel Screws
Construction: Full Tang
Includes: Black Durable Faux Leather Sheath, Belt Loop, Nylon Waist Cord