DESCRIPTION
Gold Stick Wholesale Necklace Sets are a stylish and elegant addition to any jewelry collection. These necklaces are designed with thin gold sticks or bars arranged in a unique and eye-catching pattern. The simplicity and minimalism of the design make it perfect for any occasion, whether it is a casual day out or a formal event. These necklaces are a popular choice among women who prefer simple yet chic jewelry.
Gold Stick Wholesale Necklace Sets are part of the larger category of wholesale jewelry. Wholesale jewelry is a cost-effective way to purchase high-quality jewelry in bulk quantities. These necklaces are available at wholesale prices, making it easy for retailers to sell them at competitive prices. They are also popular among individuals who want to buy multiple pieces of jewelry without breaking the bank.
At Top Importers in North America, customers can find a wide range of wholesale jewelry products, including Gold Stick Wholesale Necklace Sets. The company offers daily deals on thousands of products, covering hundreds of categories. They also have a range of related categories, including earrings, bracelets, and rings. Customers can take advantage of the wholesale offers and discounts available at Top Importers to purchase high-quality jewelry at affordable prices.
Features
Gold Stick Metal Necklace and Earrings Set in Bulk
Stone and Gold Stick Metal Decor
 Lobster Clasp Fastening
Lead-Compatible
About 18 inches long chain"
Pendant Drop L X W: About 5″ X 6″
Jewelry Drop L X W: 9mm X 9mm approximately
The color black
Size: 18.00″ (L) x 4.00″ (W) x 0.15″ (H)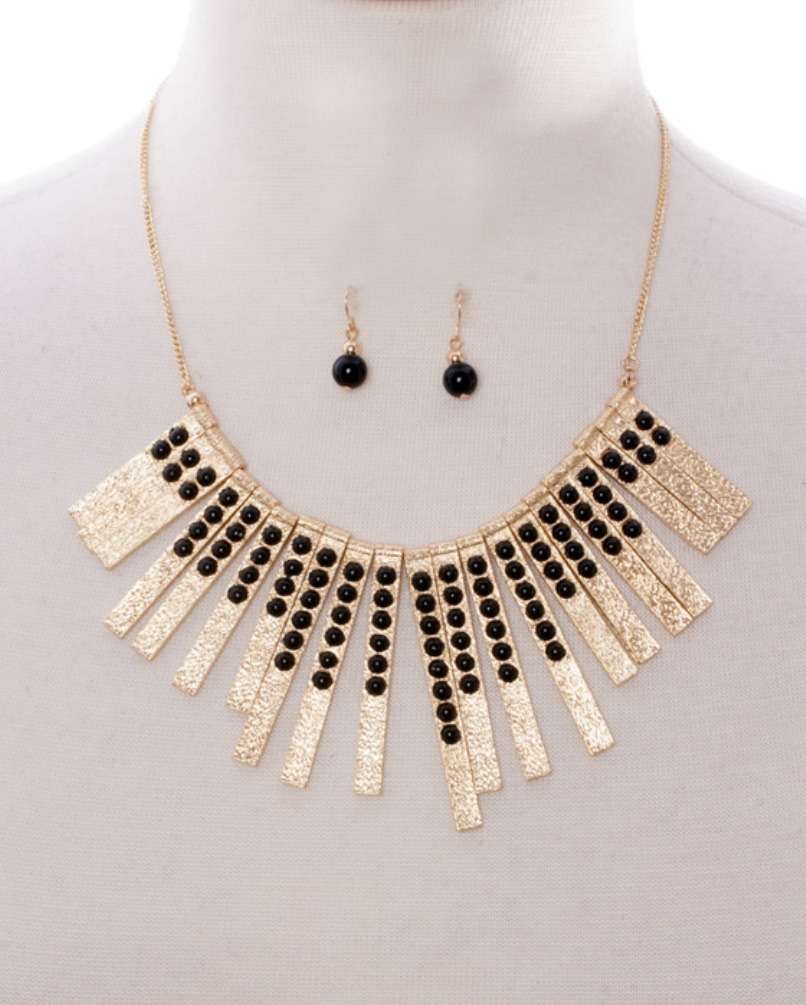 Gold Stick Wholesale Necklace Set
Wholesale offer is offering a lot of variety of Fashion Products, and here are some of our products related to Fashion.
You can Signup with us if you want any Fashion category.
Below here, some of our related Fashion Products categories.
Our Service
Deeply Discounted Wholesale Offers. Over 10,000 wholesale offers on New Arrivals, Daily Deals, Overstock, Closeouts, and Qty buys. Great Seller Support, Fast Shipping, No Minimum, and Free Drop Shipping with a web store plan. 100 categories include Housewares, Home Decor, Gift & Collectibles, Fashion and Apparel, Motor-Sports Gear, Sports & Outdoors, Travel & Recreational, Seasonal, Toys & Games, and much more. We can only sell to businesses and individuals buying resale products. You have to open a Wholesale Account to view pricing and place orders. Please take a minute to signup for your Wholesale Offers account.
"Get access to unbeatable daily deals and bulk offers with "Wholesale Offers". Our platform offers the best value for money by connecting you with over 800 trusted importers in the U.S. With a focus on overstock and quantity buys, you can enjoy exclusive discounts and savings on a wide range of products. No need to go from store to store or spend countless hours searching online – we bring all the best deals to you in one convenient place. Sign up now and start experiencing the power of bulk buying and unbeatable savings!"