Description
Excalibur, King Arthur's Excalibur Series II, and Wholesale Medieval Swords Made of Damascus Steel in bulk. Any fans of Excalibur and wholesale medieval swords should get this wholesale sword. This wholesale sword's Damascus blade offers a striking, rippling water appearance. Folding 1095 steel with 15N20 steel at least 400–520 times repeatedly produces this result. This steel has a Rockwell Hardness value of 58 to 60.
This Cheap sword has a solid steel guard that is embellished with red ruby-like stones. This beauty's handle features an unusual design with jewels encrusted onto it. This wholesale sword's guard is beautifully decorated, with two dragons facing in opposing directions at. The bottom and the Excalibur shield with three crowns in the middle. A leather sheath that has been hand-tooled is also included with this decorative wholesale sword. The blade length is 34.25 inches, with an overall length of 45 inches.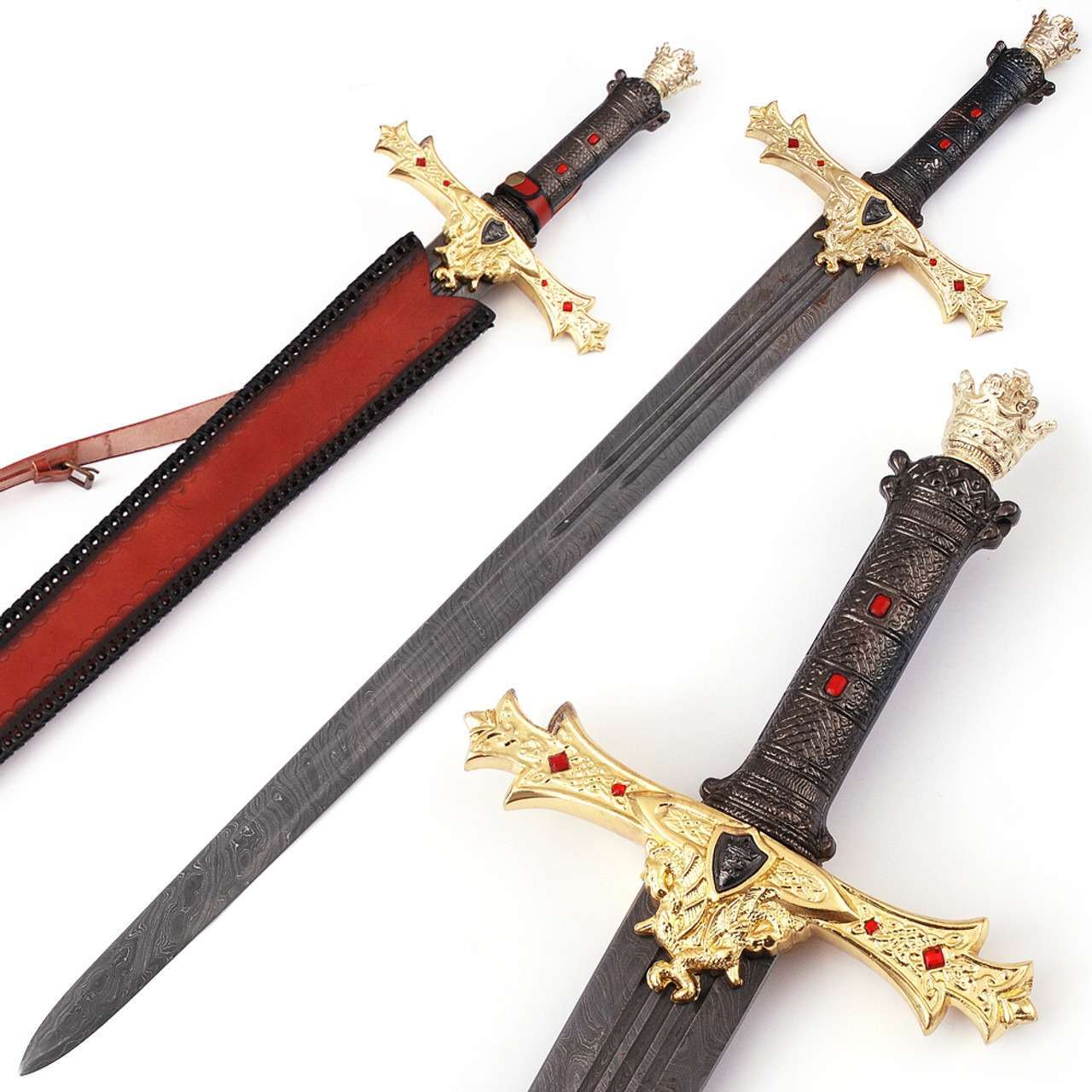 Excalibur Gold Damascus Steel Wholesale Medieval Swords
These swords are crafted from high-quality Damascus steel. Known for its durability and distinct pattern. The golden color of the sword adds to its regal appearance, making it a popular choice for those looking to add a touch of royalty to their collection. The Excalibur Gold Damascus Steel Wholesale Medieval Sword is a great choice for medieval reenactments, cosplay events, or as a decorative piece for your home or office.
This sword falls under the category of medieval swords and is a popular choice among collectors of historical weaponry. The Excalibur Gold Damascus Steel Wholesale Medieval Sword is no exception, with its ornate hilt and detailed blade. This sword is a testament to the craftsmanship of medieval sword makers and is a great addition to any collection.
Wholesale Offers on thousands of products covering 100's of categories from the Top Importers in North America are a great opportunity for those looking to purchase Excalibur Gold Damascus Steel Wholesale Medieval Swords. With daily offers on 1000's products, you can be sure to find a great deal on this highly coveted sword. The Top Importers in North America offer a wide range of products, making it easy to find everything you need in one place. Whether you are a collector or a retailer, taking advantage of wholesale offers is a great way to save money and expand your collection or inventory.
Wholesale offer is offering a lot of variety of Swords, and here are some of our related to swords.
You can Signup with us if you want any product category.
Below here, some of our related swords categories.
Our Service
Deeply Discounted Wholesale Offers. Over 10,000 wholesale offers on New Arrivals, Daily Deals, Overstock, Closeouts, and Qty buys. Great Seller Support, Fast Shipping, No Minimum, and Free Drop Shipping with a web store plan. 100 categories include Housewares, Home Decor, Gift & Collectibles, Fashion and Apparel, Motor-Sports Gear, Sports & Outdoors, Travel & Recreational, Seasonal, Toys & Games, and much more. We can only sell to businesses and individuals buying resale products. You have to open a Wholesale Account to view pricing and place orders. Please take a minute to signup for your Wholesale Offers account.
"Get access to unbeatable daily deals and bulk offers with "Wholesale Offers". Our platform offers the best value for money by connecting you with over 800 trusted importers in the U.S. With a focus on overstock and quantity buys, you can enjoy exclusive discounts and savings on a wide range of products. No need to go from store to store or spend countless hours searching online – we bring all the best deals to you in one convenient place. Sign up now and start experiencing the power of bulk buying and unbeatable savings!"