Description
Damascus Steel Wholesale Viking Long Sword is those who gave their all in combat but ultimately lost their lives. They deliver these powerful warriors to the gates of Valhalla as payment for their sacrifice and invite them to join Odin's elite army. When they charge into battle, I see them wielding this full-tang blade. Forged from top-notch 1095/15N20 Damascus steel with a massive 400–520 layers, an HRC of 58–60. The wholesale sword is perfectly sharpened and was made for the strongest of warriors.
This Cheap blade has an even more menacing appearance thanks. The interesting wave-like Damascus pattern as if it needed any assistance. The hand guard and pommel are both constructed of solid brass. The hand guard has lovely Norse engraving, and the pommel bears the Valknut symbol, which represents the knot of the fallen warrior. A finely made leather sheath that fits over. The shoulder has two snap closures is provided to prevent your wholesale sword from shifting or falling out when not in use. 40-inch total length; 29.5-inch blade length
The Damascus Steel Wholesale Viking Long Sword is a beautiful and unique addition to any sword collection. This sword is not only a great display piece. But is also fully functional and battle-ready. You may also want to consider related categories, such as Viking axes, shields, and armor. Perfect for reenactments, cosplay, or display. At Top Importers in North America, you can find Wholesale Offers on 1000's products covering hundreds of categories, including Viking and Medieval weaponry. With daily offers on thousands of products, you can find great deals on high-quality swords and other historical replicas. Whether you are a collector or a reenactor, Top Importers is a great resource for finding unique. High-quality products at wholesale prices.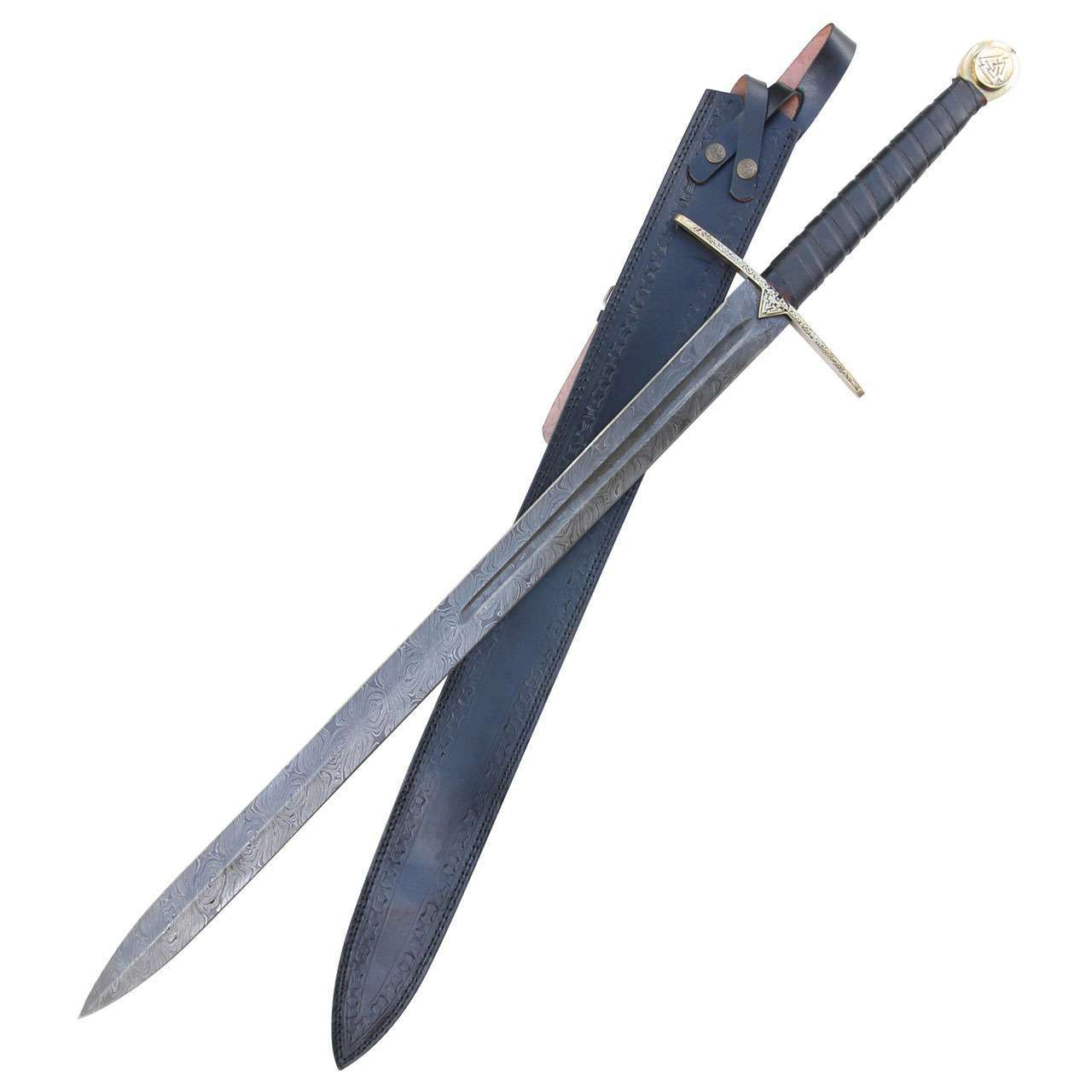 Damascus Steel Wholesale Viking Long Sword
Wholesale offer is offering a lot of variety of Swords, and here are some of our related to swords.
You can Signup with us if you want any product category.
Below here, some of our related swords categories.
Our Service
Deeply Discounted Wholesale Offers. Over 10,000 wholesale offers on New Arrivals, Daily Deals, Overstock, Closeouts, and Qty buys. Great Seller Support, Fast Shipping, No Minimum, and Free Drop Shipping with a web store plan. 100 categories include Housewares, Home Decor, Gift & Collectibles, Fashion and Apparel, Motor-Sports Gear, Sports & Outdoors, Travel & Recreational, Seasonal, Toys & Games, and much more. We can only sell to businesses and individuals buying resale products. You have to open a Wholesale Account to view pricing and place orders. Please take a minute to signup for your Wholesale Offers account.
"Get access to unbeatable daily deals and bulk offers with "Wholesale Offers". Our platform offers the best value for money by connecting you with over 800 trusted importers in the U.S. With a focus on overstock and quantity buys, you can enjoy exclusive discounts and savings on a wide range of products. No need to go from store to store or spend countless hours searching online – we bring all the best deals to you in one convenient place. Sign up now and start experiencing the power of bulk buying and unbeatable savings!"