Description
Brave Heart Two-Handed Wholesale Swords. The manufacturer for your protection. Those who are serious collectors or lovers of wholesale swords might have it professionally sharpened. A central ridge runs the length of the blade from tip to end for increased stiffness. A wrap made of Accurate vinyl leather can be found at the blade's base. Around 10 inches broad, the cross guard has an authentic Chappe (Rain Guard). Strong vinyl leather that is sewn for an unbreakable grip. The weighted pommel has a satin finish and has been chrome plated. About 52.5 inches overall. 42-inch blade length. Carbon steel blade with a polished surface. Protector Width: 10.25 Inches. Handle Length: 9.6 Inches.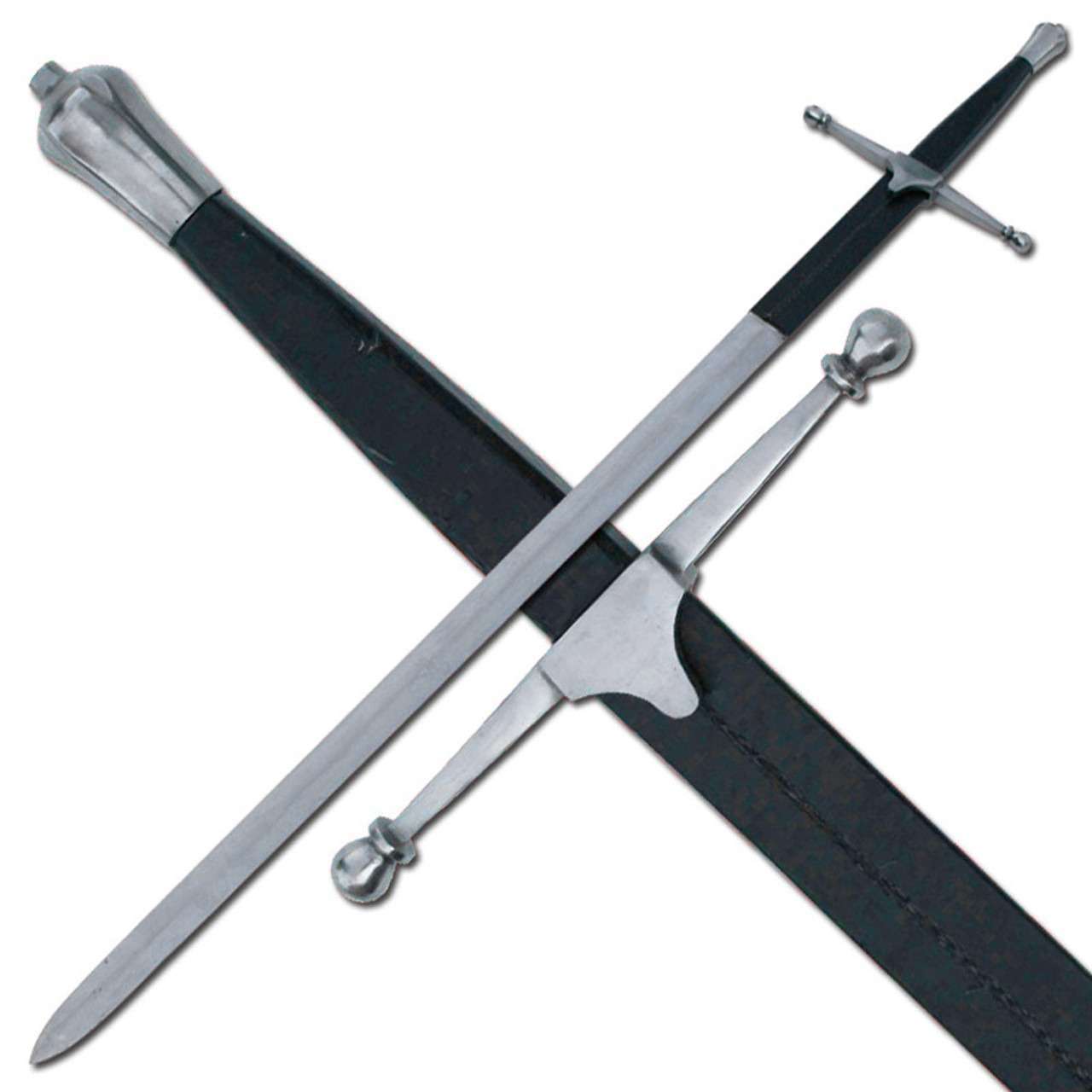 Brave Heart Two-Handed Wholesale Sword
The Brave Heart Two-Handed Wholesale Sword is a stunning weapon that's perfect for collectors, enthusiasts, and reenactors alike. With a weight of over four pounds and a length of 51 inches, this sword is an impressive sight to behold. This sword is an excellent addition to any collection of medieval weapons. It is perfect for display and is sure to impress anyone who sees it. In addition, this sword is also functional, making it ideal for reenactments and other historical events. Its two-handed design allows for greater control and precision, making it a popular choice among enthusiasts.
At Wholesale Blades, we offer a wide selection of wholesale swords, including the Brave Heart Two-Handed Wholesale Sword. We work with some of the top importers in North America to offer daily deals on thousands of products covering hundreds of categories. So be sure to check back often for new arrivals and special offers. Whether you're a collector, enthusiast, or retailer, Wholesale Blades is your go-to source for high-quality wholesale swords at unbeatable prices.
Wholesale offer is offering a lot of variety of Swords, and here are some of our related to swords.
You can Signup with us if you want any product category.
Below here, some of our related swords categories.
Our Service
Deeply Discounted Wholesale Offers. Over 10,000 wholesale offers on New Arrivals, Daily Deals, Overstock, Closeouts, and Qty buys. Great Seller Support, Fast Shipping, No Minimum, and Free Drop Shipping with a web store plan. 100 categories include Housewares, Home Decor, Gift & Collectibles, Fashion and Apparel, Motor-Sports Gear, Sports & Outdoors, Travel & Recreational, Seasonal, Toys & Games, and much more. We can only sell to businesses and individuals buying resale products. You have to open a Wholesale Account to view pricing and place orders. Please take a minute to signup for your Wholesale Offers account.
"Get access to unbeatable daily deals and bulk offers with "Wholesale Offers". Our platform offers the best value for money by connecting you with over 800 trusted importers in the U.S. With a focus on overstock and quantity buys, you can enjoy exclusive discounts and savings on a wide range of products. No need to go from store to store or spend countless hours searching online – we bring all the best deals to you in one convenient place. Sign up now and start experiencing the power of bulk buying and unbeatable savings!"