20 Best Wholesale Suppliers For Small Businesses This 2023. Finding and choosing a supplier platform might be challenging. There are an increasing number of online provider platforms on the internet, and making your choice can be difficult. The idea of B2B platforms involving manufacturers, suppliers, retailers, and sellers has changed how they operate thanks to technology.
Digital web channels have completely replaced traditional techniques. Such platforms have witnessed a significant increase in users on a global scale. B2B commerce platforms in the US achieved $6.7 million in prior years.
It's crucial to know which platform is the most appropriate if you want to select one that is trustworthy and genuine. The selection of a platform is influenced by a variety of debatable considerations. You can explore a variety of venues on the internet, from general platforms to specialized marketplaces.
With so many platforms available, you can profit from numerous advantages like quick and secure service. Client data is immediately transferred into the computer system of the less complex form. In addition, the negotiation process moves more quickly and there are lower travel expenses.
Table of Contents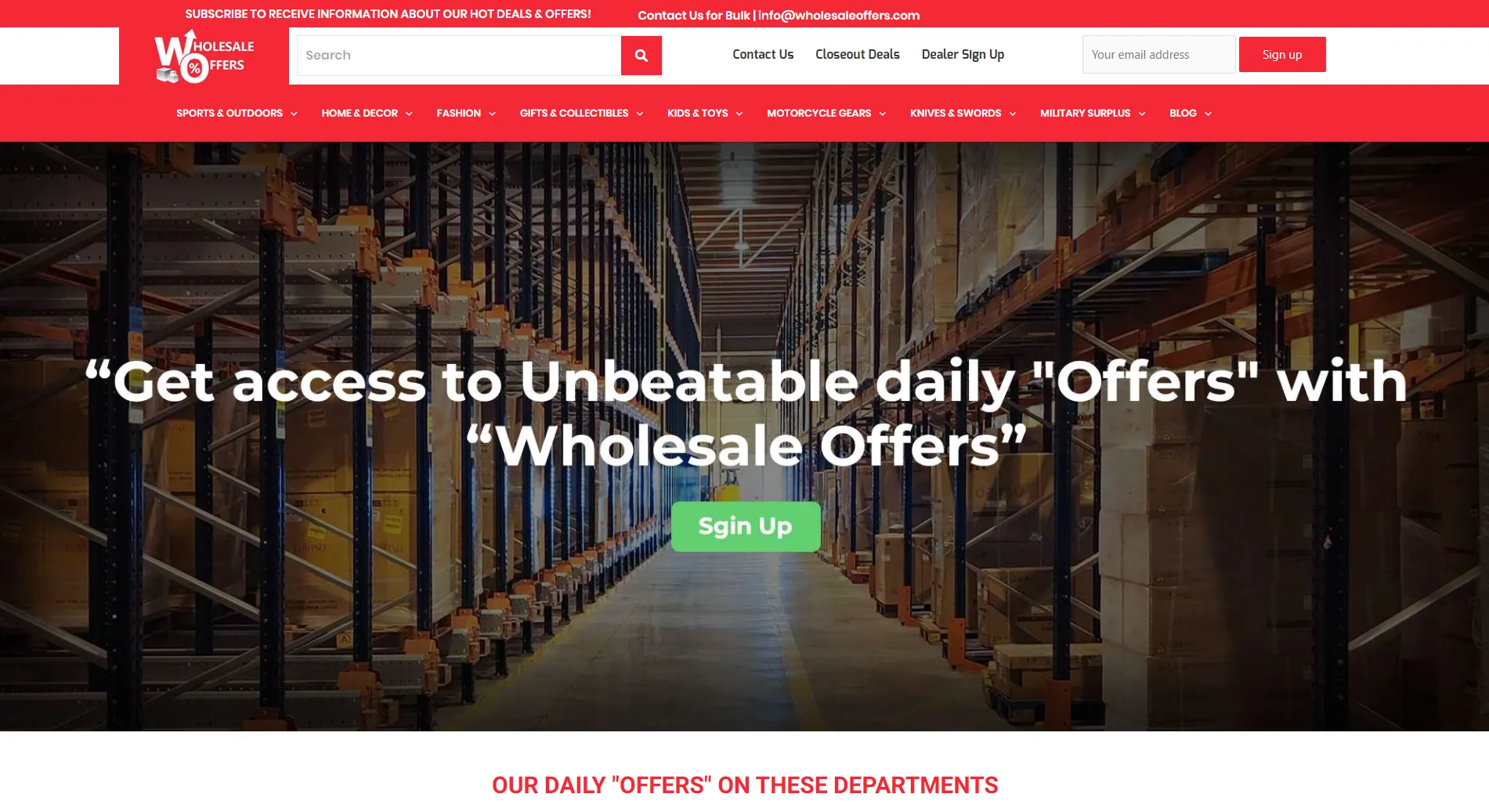 Top Wholesale Suppliers Products / Categories Bulk Offers!
"Get access to unbeatable daily offers with "Wholesale Offers". Our platform offers the best value for money by connecting you with over 1000's trusted importers in the U.S. With a focus on overstock and quantity buys, you can enjoy exclusive discounts and savings on a wide range of products. No need to go from store to store or spend countless hours searching online – we bring all the best deals to you in one convenient place. Sign up now and start experiencing the power of bulk buying and unbeatable savings!"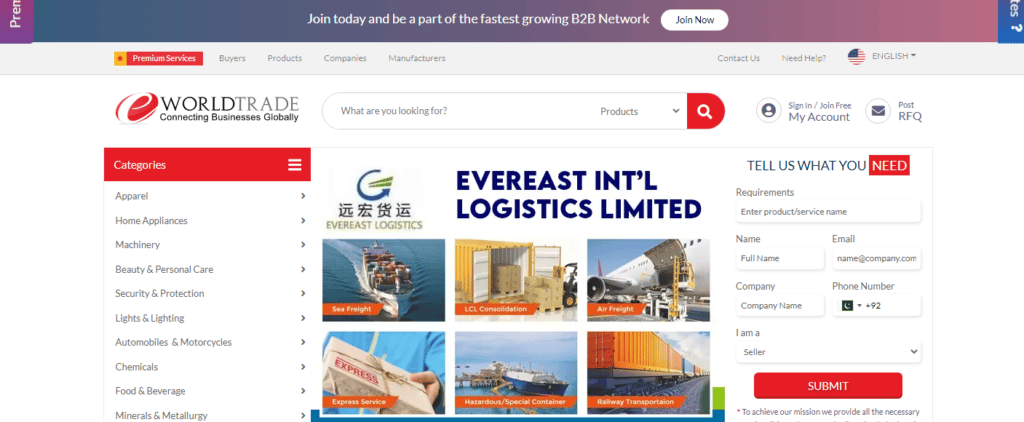 For buyers, suppliers, manufacturers, and anybody else wishing to operate in the business-to-business sector, eWorldTrade is recognized as one of the most reliable B2B platforms. As a supplier, joining eWorldTrade is innovative and helps them achieve new milestones in the sector.
The platform offers trade services and has a wide range of functions. Suppliers can access millions of buyers worldwide through this service. With a paid authorized channel partner, you can build up a high potential selling.
They have an enabled directory and another top-notch training program with various goods and services. It enables 45 different kinds of trade between buyers and sellers. The site also allows suppliers to sign up for free.
3. Alibaba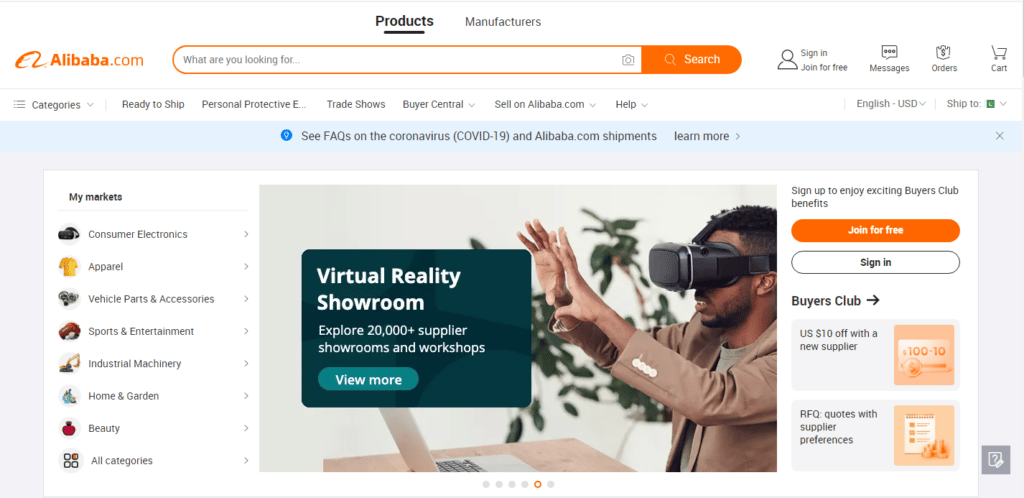 In the B2B space, Alibaba is consistently regarded as one of the top trending platforms. The platform is well-known for being dependable and already has a large number of vendors. Everything from household goods to electrical supplies can be found here. In more than 6000 categories, Alibaba has 2.8 million suppliers.
The shopping process on Alibaba is protected by a secure system. Bulk product delivery is a simple service offered by suppliers, who also fulfill orders for dropshipping businesses. They provide a separate area for suppliers where you may look through the products alphabetically.
4. Amazon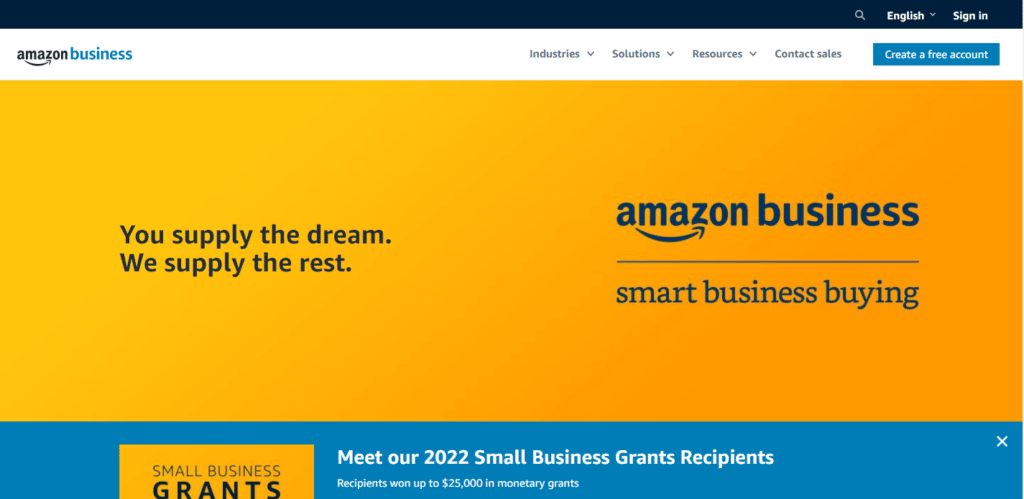 Amazon has created a different platform called Amazon Business specifically for small enterprises. Small company awards, through which companies can obtain financial incentives, have been offered on their site. On its website, Amazon Business has also compiled a list of trusted manufacturers and suppliers.
Also, you might come across equipment created especially for small businesses. The integrated tools are quite beneficial in maintaining a healthy balance between insights and analytics.
5. Global Sources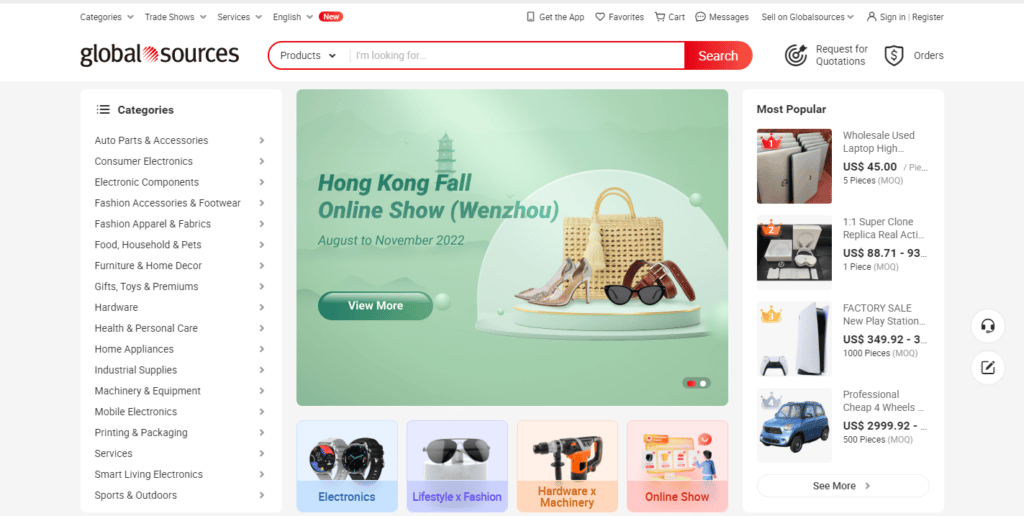 Global Sources is another all-in-one platform to take into account. Each product on the platform has its own category, making it simple to find what you're looking for. Moreover, Global Sources has implemented supplier tools so that people may connect with suitable customers.
Global Sources is a trustworthy platform because it has an integrated feature to register as a verified supplier. Global Source is a multichannel sourcing platform that aims to open up international trade to everyone.
6. EC21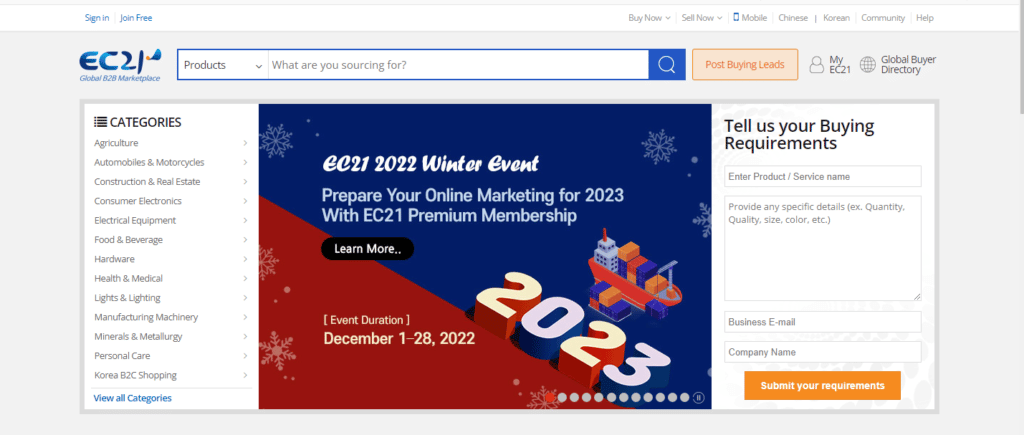 Adding EC21 as a further option for suppliers to choose from. The platform assists in bringing together providers and customers, creating a million-dollar marketplace. It is currently among the biggest B2B markets in the world. Since 2004, EC21 has expanded to countries like Vietnam, China, and Germany.
With more than 2 million suppliers, 8 million items, and millions of buyers, joining EC21 is a simple process. If you use the platform as a supplier, you can create a home page with up to 20 products by registering for free.
7. Made-in-China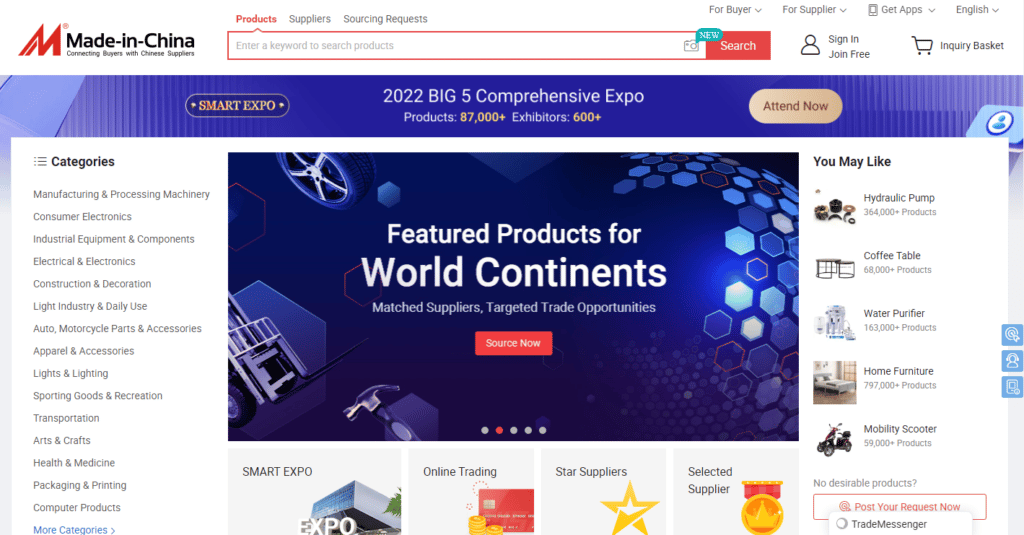 Made-in-China is a top platform for suppliers from China and other countries. A platform serves as a hub for offering suppliers and manufacturers a broad range of product categories. One of the first platforms that consistently performs well is Made-in-China.
They offer a distinct area of rated vendors as part of their star suppliers program. In order to make everything about the items clear, quotations are now provided and integrated into the website.
8. Wholesale Deals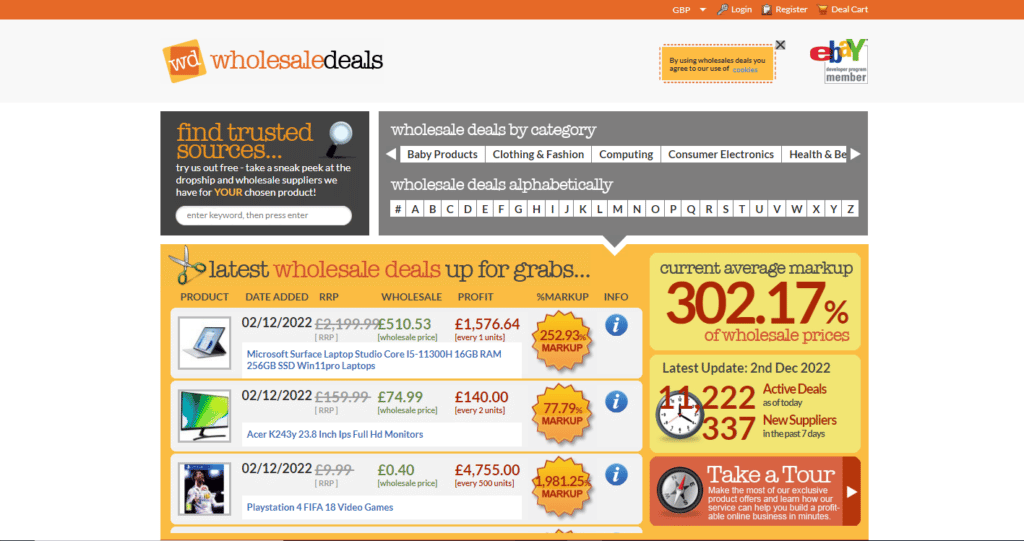 With so many products selling on one platform, is a great place for suppliers and buyers. On this platform, you can list yourself as a company in the respective categories. There are sheer benefits for manufacturers and suppliers.
Either, you can become a part of the silver member or gold. The supplier's industry is divided into several categories serving different products. Moreover, they hold exhibitions and conferences for better partnerships and spreading to become an approachable platform.
9. Spocket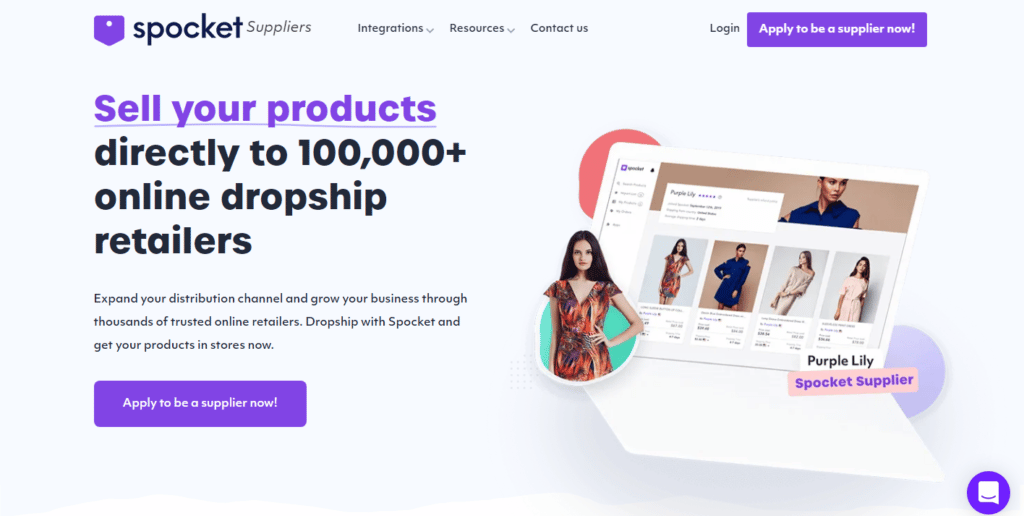 Another brand to look for in the supplier's category is Spocket; they have a solid reputation in the US and Europe. On the site, it's simple to find all the providers, notably those from the States and Europe. They are regarded as a good brand for small businesses since they provide customized invoices to help them connect with suppliers.
The discount Spocket offers on retail prices, which generates substantial margins, is one of its key characteristics. The transaction process is simple, and an automated system handles order fulfillment.
10. EC Plaza
The American Enterprise has a dedicated platform called EC Plaza which is situated in Korea. The site is accessible to everyone and runs in more than four languages. One of the first platforms, it has long been a favorite among companies. Small businesses are the focus of EC Plaza's trade advice, EDI service, and trade fairs.
When it comes to delivering data on suppliers, importers, manufacturers, and exporters from around the world, the platform is the best. The providers may disclose their information in a way that is open to the public.
11. DHgate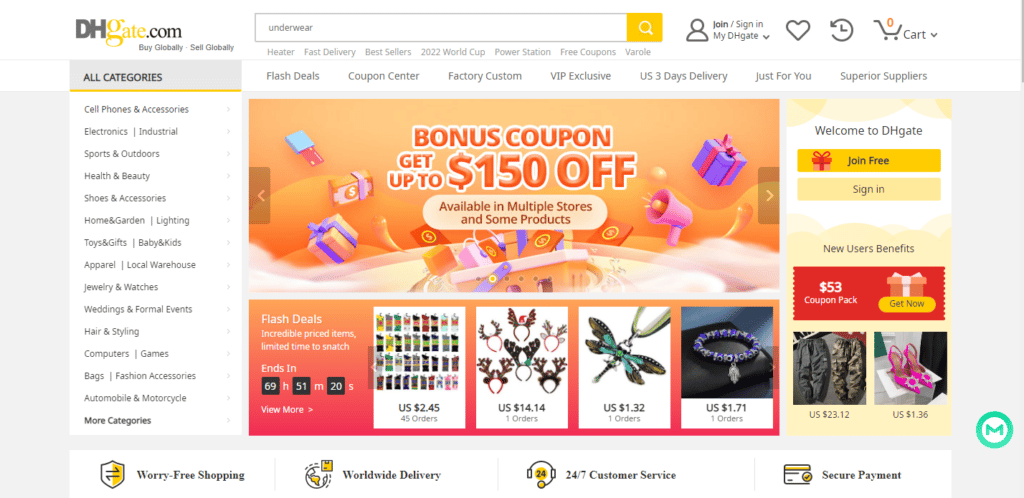 DHgate has proven to be an additional option for wholesale companies. This is a hub for millions of suppliers when it comes to finding products, dropshippers, merchants, or manufacturers. In this location, you can find thousands of different things. It serves small-sized enterprises with more than 1.2 million Chinese suppliers and other millions of companies.
Because of the platform's ability to operate in several other languages, including Turkish, Arabic, and Korean, it has 2.2 million customers worldwide. The website provides the option to make minor purchases so that businesses may gauge the quality of the goods.
Fashion Apparel Supplier Platforms
12. Fibre2Fashion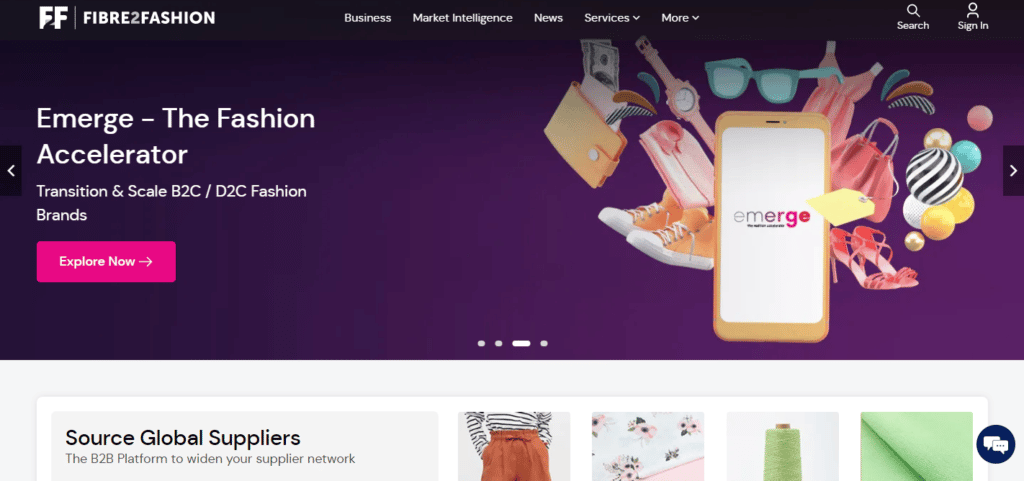 Fibre2Fashion is a global online supplier of clothing, textiles, and fashion-related materials. They have a variety of business categories that were developed to allow customers to complete transactions quickly. A business intelligence element has also been incorporated into Fibre2Fashion to support textile and other technical textile issues.
13. Foursource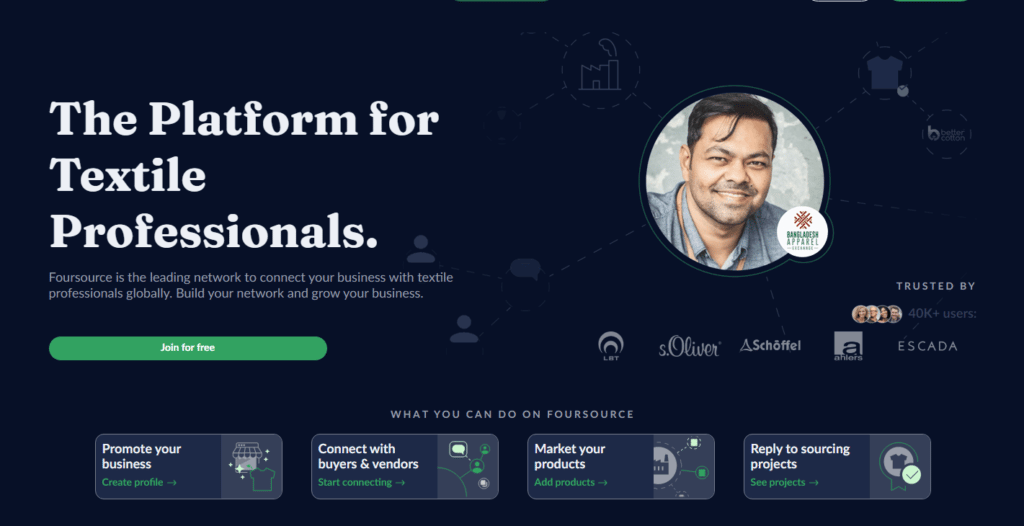 A B2B-based software called Foursource provides people with a variety of fashion products. The website, which has more than 40k registered users, sells clothing from all around the world. They are a worldwide network with creative ideas and an open-source strategy. Foursource offers the opportunity to advertise businesses and goods to verified users. When customers have questions about a quote, they respond and assist in connecting buyers and sellers.
14. The Design Cart
The Design Cart is an additional platform for clothing or textiles that should be included. They are a household name in the specialized market where raw fabric and the embellishments needed for clothing are found. There are pearls, trimmings, jewelry, stones, and other things available. They serve as a fantastic resource, platform, and supply chain for committed fashion designers and fashion fans.
15. Brandsgateway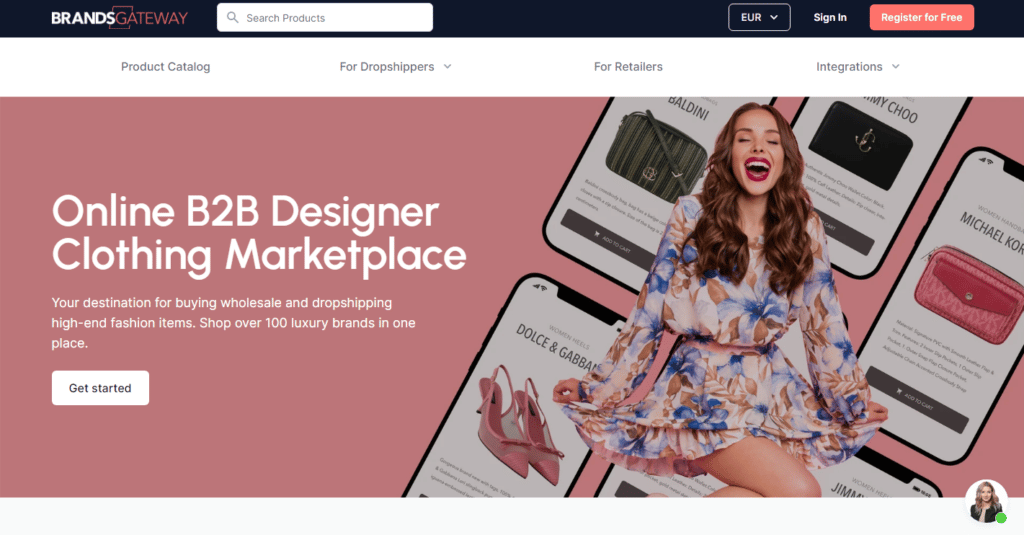 All high-end products are offered on the wholesale and dropshipping network known as Brandsgateway. Anyone from anywhere in the world can begin operating as a retailer and take advantage of a streamlined process for sourcing wholesale goods and suppliers. The website offers a user-friendly interface and a variety of products are readily available.
Agriculture Supplier Platforms
16. Zagro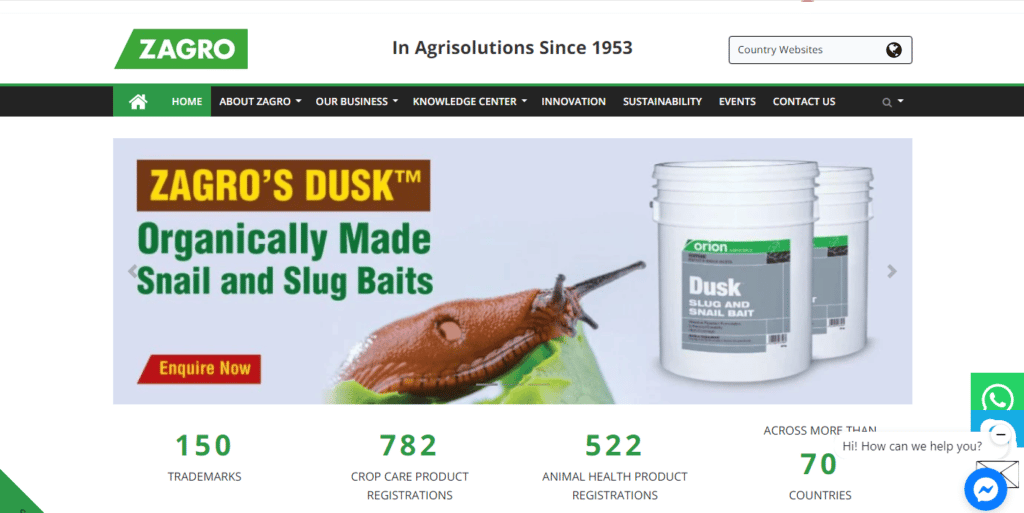 Agriculture solutions are offered by the reputed animal health company Zagro for crops and crop care. They work in the agrochemical and other public healthcare product industries. More than 70 states are served by Zagro, which has a proven track record of profitable trading.
17. Agri Marketplace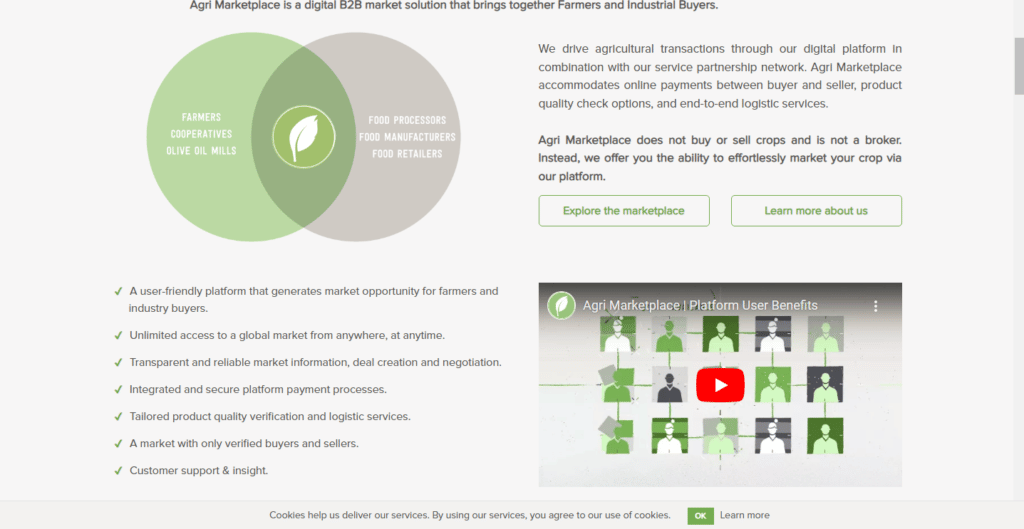 The B2B platform with the fastest expansion In the agriculture-based market known as Agrimp, you can start out as a supplier or look for one. They operate in the market fairly and have a transparent method of operation. Agrimp is the best choice for those trying to gain power in the agricultural, purchasing, and supply chain industries.
18. Agrofy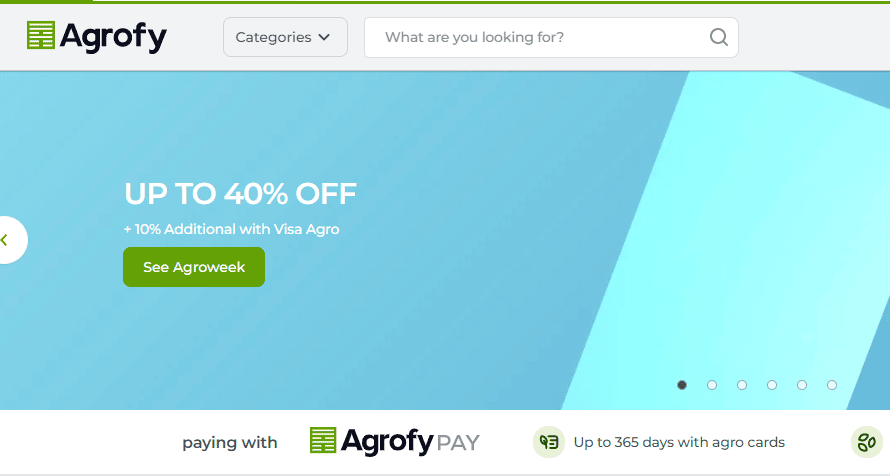 Agrofy has everything you could possibly need for your agriculture business. They are a platform dedicated to helping the agricultural industry. People have additional options thanks to atrophy in the agribusiness sector. Agricultural implements, farming machinery, and much more are available. According to the requirements of each firm, they have an agricultural market to grow business chains.
Wholesale Supplier Platform For Cosmetics
19. Beauty Sourcing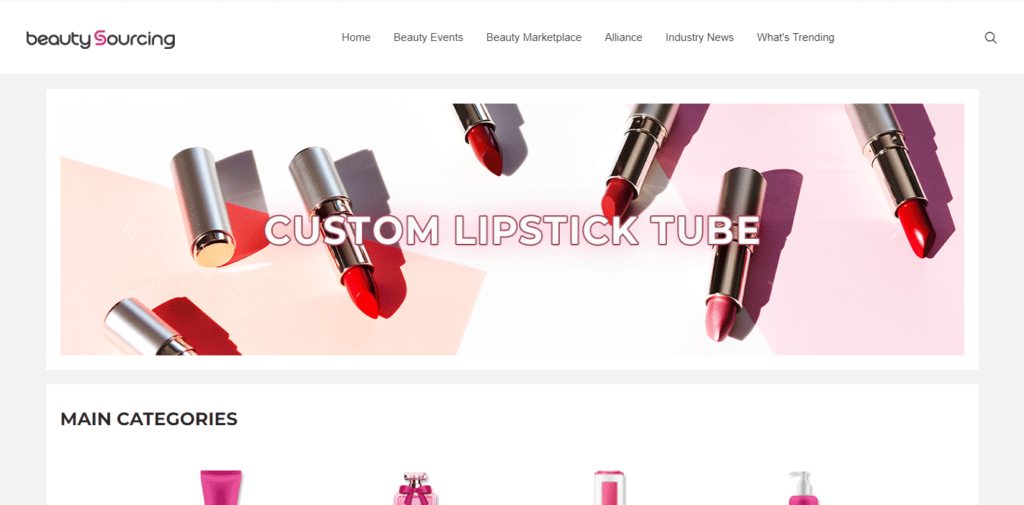 An online marketplace for beauty product suppliers is called Beauty Sourcing. Suppliers and manufacturers collaborate on the platform to trade in beauty and its products. You can interact with manufacturers who work full-time. The site is therefore focused on cosmetics, hair products, salons, SPAs, and personal care items.
Users can find their desired products on the platform thanks to its division into categories. They participate actively in international beauty events and have a supply network of 2,253 vendors.
20. Wholesale Cosmetics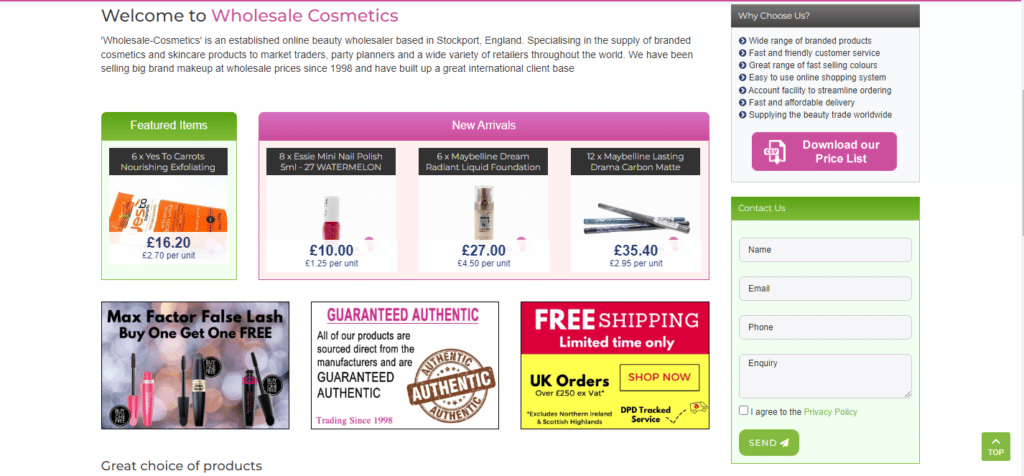 Another name in the niche market to go for beauty is Wholesale Products. The platform takes its roots in the UK. Wholesale Cosmetics is a place that caters to skincare, tools, party planners, and other related products.
They have a wide range of branded products and are available to supply the products worldwide. Moreover, they have swift and affordable prices and delivery methods. So, if you are looking for an all-rounder platform in wholesale cosmetics, then it is the place.
Closing Note
These are a few of the prestigious wholesale supplier platforms to watch out for in 2023. Selecting a platform is a lengthy and possibly arduous procedure. But, coming up with the perfect name is only beneficial to your company.